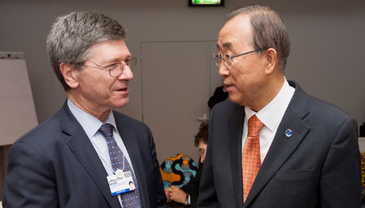 Mr. Ban Ki-Moon (right) talks with Prof. Jeffrey Sachs in New York.
The former UN Sec. Gen. Ban Ki-Moon will arrive at Incheon International Airport at 5:30 p.m. on Jan. 12, 2017, South Korea's elite mass circulation daily DongA Ilbo reported yesterday.Mr. Ban, retired from UN's highest diplomatic position at the end of 2016, is widely sought as the most popular candidate for this year's presidential election. The former South Korea's foreign minister is asked from the nation's conservative political camps including the current ruling Saenuri Party. The second largest opposition People's Party is also open to welcoming Mr. Ban for its presidential candidate.Meanwhile, Mr. Ban held a press conference at his Manhattan residence in New York City on Jan. 3, 2017 at the local time, posing for photos with his former special advisor Prof. Jeffrey Sachs of Columbia University.Political analysts say that the American scholar's appearance at the conference can be interpreted as Mr. Ban's strong will to take care of South Korea's recent economic crisis caused by the impeached President Park Geun-Hye.Other political pundits explain that Mr. Ban is getting ready to show to South Korean people his plans to pose himself as the major presidential candidate right before his return to his country.Mr. Ban is trying to showcase his image as the next "president best prepared" particularly for the fields of economy and diplomacy, according to the local political analysts.
"I discussed with Prof. Sachs how to solve South Korea's economic crisis," Mr. Ban said at the conference. "Problems of the hard-working young and old South Koreas enraged and discouraged"Prof. Sachs agreed to give advice to Mr. Ban in the forthcoming South Korea's presidential race.In addition Mr. Ban said that nation's current difficulty is due to the current president's inability to communicate with the people, showing his willingness to communicate with its people after his return to the nation.Local political analysts point out that Mr. Ban already contacted South Korea's various political leaders and camps for a "big compromise" while he was in New York.When he returns Mr. Ban will visit his hometown of Eumseong, and Chungju City in North Chungcheong Province to mingle with families, relatives, and local folks on Jan. 14, 2016.
Mr. Ban will also make a pan-national tour, visiting such major cities as Busan, Daegu, and Gwangju to listen to the needs of the local people until Lunar New Year's Holidays.While in the United States Mr. Ban will spend time with his aides to come up with his grand plan to become the next president of South Korea.Sources close to Mr. Ban said that Mr. Ban is expected to present his own "blue print" for the upcoming presidential race when he returns to the nation on Jan. 12, 2017.Upon arrival Mr. Ban will open his office in Mapogu area of Seoul. Recently, Mr. Ban's inner circle members and his close aides contacted local political leaders.Mr. Ban's close aides include former South Korean Ambassador to the United Nations Kim Sook, Mr. Lee Dong-Gwan, chief presidential secretary of ex-President Lee Myung-Bak, and Mr. Gwak-Seung-Joon, Lee's chief secretary for planning.