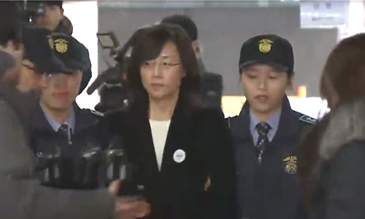 Cho Yoon-Sun, culture minister of S. Korea, gets arrested for abuse of power and perjury in Seoul on Jan.21, 2017.
South Korean Minister Cho Yoon-Sun of Ministry of Culture, Sports, and Tourism was officially arrested on Jan. 21, 2017 for drawing up a blacklist of culture figures critical of current President Park Geun-Hye,The 50-year-old culture minister was charged with abuse of power and the repeated perjury at the National Assembling hearings. Also arrested was the former Presidential Chief of Staff Kim Ki-Choon for masterminding the blacklist containing nearly 10 thousand left-leaning cultural figures critical of impeached President Park who now awaits verdicts at the Constitutional Courts.The 78-year-old Kim served as a key legal advisor for the disgraced President Park. Kim also worked for Park's late father, the strongman Park Chung Hee who hired Kim as his legal advisor for his dictatorial rule.The lawyer-turned culture minister's house and office were searched for seizure by the special prosecution team formed recently to probe into the large-scale corruption scandal involving President Park and her long-time confident Choi Soon-Sil.The special prosecution team was headed by Special Prosecutor Park Young-Soo, who showed a strong determination to investigate the blacklist case in which close to 10,000 anti-Park Geun-Hye culture figures were named.The team conducted a search and seizure operation on the house and office of Culture Minister Cho on Dec. 26, 2016. However, Cho has long denied her involvement in the blacklist case so far up until now, lying repeatedly at the National Assembly hearings, making the general public angry and discouraged over her irresponsible behavior.Moreover, she had denied even the existence of the blacklist in a series of her recent interviews with the news media at the hearings at the National Assembly.Under Park's government Cho was appointed as a series of key posts including spokeswoman for Park, special advisor for state affairs, and minister of gender equality and family, state minister. Now she serves as culture minister.But, Cho has reportedly said that she would resign as the culture minister, now that she is finally arrested for her wrongdoing and perjury charges.
In the past several weeks Cho had denied any involvement in the blacklist case. Ironically, Cho is the one who openly calls herself "advocator of the arts and culture in the nation." Cho and Kim were among the key nine figures 12 cultural groups had filed a lawsuit against on charges of drawing up the black list.Kim, former attorney general, has long been considered as the kingpin of the presidential corruption scandal locally dubbed "Choi Soon-Sil Gate." Cho served as a key inner circle figure for Park Geun-Hye for many years, calling Park "Older Sister."The blacklist was made between the summer of 2014 and January of 2015 when Cho was serving as special advisor for the state affairs for President Park.The blacklist has a total of 9,473 actors and actresses, singers, and other cultural figures critical of Park's regime. Many of them were blacklisted for favoring or helping Seoul Mayor Park Won-Soon of the main opposition Democratic Party. Such top movie stars as Song Gang-Ho and Kim Hye-Soo were included in the blacklist.Kim is the one who served for the current President Park and her late father, the dictator Park Chung-Hee who ruled South Korea with iron fist for 18 straight years until he was killed by his own right-hand man, Cha Ji-Cheol, the KCIA director at that time.Until every recently Cho had kept saying that she does not know Choi Soon-Sil, who illegally privatized a large sum of government fund from the culture ministry headed by Cho. Even a small child knows now who Choi Soon-Sil is in South Korea.Cho and Kim are among about a dozen key figures who helped the beleaguered President Park impeached on Dec. 9, 2016 for abuse and misuse of power in the so-called "Choi Soon-Sil Gate," the largest presidential scandal ever in the history of South Korea.Cho was widely condemned for her excessive spending spree and extravagant life style even before she was appointed as the minister under Park's regime.