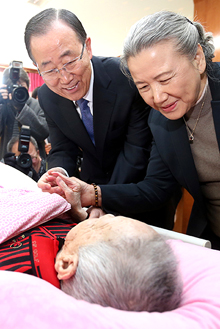 Mr. Ban Ki-Moon and his wife Madam Yoo Soon-Taek visit "Flower Village" to comfort the old and the sick in Eumseong, N. Chungcheong Province in S. Korea on Jan. 14, 2017.
Former UN Sec. Gen. Ban Ki-Moon is trying to mingle with average South Korean citizens to win their hearts for the next presidential election.Mr. Ban, now one of the most popular presidential hopefuls, is exerting his utmost to widen his political ground for the election, visiting various spots, meeting with grass roots and political partners.On Jan. 15 (Sunday), 2016 he visited Cheonanham Memorial in the Second Naval Fleet in Pyeongtaek, Gyeonggi Province in his efforts to show to the people his determination to strengthen national security. South Korea's 46 soldiers died when Cheonanham corvet was torpedoed by the North Korean sub in 2010.
Earlier on Jan. 13, 2016 Mr. Ban paid a visit to the tombs of former South Korean presidents including Syngman Rhee, Park Chung-Hee, Kim Young-Sam, and Kim Dae-Jung at the National Cemetery.
Mr. Ban returned to South Korea from New York City after rounding up his 10-year tenure as the UN secretary a day earlier.His visit to the past presidential tombs can be interpreted as a gesture to unite the divided opinion of the people.Mr. Ban also plans to visit the late President Roh Moo-Hyun in Bongha Village in Kimhae City in South Gyeongsan Province in the coming week. The reform-minded President Roh committed suicide over presidential corruption case.On Jan. 14, 2016 Mr. Ban visited his own hometown and birthplace in Eumseong in North Chungcheong Province. He emphasized security awareness for the hostility of North Korea at his meeting with local journalists.
"The Korea Peninsula is at a state of quasi-war with North Korea," Mr. Ban said at the press meeting.Meanwhile, Mr. Ban has shown a keen interest to the problems and issues of working-class people including college students, housewives, and other unemployed people.Mr. Ban's meeting with the "underprivileged" is aimed at promoting his image as a politician more concerned about the grass roots and the working class people.Unlike other celebrities and dignitaries Mr. Ban chose to use not the VIP passage but the entry process normal people use at Incheon International Airport when he returned from New York.From the airport Mr. Ban used the subway when coming home in Seoul, purchasing the subway ticket himself in his efforts to live a normal person's life and to mingle with the grass roots.Mr. Ban also visited places of the poor and the handicapped such as "Flower Village" in Eumseong, where thousands of the old, the poor, and the crippled are accommodated. He took care of the sick at the time of his visit.