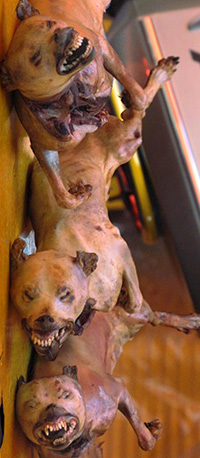 Bodies of the killed dogs at Moran Market, South Korea's largest market for dog meat.
To Whom It May Concern:The two-billion-dollars-a-year South Korean dog and cat meat industry extinguishes the lives of approximately 2.5 million dogs a year for meat or "gaesoju," a dog wine or dog broth.Also, thousands of despised and doomed cats are butchered for so-called "health" tonics or locally called "goyangyeesoju," a kind of cat meat soup.The horrible killings are operated in a sordid and illicit world where farmers and butchers kill with frightening impunity in the most abominable fashion.Dogs are killed with high-voltage electrocution, which takes anywhere from 30 seconds to three minutes, hanged and even beaten to death at the request of customers who believe that the meat will be more tender and tastier if the suffering gets greater. They also believe that the so-called medicinal properties are enhanced that brutal way. It is one of the most pernicious of myths.These innocent animals are most often killed within sight of their cage mates, adding to their feelings of anxiety and fear! Their bodies are thrown into a tub of boiling water, then into a rotating drum for the removal of their fur, and finally blowtorched!At Moran Market, South Korea's largest open-air market for dog meat, dog carcasses are on display next to the cages of live dogs. There are many reports that state that numerous dogs are alive throughout the "killing" process.As for cats, they are often bludgeoned and thrown into a boiling water while still alive.South Korea is the only country that farms dogs. At
the farms, dogs are fed germ-infested, rotting and fermented human leftovers, a health risk to both the dogs and those who eat them.In South Korea, dogs and cats' lives are ferociously heartless until they tremble no more at the hands of their slaughterer as cage mates look on.There are no words for this kind of sickening abuse ... Nothing can describe the depths of depravity that some human beings are capable of!It must stop - for the sake of Korea's dogs and cats!
Yours sincerely,Jill
jillian.ryan@optusnet.com.au