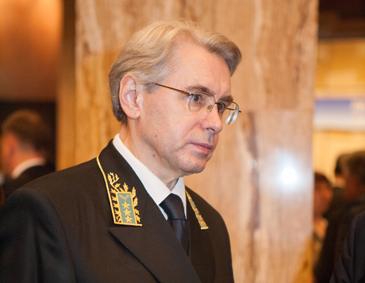 Russian Ambassador to S. Korea Alexander A. Timonin
Russian Ambassador to South Korea Alexander A. Timonin warned on Feb. 3, 2017 that Russia would take the "corresponding steps" if United States' anti-ballistic missile system of THAAD (Terminal High Altitude Area Defense) gets deployed in South Korea.In a meeting with the local South Korean news media held at the Russian Embassy on the day the Russian envoy revealed that Moscow is strongly opposed to the planned deployment of THAAD anti-missile project on the soils of South Korea."THAAD is threatening to the security of Russia," Amb. Timonin said in his meeting with the local South Korean journalists at his embassy in downtown Seoul."The THAAD deployment would bring a dangerous result to the political situation of the Korean Peninsula and to the peace and security in the area," Amb. Timonin went on."Russia had to take necessary similar steps if THAAD is actually deployed in South Korea," the Russian envoy warned.He added that Russia judges the planned deployment of THAAD in South Korea as one of US government's strategies.He said that Russian government maintains its objection to the THAAD deployment.Amb. Timonin also touched upon the six-party talks on the North Korean nuclear issue."If the six-party talks resumes the intention of the involved countries will be revealed," he said.He went on to say that the North Korea keeps an amicable relations with Russia, and this good ties show the possibility that Russia and North Korea can discuss various matters in the political, economic, and military fields.The Russian envoy also argued that the North Korean leadership is ready to improve ties with all the nations according to Rodong Sinmun, official newspaper of North Korean Workers' Party.The Russian envoy advised that North and South Korea need to contact each other.In recent months tens of thousands of South Korean people have protested in Seoul and elsewhere in the nation against the planned deployment of US anti-missile system of THAAD on its soils.Last year hundreds of angry Seongju residents came up to Seoul to protest the government's plan to deploy the THAAD system on their village in North Gyeongsang Province.The THAAD deployment plan of impeached President Park Geun-Hye made nearly entire S. Korean people angry and frustrated over THAAD and over other problems caused by the massive-scale abuse of her presidential power.Amb. Timonin has been serving as Russian ambassador to North Korea as well since his appointment in 2012.
Mr. Timonin had previously worked in the Russian Foreign Ministry's Asia Department. He served as an ambassador at-large and was an interim manager of the Russian Embassy in Pyongyang, North Korea.He had long served as the deputy head of mission at Seoul's Russian Embassy before he was promoted to the ambassador in early 2015.The Russian envoy is one of the most respected top foreign envoys in the diplomatic circle in Seoul.