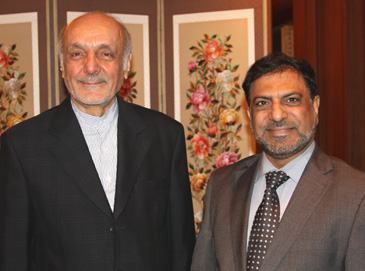 Iranian Ambassador to Seoul Hassan Taherian (left) poses with Oman Ambassador Mohamed Al-Harthy in Seoul.
Iranian Ambassador to South Korea Hassan Taherian will hosted a lunch reception held at Lotte Hotel in downtown Seoul on Feb. 10, 2017 on the occasion of the 38th anniversary Islamic Revolution of Iran.Following the welcoming speech by the Iranian envoy, South Korean Minister Kang Ho-In of the the Ministry of Land, Infrastructure, and Transport (MOLIT) delivered a congratulatory speech, emphasizing the growing bilateral ties between Tehran and Seoul.The Islamic Revolution or the 1979 Revolution, also known as the Iranian Revolution was completed between Jan. 7, 1978 and Feb. 11, 1979.The populist, nationalist, and Shi'a Islamic revolution overthrew the US backed Pahlavi dynasty, bringing in the theocratic Islamic republic under the Ayatollah Khomeini, the leader of the revolution.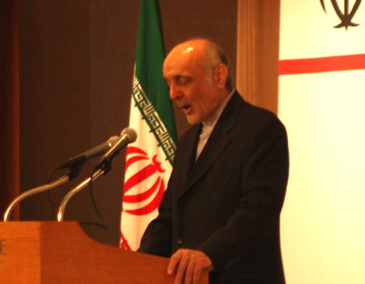 Iranian Ambassador to Seoul Hassan Taherian delivering a speech
Iran's 1979 Islamic Revolution shocked the world and redrew the map of global alliances. And the revolution will be celebrated in Seoul under the leadership of Iranian Ambassador Hassan Taherian.The Iranian envoy HE Hassan Taherian has been one the most active foreign ambassadors in his diplomatic activities and ambassadorial duties. With his benign looks and gentle manner he is loved by fellow diplomats and local Korean people in Seoul's diplomatic stage. He is also widely received as the one of the most respected diplomatic envoys in Seoul.Above all, he has been quite aggressive in performing his duty for better and more bilateral cooperation between Iran and South Korea for the last couple of years.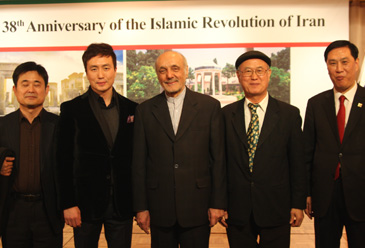 Iranian Ambassador to Seoul Hassan Taherian (center) poses with his guests at its diplomatic reception in a Seoul hotel on the occasion of its 38th Anniversary of Iran's Islamic Revolution.
The Iranian envoy was frequently interviewed by local South Korean news media more than any other ambassadors. Last year he held a major press conference in Seoul in his effort to promote the Islamic nation to the local people.At the conference he praised South Korean companies for their active seeking business opportunities in Iran, assisted by Korea's Trade-Investment Promotion Agency (KOTRA), a state-funded trade and investment promotion organization.The Iranian envoy, well informed about North and South Korea, expressed his willingness to expand its mutual cooperation with South Korea in previous press gatherings.
He hosted the press conference in Seoul in April of 2016, stressing the need for growing exchanges and cooperation not only in economic field but also in other areas of culture and academics.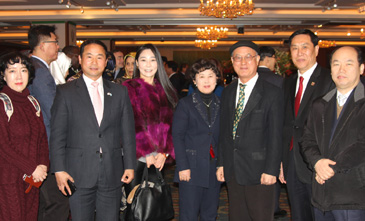 Guests included directors of The Seoul Times.
The Iranian envoy also touched upon the need for opening a direct air route between Tehran and Seoul, saying that Iran has many attractive tourist places. "Unlike expectations Iran actually is the safest country in the Middle East for foreign tourists," the envoy added. "You will realize how safe country Iran is only when you come to my country."
He also pointed out that there will be much more Iranian students waiting to come to South Korea for advanced studies.In particular, the Iranian envoy emphasized the expansion of bilateral business between two countries.According to the envoy, there are about 50 business projects in discussion on between Iran and South Korea in the petrochemical fields alone.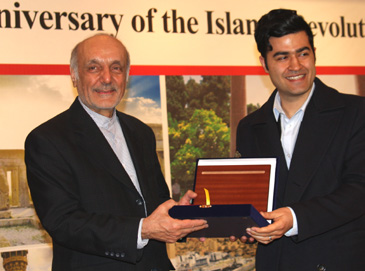 Iranian Ambassador Hassan Taherian (left) poses with a awardee at his 38th National Day event held in Seoul on Feb. 10,2017.
The bilateral trade volume reached some 17 billion US dollars in 2013, and the volume is expected to grow further in the near future.Iran imported 6.9 billion US dollars' worth of goods from South Korea and exported to South Korea 10 billion US dollars' worth of goods. Iran is South Korea's 12th largest major importer.The envoy said that Iran now seeks cooperation with foreign companies in such fields as generation, water development, transportation, and airport construction, and harbor development."Iran is definitely a very attractive investment place to South Korean companies," he stressed.In spite of US economic sanctions Iran is the second largest consumer's market in the Middle East with its population of 80 million, according to the envoy.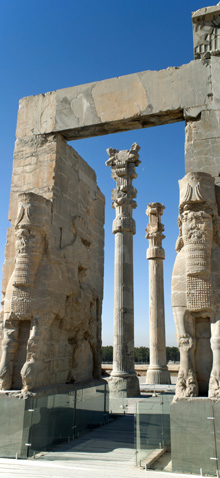 "Gate of All Nations" of Persepolis —Situated in south-western Iran Persepolis or the "Persian City," the ceremonial capital of the Achaemenid Empire (550–330 BC), was declared by UNESCO in 1979 as the World Heritage Site. Called as the gem of Achaemenid (Persian) ensembles in the architectural areas, Persepolis is one of the world's greatest archaeological sites. It was built by "Darius I."
The envoy also said that Iran boasts of its geographic location as the easy access to the Middle Easter market populated by over 300 million people. Iran also has highly educated industrial manpower. Iran keeps diplomatic ties with both South and North Korea at the same time based on its principle of equidistance diplomacy.Iran was the first Middle East nation South Korean started trade with. Iran was the nation in the region South Korea's construction companies set their feet on.
Iran opened its official ties with South Korean on Oct. 23, 1963.As of 2010 over 400 South Koreans are staying in Iran. In Seoul's Gangnam area Tehran-ro or Tehran Street was named after Iranian capital and there is Seoul Street in Tehran, both as a symbol of diplomatic friendship.According to the envoy, Iran is one of a dozen of countries operating their embassy in both North and South Korea simultaneously.The Iranian once told a local media that Iran
has been maintaining the amicable ties with North Korea since the Iran-Iraq War.During the war North Korea supported Iran with scud missiles and missile related technologies.He said that he was highly appreciative of North Korea for its support for his nation in needy time.The envoy stressed the economic side of cooperation with South Korea in its diplomacy.Iran first its door to the South Korean companies in 1975. Presently up to 40 South Korean corporations including Samsung Electronics and SK Construction are running their businesses in the Middle Eastern country, according the envoy.
Who Is Hassan Taherian?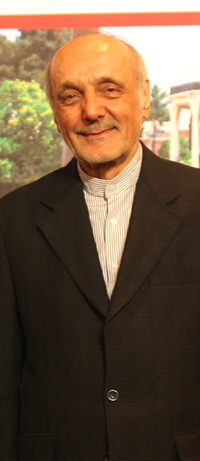 Iranian Ambassador to Seoul Hassan Taherian
Hassan Taherian has been serving as the
Iranian Ambassador to South Korea since August 8, 2014.Taherian served in both Koreas: North and South in his diplomatic career.He spent a total of five years in South Korea in the 1980s, closely watching the nation's development from the authoritarian nation to the advanced democracy.From 1980 to 1985 Taherian served as charge d'affaires at Seoul's Iranian Embassy. He fathered his first son and his second daughter at that time.The Iranian envoy also stayed in Pyongyang, North Korea from 1992 to 1993 while the late North Korean leader Kim Il-Sung was still in power.In the early 2,000s he served as the Iranian ambassador to Pyongyang, North Korea.It was on August 8, 2014 that Taherian came to Seoul again as the Iranian ambassador. Since them he has been serving as the ambassador.Taherian graduated from the University of Tehran, majoring in law before became a career diplomat. He also earned his PhD in law from Glasgow Caledonian University (GCU) in Scotland.