America
Trump's Alternative Reality on Immigration: a Step Back for the Country
Special Contribution
By Domenico Maceri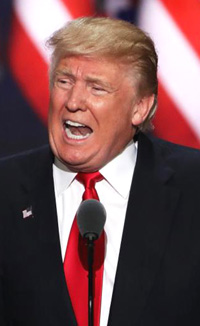 US Presidet Donald Trump
"From now on I'll carry my citizenship papers in my glove compartment," my South American friend told in the aftermath of Donald Trump's election as president. I thought my friend was exaggerating but the recent anti-immigrant climate exacerbated by Trump's Muslim ban led me to conclude she was probably right.America is a country of immigrants but Trump's harsh rhetoric during the campaign and in his administration paints a picture which immigrants do not recognize. If you listen to Trump, you'd think that everyone is after us and we must focus all our energy on protecting ourselves. Unauthorized immigrants are pouring in from Mexico creating instability and crime, according to Trump. The president seems unable to see beyond some obvious problems brought in by immigrants, incapable of recognizing the great contributions made by newcomers. You almost never hear him saying anything positive about immigrants and their value to the country.It's odd that Trump seems to have such negative views of immigrants considering his family links. After all, his mother was born in Scotland. His first wife Ivana was born in Czechoslovakia (now Czech Republic). His current wife Melania was born in Slovenia. And Trump is not averse to hire foreign workers for his resort in Florida, preferring them to Americans who need jobs. Trump seems to distinguish thus between "his" immigrants and all the others.Aside from his family, Trump's view of immigrants is no different from the stark vision he has of America. In his acceptance speech at the Republican convention last summer and in his inauguration speech Trump painted a picture of an America in total disaster, making reference to the "carnage" that has been occurring in our country. That vision was in all likelihood shared by most of those who voted for him but immigrants have a diametrically opposed picture when they think of America.Today's immigrants recognize that America is the land of opportunity just like those who came before them. They see a rich country that manages to blend people from all over the world. Facts bear this out. Although Trump keeps focusing on how Americans no longer win, the US Gross Domestic Product places America at number one in the world. Militarily, the US is considered the only superpower. Politically and culturally, the US is also at the very top.Trump's negative views of America's situation might have been understandable during the campaign when candidates always exaggerate the current situation to capture votes. Once the election is over, though, one would expect a shift to the center. It has not happened with Trump. His recent executive order barring entry from seven mostly Muslim countries confirms it. The ban created dismay and disarray among immigrants. Initially, even individuals with green cards were not allowed back into the US if they had ties to the seven countries. Yet, no terrorist attacks were traced to these countries while Saudi Arabia and Egypt, the two countries from which most of the perpetrators of 9/11 came from, were not included in the ban.The chaos at the airports created by the ban generated fear even among immigrants already in the country. Universities encouraged international students not to travel outside the US, fearing they may not be allowed back in the country. The ban was blocked by a judge in Washington and the ruling was confirmed by the three judges in the 9th Circuit Court of Appeals who saw "no evidence" of possible terrorist attacks from the seven countries in question. In spite of the "victory", the climate of uncertainty and fear remains particularly among unauthorized immigrants.The recent raids in at least six states by Immigration and Customs Enforcement (ICE) swept a significant number of undocumented immigrants. Some of these individuals had criminal records but many others merely lacked proper documentation. Families have been broken up and in some cases parents have been deported while their kids remain in the US. The recent raids reflect a change from the Obama administration which prioritized deportations, focusing on those with criminal records. The raids were conducted in urban centers instead of farming communities. Deporting people picking fruits and vegetables would of course be a disaster for farmers. Business is business, after all.In a recent interview, Kellyanne Conway, one of Trump's chief advisors, stated on NBC's Meet the Press that Trump's Press secretary had not lied about the size of the inaugural crowd but merely provided "alternative facts." Trump appears to be living in an alternative reality, seeing the US in apocalyptic terms. Immigrants are part of his dark vision and in his mind represent a serious threat.It's a totally false picture of reality. Former President Barack Obama in his farewell speech nailed his vision of America when he talked about the strong values of our country and the progress made toward reaching our founding fathers' ideals. Obama went on to say that we're not quite there because progress isn't uniform and at times it seems that for "every two steps forward, it often feels we take one step back." The US made two steps forward in 2008 and 2012 when Americans elected Obama president. In 2016 the country took a step back not only for immigrants but for the rest of America.
The above writer, Domenico Maceri, PhD UC Santa Barbara, is a free lance writer living in San Luis Obispo, California. Some of his articles have won awards from the National Association of Hispanic Publications.

Related Articles
Julián Castro's Monolingualism: a ...
Biden's Immigration Plan: Between Trump and ...
Legal and Illegal Immigration: A Winning Hand ...
World Cup: Beyond the Soccer Field
John Kelly's Fails English and History
Trump's Tiny Heart and DACA's Repeal
Yesterday's Immigrants: Better Than Today's?
Kaine's Español: Not Just Empty ...
Immigration: The Supreme Court Hands GOP a ...
Trump's Tax Returns: Our Business?
Trump's Wall is Full of Holes
Angry Latino Voters Will Deny Trump the ...
Bilingualism and US Presidents
Cruz: A "Canadian" for the US Presidency?
Spanish in the US: Just an Immigrant Language?
US Border Enforcement Bil Too Tough, Unwise
Freedom of Speech in English Only?
The GOP: No Guest Worker Program?
Tancredo: the Ugly Face of the GOP?
Rights for Illegal immigrants?
Healthcare for All?
No English, No Service?
When Language Knowledge Means Security
Enough Undocumented Workers?
Bilingual Principals?
Domestic Workers: Family Members?
Mexico in US
Tongue-Tied Bush?
Is Immigration a Local Affair?
Voting Rights in Español
Profiting from Illegal Immigration?
Job Safety for All?
When English Only Discriminates
Border Control with Songs?
Guilty Parents, Innocent Children?
Only One Language for America?
George Bush: Already Lame Duck?
A Comprehensive Immigration Bill That Works
Language as Integration
Driving in English Only?
Illegal Workers Saving Social Security?
Learning Languages the Easy Way?
English-Only Laws: Why?
Arnold Schwarzenegger: Pete Wilson II?
Language Fluency Means Security
Stingy Government But Generous People


Other Articles by Domenico Maceri
Julián Castro's Monolingualism: a ...
Biden's Immigration Plan: Between Trump and ...
Legal and Illegal Immigration: A Winning ...
World Cup: Beyond the Soccer Field
John Kelly's Fails English and History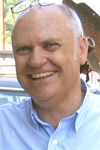 Domenico Maceri, Ph.D., UC Santa Barbara, teaches foreign languages at Allan Hancock College in Santa Maria, CA. His articles have appeared in many newspapers including Los Angeles Times, Washington Times, Japan Times, and The Seoul Times. Some of his stories won awards from the National Association of Hispanic Publications.