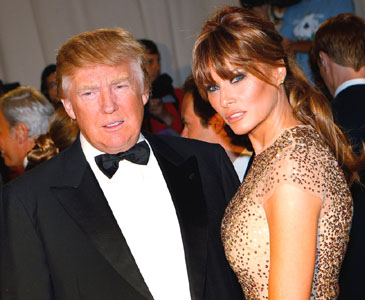 Trump with his beautiful Slovenian-born wife Melania Trump:
How can US President Donald Trump enforce the strong anti-immigration policies when his own third wife, the current Melania Trump, was born in Slovenia and became his First Lady?
His first and second wife were all born in Czech and Georgia, respectively. Trump's own ancestors came from Germany as well. A nation of immigrants, America was built on all kinds of immigrants whose toil, sweat, and blood made her as it is now. Is Trump trying to deny the root of America as well as his own?

WASHINGTON, DC, Feb. 16, 2017 — In response to news this past week about surges in detentions and deportations by ICE (Immigration and Customs Enforcement) and a rising fear and anxiety amongst immigrant communities, Asian Americans Advancing Justice (Advancing Justice), an affiliation of five civil rights organizations, issues the following statement: "Asian Americans Advancing Justice is outraged that Immigration and Customs Enforcement (ICE) is increasingly aggressive and overbroad in its immigration enforcement efforts, creating chaos and panic in communities. Due to the Trump administration's executive order on interior enforcement signed on January 25th, there are no longer any meaningful enforcement priorities as there were under the prior administration, and as a result, undocumented immigrants, in general, are now all at grave risk. We are angered that those promised protection by the federal government now face a devastating broken promise. Daniel Ramirez Medina, a 23-year-old resident of Seattle, is among more than 800,000 Deferred Action for Childhood Arrivals (DACA) recipients who affirmatively gave their information to the U.S. government and were promised a reprieve from deportation, and he has been detained and separated from his 3-year old U.S. citizen child and family. We are horrified that a victim of domestic violence in Texas, Irving Gonzalez, was detained in an El Paso court while seeking a restraining order against her abuser. Such actions only serve to deter victims of domestic violence from coming forward to challenge abuse and result in physical harm or death to victims of domestic abuse. It also violates a Department of Homeland Security memo, "Prosecutorial Discretion: Certain Victims, Witnesses, and Plaintiffs," that directs agency personnel to avoid any enforcement actions that would deter victims, witnesses, and plaintiffs, including victims of domestic violence, from coming forward and reporting violations of the law.Through the enforcement executive orders, this new administration has given ICE agents carte blanche to instill terror into immigrant communities. History will not reflect kindly on this moment, which is reminiscent of other dark times in our past when racism and xenophobia against immigrants prevailed. From the Chinese Exclusion Act of 1882 to Japanese Internment during WWII to the surveillance and profiling of Muslim and South Asian Americans, we are in the midst of the latest wave of resurgent xenophobia. We call on Congress to rescind these executive orders and stand up for our core values as a nation that welcomes immigrants and respects due process and fair treatment under the law. We urge immigrants – particularly those who are undocumented and out of status – to know their rights because equipping oneself with the right information is the best defense against these aggressive and inhumane tactics.Asian Americans Advancing Justice will continue to resist this agenda of fear and intimidation. We will fight to protect our communities against deportations and our Nation's values that no human is illegal. We are, after all, a nation of immigrants."Contacts:
Michelle Boykins
mboykins@advancingjustice-aajc.org
Randy Bunnao
rbunnao@advancingjustice-la.org
Brandon Lee
blee@advancingjustice-chicago.org
James Woo
jwoo@advancingjustice-atlanta.org
Tejal Mankad
tejalm@advancingjustice-alc.orgThe mission of Asian Americans Advancing Justice | AAJC is to advance civil and human rights for Asian Americans. We strive to empower Asian Americans and Pacific Islander communities across the country by bringing local and national constituencies together, advocate for federal policy that reflects the needs of Asian Americans, and promotes a fair and equitable society for all.