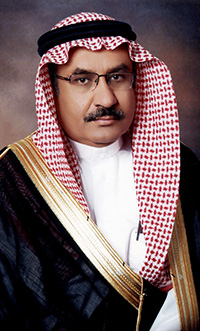 Saudi Arabia's Ambassador to Malaysia Fahad bin Abdullah Al-Rashid
Saudi Arabia's Ambassador to Malaysia Fahad bin Abdullah Al-Rashid expressed Saudi Arabia's full support of Malaysia against the North Korea's assaults in a meeting with Sheikh Hussain Yee, a Malaysian-Chinese Islamic scholar on March 13, 2017.On the murder of North Korean leader's half-brother, he said:
"North Koreas State Security Department was the main plotter of Kim Jong-Nam's murder and the Malaysian government has not been involved in this matter anymore.""The country also must be accountable to intentional communities for using chemical weapons in public. Sanctions over use of chemical weapons didn't work and Pyongyang still stores and uses chemical weapons," the Malaysian envoy said.In the presence of the Malaysian scholar, he added:
"North Korean citizen and also Kim Jong-Un's half-brother are infidels and the same as killing an animal, infidel's death is the matter of no importance."Kim Jong-Nam, the North Korean leader's half-brother was killed by VX nerve agent in Kuala Lumpur International Airport on Feb. 13, 2017. Malaysian police have identified four more potential suspects, all North Koreans. There is speculation that North Korea was behind the killing, but there has been no proof.The issue caused tensions between two countries, North Korea has banned Malaysian citizens from leaving the country, and Malaysia has responded with a tit-for-tat ban.
Who Is Fahad bin Abdullah Al-Rashid?
Mr. Fahad bin Abdullah Al-Rashid is currently serving as Saudi Arabian ambassador to Malaysia. He was appointed as Saudi ambassador to the Southeast Asian country in 2012. He was born in the Kingdom of Saudi Arabia in 1962. He earned his master's degree in general administration from New York University (NYU) in 1993.He received a diploma in financial control from Institute of Public Administration in Riyadh, Saudi Arabia in 1985.Two years earlier he obtained his bachelor's degree in economics from King Saud University in Riyadh.He started his diplomatic career in 1985 when he entered the Ministry of Foreign Affairs of Saudi Arabia.From 1988 till 1994 he served at Saudi Arabia's Consulate General in New York City.In 1994 he returned to the Foreign Ministry. He was promoted to the head of Ministry's Inspection Department in 2008.Two years later he became the head of General Department of the ministry.It was in 2012 that he became a ambassador. He was appointed as ambassador to Malaysia.He speaks Arabic and English fluently.