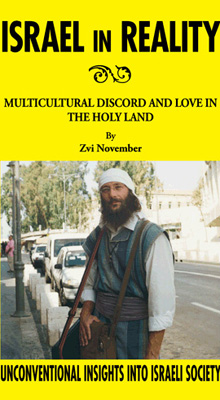 "Israel in Reality" by Zvi November

Israel is probably the most confusing country in the world. Just about every aspect of life here is paradoxical. Israel is supposedly a Jewish country the way Thailand is Buddhist and Pakistan is Islamic.
However, secularism prevails and most Israelis identify as Westerners in every way. Despite an ongoing Intifada (war) and the 2006 mini-war with the Lebanon-based Hizbullah guerilla army, the economy, led by the high tech sector, keeps growing by about 5% a year.On the other hand: corrupt politicians, pockets of poverty, plenty of crime, a deep rich-poor divide, strikes, scandals and governmental waste contribute to the impression that Israel is actually a Third World country in disguise. Israel is a nation under constant attack but everyday life is quite peaceful despite the tension.This is a land that is literally in the East but belongs to the Western world. Life here may be stressful, but the talent to overcome obstacles and the drive to succeed is great. Isreal in Reality is an attempt to explain the inherent contradictions of a complex nation-state whose five or more component populations disagree on almost every issue.Based on my thirty-eight years inside the Israeli melting pot, this book offers unconventional insights into the existential problems Israelis wrestle with every day.
Media Power
Over sixty years ago George Orwell spotlighted the problem of group-think; how totalitarian regimes control and manipulate the news so that the general public correctly learns what's right and what's wrong. As a boy I remember my dad reading Brain Washing in Red China during the 1950s. A joke that found its way out of the former Soviet Union declared that 'there is no pravda (truth) in "Isvestia" (spark) and no isvestia in "Pravda"'. Today the Qatar-based Al-Jazeera satellite TV station can say almost anything it wants about Arab rulers except, of course, those who run the Qatari government. Al-Jazeera has irritated some Arab leaders such as Hosni Mubarak to the point that its reporters have been expelled from Egypt and other offended countries. Ironically, Al-Jazeera's reporter in Israel enjoys more freedom than his co-workers in many Arab lands despite his rabidly anti-Israel disposition. Indeed, insulting a public official in Egypt and elsewhere in the Arab world is a crime punishable by imprisonment. Many years ago I read Inventing Reality: The Politics of the Mass Media (1986) by Michael Parenti, a Harvard professor. Parenti claims that the US media is controlled by conservative, capitalistic forces and that liberal initiatives and social causes get little or no coverage. Furthermore, Parenti thinks that the US media is generally negative with regard to welfare programs and leftist interpretations of current affairs. By contrast, the Israeli media is leftist-dominated and casts right-wing nationalists in a negative light. This view of the Israeli media is corroborated by Amos Goren who served as the Israel Broadcasting Authority's ombudsman for six years until June 2007. In a farewell interview in "Makor Rishon" (22 June 2007) Goren summarizes his experiences and says: "public media outlets that draw such a high percentage of complaints from one direction [the Right] must evaluate their performance very seriously. This is why my report advises that all sectors of the population should have proportional representation in the composition of the Broadcasting Authority's staff [which is overwhelmingly secular, liberal and leftist]". Goren goes on to recall that "there is an anti-Jerusalem and anti-settler spirit. A good word about Gush Katif [the Jewish settlements in Gaza] has almost never been broadcast; not even from a strictly agricultural perspective. [The Gush Katif settlements were agricultural successes that produced large quantities of cherry tomatoes for export and marketed sizable quantities of bug-free lettuce and other vegetables.] This is amazing and painful". I clearly remember listening to the 10:00 a.m. news one rainy day in February 1988. This bulletin included a report about a bomb that had exploded in a trash basket in B'nei Brak near Tel Aviv. After the news, the Voice of Israel commentator hosting the Hakal Diburim program got an eye witness to the explosion on the phone and asked her what happened. The lady answered that a bomb had exploded "but thank goodness no one was hurt". Instantly, the radio mc asked, "And what about the two Arabs?" One Arab was injured and the other had been killed by his own bomb according to the news report. For years Shelly Yichimovitz was a TV commentator who spotlighted social problems ,promoted left-wing agendas and criticized right-wing positions. Just before the 2006 national elections she joined social-democrat Amir Peretz's Labor party list and got elected to the Knesset. Prior to her career change, Israel's Media Watch frequently complained about Yichimovitz's biases and demanded that her TV station give equal time to someone with opposite opinions. But nothing ever came of this effort to achieve some sort of balance. The Israeli media is overwhelmingly leftist and exclusionist. Every year Israel's Media Watch awards prizes to crusading journalists intent on exposing the truth (e.g. Yoav Yitzhak who has recently investigated and documented several of Prime Minister Olmert's questionable, possibly criminal actions) and academic researchers who have studied the media's leftist and even anti-Israel inclinations. In 2005 the IMW cited Dr. Oran Meyers, now at Haifa University, for his doctoral research that focused on "Haolam Hazeh", a radical left weekly no longer published. Meyers, who received his doctorate from the Annenberg School of Communication at the University of Pennsylvania, reviewed the media's performance over several decades and concluded that Israel's print and electronic media moguls and personalities are essentially opinion molders favoring leftist and even extreme leftist viewpoints. They are not in the business of presenting facts or encouraging objective public debate about issues and government operations. The intellectual elite that control the media are a select in-group with a pre-conceived political program that often ignores facts and reality. No politician can take an independent or opposing tack without endangering his or her public career. An IMW study of Channel Two's 2006 election campaign coverage shows how news items were slanted in Olmert's favor and against Netanyahu. Yoav Yitzhak resigned from his paper, "Maariv" when it refused to publish his Olmert expose. During the 1980s Rabbi Meir Kahane set up the Koch party and was elected to the Knesset on a platform that called for the transfer of Arabs out of Israel to Arab lands and other countries because, in his opinion, Arabs do not recognize Israel's right to sovereignty, are a national danger and support the overall Arab effort to annihilate the Jewish state. The media branded him a racist and barred his access to radio and TV studios. He was ostracized and vilified. The term kahanism was coined as a euphemism for racism. Then the governing establishment went a step further by formulating its own definition of racism. Whereas the anthropological definition explains that racism is primarily a belief in the innate superiority or inferiority of a particular race or group, the Knesset passed a law against racism which was re-defined as: preaching or taking action against a specific ethnic group. Employing this broader definition, the Knesset outlawed racism and disqualifies any person or party suspected of racism from Knesset membership. In effect, whenever someone fervently takes an anti-Arab position on almost any issue he or she is likely to be labeled a 'racist' by Arabs and their supporters.