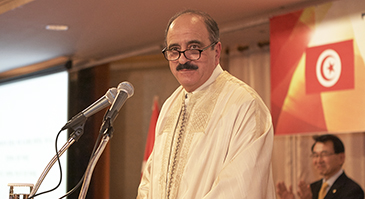 Tunisian Ambassador to S. Korea Mohamed Ali Nafti
Tunisian Ambassador to South Korea Mohamed Ali Nafti hosted a dinner reception at the Lotte Hotel in downtown Seoul at 6:30 p.m. on March 20 (Monday), 2017 to mark his country's 61st anniversary of independence.Tunisian Independence Day, which is the National Day, is the day Tunisia gained independence from France in 1956.A number of high-profile guests from nearly all walks of life were invited to the dinner reception. Among the guests were local politicians and high-level South Korean government officials
including Minister Chung Chin-Youb of S. Korea's Ministry of Health and Welfare and Lawmaker Shim Jae-Kwon, chairman of the Foreign Affairs and Unification Committee of South Korea's National Assembly.Scores of top foreign envoys serving in Seoul's diplomatic community were also invited.The Tunisian envoy also made an welcoming speech in front of the large audience. He is one of the most favored foreign envoys loved by local people.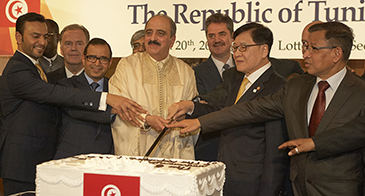 Tunisian Ambassador to S. Korea Mohamed Ali Nafti cuts the cake with the VIP guests during its 61st Independence event held in downtown Seoul on March 20, 2017.
Developing Tunisia-S. Korea Ties
Tunisia was also one of the first African and Arabic nations to establish diplomatic ties with South Korea.On March 31, 1969 Tunisia and South Korea established formal diplomatic relations, opening embassies in each other capitals.But the actual relations began a year earlier in May 1968 when the two nations opened consulates general in the respective capitals. Since then bilateral relations have undergone a significant development.The two nations have been developing friendly, and practical cooperative relations based on economic cooperation.In particular, South Korea invites a substantial number of industrial trainees from Tunisia.South Korea also sends Korean experts of many fields to the North African country.Meanwhile, Tunisia formed formal diplomatic ties with North Korea in July of 1975.In 1991 the bilateral trade volume stood at 23.2 million US dollars. Tunisia imported 15.8 million US dollars' worth of goods from South Korea and exported 7.4 million US dollars' worth of mainly aluminum to South Korea.But the bilateral trade volume increased to the whopping 380 million US dollars in 2010.Tunisia's imports were 345 million US dollars and its exports were 35 million US dollars.Main import items were railroad cars, passenger cars, construction equipment, synthetic resins, and cordless phones.Tunisia exported to South Korea such items as aluminium, textile and garments, wireless communications parts, and fish and meat.Currently some 180 South Koreans work or live in Tunisia. They are employees of LG Electronics, Samsung Electronics, Yura Corporation, and KOICA as well as other South Korean government officials and their family members.Tunisia wishes to induce technology and investment from South Korea.
Full text of Ambassador's Speech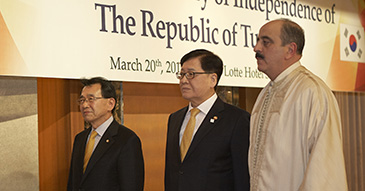 Tunisian Ambassador to S. Korea Mohamed Ali Nafti (right) stands with Minister Chung Chin-Youb (center) of S. Korea's Ministry of Health and Welfare and Lawmaker Shim Jae-Kwon, chairman of the Foreign Affairs and Unification Committee of South Korea's National Assembly during its 61st Independence event held in downtown Seoul on March 20, 2017.
Excellencies, distinguished guests
Seoul, March 20th 2017Friends of Tunisia, Fellow citizens
ANNYUNGHASIPNIKA YEOREOBUNI am deeply grateful to all of you for gracing us by your presence in this auspicious occasion commemorating and celebrating the sixty first anniversary of Independence of my country, Tunisia.
Allow me to welcome his Excellency Minister of Health and Welfare, Mr. JUNG Jin Yeop, our guest of honor who joined us in this meaningful event. And it's with equal honor that I welcome H.E Mr SHIM Jae-Kwon, Chairman of Foreign Affairs and Unification Committee in the National Assembly whose distinguished members have always expressed their political support to my country.
We shall always rely on the very valuable support of the parliamentary diplomacy to enhance our bilateral cooperation.Ladies and Gentlemen 61 years ago in 1956, Tunisian people retrieved its freedom and independence and set up its first sovereign and modern republic.
Significant and valuable accomplishments have been achieved, particularly in the fields of women empowerment, education, health care, culture and tourism, thanks to a strong political will and efficient national institutions.In January 2011, the Tunisian people expressed itself in a spontaneous revolution with a very high civilian and peaceful manner for more freedom, justice and dignity. Since then, the consolidation of the corner stones of the 2nd Republic in 2014 through the establishment of a new constitution and, fair presidential and legislature elections enabled smoothly the success of the political transition towards the establishment of a young and promising Tunisian democracy. It's the fruit of dialogue and conversions which led to 2015 Noble Peace Prize.
Faced to a coward and unexpected wave of fundamentalism and terrorism, our army and security forces backed by a vibrant people, have been showing an exceptional resistance to combat and eradicate this scourge from our country. Today Tunisia's big challenge remains in setting up a genuine economic transition for a sustainable democracy where security, development and, social justice, dignity and respect of Human Rights should prevail. The international conference on economic support and investment which took place in Tunisia in November 2016, offered real business opportunities for our main partners, taking into account the newly adopted reforms and many comparative advantages.
In this regard, we highlight the participation of the government of Korea in this conference and look forward to ensuring a follow up of this commitment within a win-win spirit of cooperation and partnership. It is high time for the Korean private sector to reconsider the very promising and attractive Tunisian site as well as the variety of products to be explored by KOIMA and its members particularly in their next trip to Tunisia.KOICA, to which we are very grateful for its consistent assistance to Tunisia, is in a good position to confirm this economic progress.
We have also opened new avenues of bilateral cooperation in the field of ICT where Tunisia has been a suitable sparring partner for Korea in many electronic applications.Projects in Health care, scientific and medical societies, agriculture, environment, scientific research, education, culture, women empowerment among other sectors have been identified to strengthen our bilateral cooperation. I avail myself of this opportunity to praise the role of H.E the Minister of Health and Welfare in setting up a fruitful cooperation with Tunisia in this very important field. We are very keen to further develop our cultural ties and we shall organize cultural events reflecting some aspects of the 3000 years of Tunisia's long cultural heritage to encourage Korean nationals to discover our countryMore recently an academic Korean delegation led by Professor Moussa Kim delivered to the Tunisian Speaker a translation into Korean language of 2014 Tunisian Constitution.Professor Jung A will introduce the thoughts of the prominent and outstanding, the Tunisian, Arab and universal scholar in sociology Abderrahmen IBN Khaldoun to the Korean Elite, and I should say CHUKHA HAPNIDA to all of you.Mr Minister
Honorable member of the National Assembly
Excellencies
Ladies and Gentlemen While reiterating my warmest thanks to all of you for being our guests tonight, I would like to avail myself of this opportunity to wish to Korea, its vibrant people and civil society, more prosperity and stability, as well as longstanding friendship between Tunisia and Korea. Thank you all.
KAMSA HAPNIDA
For details or inquiries call the Tunisian Embassy in Seoul at 790-4334/5.