Global Views
Op-Ed Special
Nuclear Preemptive Strikes on North Korea?
Special Contribution
By Robert Park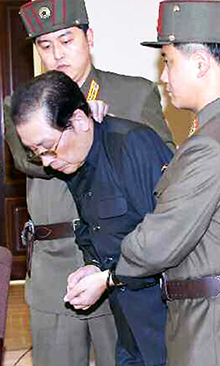 Jang Song-Thaek (1946-2013), was arrested and executed on the order of Kim Jong-Un on Dec. 12, 2013. The son in law of the North Korean founder Kim Il-Sung was brutally killed by Kim Jong-Un, grandson of the late leader.
Scaremongering, alarmist and utterly irresponsible messages have been circulating wildly. Among them, some fallaciously posit that nuclear preemptive strikes on North Korea — which would inescapably entail a genocide of innocents, perpetrated against those among the world's most oppressed — might become necessary.These arguments are premised upon fantastic, hypothetical, far-fetched scenarios — which Popular Mechanics magazine declared were "not realistic," with claims used to legitimize a nuclear first strike culled from highly dubious sources — all while failing to mention the apocalyptic catastrophe those decisions would signify for the Korean Peninsula and people.Such measures would betray a stunning disregard for Korean lives — both southern and northern.UK newspaper the Independent criticized one such commentary observing, "But while Mr. Woolsey and Dr. Pry write of the potential 'millions of casualties' of a nuclear attack on the US, they do not analyze the potential impact of a US first strike on ordinary North Koreans.""In 2014 the United Nations concluded the North Korean people were subjected to 'extermination, murder, enslavement, torture, imprisonment, rape, forced abortions and other sexual violence, persecution on political, religious, racial and gender grounds, the forcible transfer of populations, the enforced disappearance of persons and the inhumane act of knowingly causing prolonged starvation,'" the article reminded.In a Bloomberg column earlier this year, Andrei Lankov wrote concerning the controversy, "a strike would likely destroy the US-Korea alliance. Many South Koreans would view preemptive American action as criminally selfish — addressing a distant threat to the US at the cost of creating a much more immediate threat to South Korea."In reiteration, what is being ordinarily referenced as "preemptive" strikes vis-a-vis Kim Jong-un's ICBM program are in fact preventive strikes — striking to destroy an adversary's capability but without any indication of an imminent attack.As Robert Gallucci, a professor of diplomacy at Georgetown University and former State Department official noted in a March 23 article, "If (Rex Tillerson) meant to indicate that the US would undertake a military strike on North Korea to prevent the testing and development of an ICBM ... such an act could not properly be called preemption, because it would not be responding to an imminent attack. Rather, we would be taking preventive action and risking a preventive war. ... The invasion of Iraq in 2003, for instance, was a preventive war, not an act of preemption. Ethics, law and prudence are on the side of preemption but not on preventive strikes."Preventive strikes, which are erroneously being paraded as preemptive, could lead to what former US Defense Secretary William Perry characterized as "a second Korean War, far more devastating than the first." Some 5 million died in the Korean War — predominantly Korean civilians. Korean noncombatants, with nowhere to evacuate to in such immense numbers, would again suffer overwhelming deaths.After being dismissed by then President Harry Truman — before the 1950-53 war reached its halfway point — Gen. Douglas MacArthur testified during hearings investigating his firing: "The war in Korea has almost destroyed the nation. I have never seen such devastation. I have seen, I guess, as much blood and disaster as any living man, and it just curdled my stomach the last time I was there." He described the war as "a slaughter such as I have never heard of in the history of mankind."South Korea's Defense Ministry concluded Kim's regime aims to "dump 31 tons of biological and chemical weapons into the South on Day 1 of war by using its long-range artillery and airplanes," as cited by Dong-A Ilbo Feb. 27.The newspaper added: "The number of expected fatalities due to such an attack will hit up to 2.8 million people. Even so, the South is significantly lacking air-raid shelters that are equipped for biological and chemical attacks."Gallucci warned in the aforecited commentary, "At the moment, neither we nor our allies are prepared for war."Nor does the simplistic notion of military strikes against the North "on humanitarian grounds" possess any credibility whatsoever within reality. Preventive strikes would have the inverse effect. North Korea's long-established policy of massacring all those within prison camps in order to "erase evidence" of atrocities would immediately be implemented in the event of war — something Kim Jong-un can do very swiftly and handily because of how the camps are constructed.Further, there is the appalling risk — alluded to by Perry and many others as of late — of escalation that would culminate in wiping an unheard-of number of people "off the map."For what could possibly be "worse" than 5 million dead in a country of this size? North Korea could respond with a nuclear counterattack targeting the South subsequent to US preventive strikes, which may then be answered by an indiscriminate, "complete" retaliation.Instead, we must undertake a vigorous, tailor-made information campaign focused on estranging North Koreans from Kim Jong-un, leading to his ouster and the reunification of South and North.In North Korea, even those considered to be "second" are merely expendable pawns. As the Chosun Ilbo conveyed on Dec. 20, regarding disclosures from former North Korean ambassador Thae Yong-ho's debriefing: "The absence of a second-in-command in the North opens up the chance of reunification 'if something happens to' leader Kim Jong-un."Jang Song-thaek, Kim's uncle and formerly No. 2, was horrifically murdered. All of his associates, together with their family members — including children — were either killed or sent to concentration camps of unparalleled brutality. Subsequent to Jang's purge, Choe Ryong-hae assumed No. 2 status — but not for long.Choe — who alongside other senior-most North Korean officials, made a surprise visit to South Korea to attend the closing ceremony of the 2014 Asian Games — was suspended from all positions within the central party by 2015, imprisoned and reportedly tortured.In 2015, North Korea's Defense Minister Hyon Yong-chol was executed, reportedly for "dozing off during military events and second-guessing Mr. Kim's orders." There are multitudinous parallel cases of top officials being inhumanly disposed of according to Kim's impulses. High-ranking North Korean officials, too, clearly live in fear for their lives at this juncture and a conditional amnesty — requiring the cessation of all human rights violations, freeing of all political prisoners and opposition to the person of Kim Jong-un — which allowed for them to live securely in a reunified Korea would doubtlessly be attractive if offered.I'm certain resentment against Kim is far-reaching and many want the genocidaire out within the North. Yet they need to know the south is behind them and that South Korea would embrace and welcome northerners after unification.Thae Yong-ho has solemnly cautioned, "A preemptive strike against North Korea will bring about a huge catastrophe. Before it happens, we should remove Kim Jong-un." I share Thae's conviction we can and must depose Kim Jong-un through "peaceful" means; namely, by actively reaching out to northerners in prudent compassion. At a closed-door forum March 28, Thae reiterated, "The North Korean regime must be brought down by its own people with the help of outside information." Thae is correct; it is the North Korean people themselves who must be empowered and assisted to unseat Kim Jong-un. We can and must bring about peaceful reunification in such manner.
The above writer, Robert Park, is a founding member of the nonpartisan Worldwide Coalition to Stop Genocide in North Korea, minister, musician, and former prisoner of conscience. He can be reached at wcsgnk1@protonmail.com

Related Articles
"It's Time to Aid N. Korea's Dissidents"
North Korea's Legacy of Terrorism