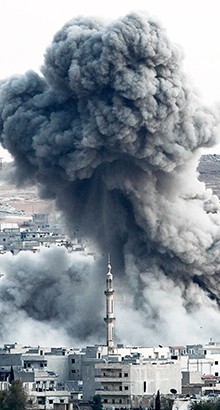 US air strikes on Syria
On April 7, 2017 the day on which a news swept first Arab Nations' media and then spread to Western media, "Al-Assad's chemical attack to Khan Sheikhoun, Syria, causing death and injuries to civilians. Most of Western media blamed the Syrian president for carrying out chemical attack on innocent women and children, while Syrian authorities vehemently denied this fact, telling they only bombard a storage containing chemical weapons belonging to ISIS terrorists. Trump saw red, shed crocodile tears for innocent lives and the night he had meeting with china's president he flew off the handle, condemned Bashar and ordered an air strike on a Syrian airfield called Shayrat. Let's get straight to the point and take a quick look to the issue.
Statements
— Nowadays satellites are updated and very well equipped to detect precisely any detail of any military action or any other incident on the earth. So it was not hard bone to crack for today's satellites to precisely and accurately determine whether Syrians carried out a chemical attack or did they explode a storage containing chemicals. The question is why Trump and US military didn't wait for the result of investigations, even if their claim of Assad's using chemical weapons against civilian was true they could've united China and Russia with themselves.
— The Shayrat air base was the same source through which on 17 march 2017 Syrian forces used to down one aircraft and hit another, while Israelis vehemently denied the assertions, calling them "absolutely not true." — The US authorities claim that they informed Russia of the strike, as Pentagon Spokesman Captain Jeff Davis said in an official statement: "Russian forces were notified in advance of the strike using the established deconfliction line. US military planners took precautions to minimize risk to Russian or Syrian personnel located at the airfield." — The initial news reported that the number of US launched missiles were 59 but then Russia reported a satellite-based documents showing the details that the number of launched missiles were only 23. The question is why US exaggerated the number of launched missiles.
Arguments
— Trump was just seeking a reason to start a war he didn't sought truth and reality. — Hitting an Israeli aircraft on March 17 and its denial by Israel is not the matter. The matter is Syria took a military measure against Israel from the so called air base. It could be claimed that the US air strike was an act of taking vengeance on Syria's targeting the Israeli aircraft. It also could be claimed that the strike was intended to strengthen US relations with Israel and Arab nations, prevent ending war in favor of Bashar and set a moderate situation to sit on the table with Russia. — US military's giving notice of strike to Russian forces in advance shows that Trump was not so determined to start a serious conflict, but he just sought to carry out a symbolic move. — Trump's foreign policy is based on "being on the scene" in contrast to Obama's strategy of assigning proxy in middles east. Trump wants both, assigning a proxy and himself to be in the scene. It means trump want to retain terror groups as his proxy and make himself present too. The strike was an act of supporting terrorists, since just hours after the strike, ISIS terrorist found a new life and attacked Syrian ancient city of Palmyra. US exaggeration to report the unreal number of launched missiles was a strategic act to somehow take advantage from Arab nations' dollars. The history bear witness to this kind of US black mailing Arab nations. The question remains unanswered here is who US-Russian relations will change after this strike, having this in mind that Putin is and always will be on Syria's side.