Asia-Pacific
Letters from India
Bhupen-da Came alive with Dhola-Sadiya Bridge Inauguration Ceremony
By Nava Thakuria
Special Correspondent

Guwahati: It was assumed that Prime Minister Narendra Modi would declare the Dhola-Sadiya bridge of Assam in the name of Dr Bhupen Hazarika and was also apprehended that the Communist China would react to the project as it is hardly 100 km away from India-Tibet (China) border. And both turned into reality.On completion of three years at office by NDA government in New Delhi, PM Modi arrived in Assam on 26 May and dedicated the river bridge over Lohit, a major tributary of mighty Brahmaputra, to the nation.Significantly the Bhupen Hazarika Setu connecting Dhola to Sadiya is the longest bridge in the country.Modi, who arrived in the far eastern part of the country during morning hours from New Delhi and inaugurated the bridge, constructed with the budget of rupees 950 crore, naming it after legendary Assamese cultural personality Bhupen-da (as Dr Hazarika was popularly known among millions of his fans).Addressing a public rally at Dhola in Tinsukia district, Modi expressed hope that the 9.16 km long bridge would enhance connectivity between Assam & Arunachal Pradesh opening doors for economic developments. He also revoked that it would fulfill a vital requirement in terms of India's defence perspective as it is near to the McMahon Line.The bridge is expected to reduce the distance from Rupai (Assam) on NH- 37 to Meka-Roing (Arunachal Pradesh) on NH-52 by 165 km and thus give a major boost to overall economic developments in the alienated region. The Prime Minister also added that the sustainable infrastructure along with road & rail connectivity is extremely important for the development."The effort of the Union government is to fulfil the dreams & wishes of the people," commented Modi in presence of Assam governor Banowarilal Purohit and the State chief minister Sarbananda Sonowal adding that the Centre was placing great emphasis on the development of waterways as well in the region.Modi asserted that the eastern and north-eastern parts of India have the greatest potential for economic development. The enhanced connectivity between the region and other parts of the country, and also good communication linking the region with the economy of southeast Asia remains the priority for the Centre, he declared.In fact, a number of individuals along with few civil society groups urged the Centre to name the bridge after the music maestro, where the Patriotic People's Front Assam (PPFA) and the Arunachal Pradesh Literary Society (APLS) had separately advocated for honouring Bhupen-da. Both the organizations argued that the singer with an immortal voice emerged as a man of assimilation embracing various community & tribes of the region like a golden thread.The PPFA pointed out that Dr Hazarika was born at Sadiya (on 8 September 1926) and he made the first film titled 'Meri Dharam Meri Maa' representing Arunachal. He was the most visible individual of the region for many decades. Preferred to declare himself as a Jajabor (wanderer), Bhupen-da successfully tried his hands in various creative space as a poet, lyricist, singer, music composer, author, journalist and filmmaker.The APLS asserted out that Dr Hazarika worked relentlessly for unity & integrity for all caste, creed and religions through his songs and music till hid demise in 2011. He is hailed as the uncrowned king of the region's cultural world. His songs continue to be popular even today as those contain the humanity above everything.The bard of Brahmaputra is equally popular in other parts of India along with Bangladesh, Nepal and Pakistan. Bhupen-da got Ph D in mass communication (1952) from Columbia University, New York. He was conferred on Padamshree (1977) and Padma Bhushan (2001) besides Dadasaheb Phalke Award (1992), the first and only one from northeast India to receive the honour till date.The child prodigy sang and performed in 'Indramaloti', the second Assamese talkie film made by Jyotiprasad Agarwala in 1939. Hazarika penned thousands of lyrics and rendered his crisp voice for nearly 1500 songs. He had composed music for 36 Assamese films with few Bengali (Jiban Trishna, Jonakir Alo, Mahut Bandhure, Kari o Komal, Ekhane Pinjar, Dampati etc) and Hindi (Aarop, Ek Pal, Rudaali, Papiha, Darmiyaan, Daman, Gajagamini etc ) movies.As a director, some of his outstanding Assamese films include 'Era Batar Sur' (1956), 'Shakuntala' (1960), 'Pratidhwani' (1964), 'Lotighoti' (1967), 'Chick Mick Bijuli' (1970), 'Mon Projapati' (1978), 'Siraj' (1988) etc. He won President's award for 'Shakuntala', 'Pratidhwani' and 'Lotighoti' as a film maker. Bhupen-da was honoured with best music director award for 'Chameli Memsaab' in 1976 (It was the first national award in music direction for the Assamese film industry).Assam government conferred two prestigious honours (Shrimanta Shankardev Award 1988 and Asom Ratna Award 2008) on him. Asom Sahitya Sabha, the highest literary forum of Assam, offered the coveted post of the President to Bhupen-da in 1993. For a five year term he was appointed as the Chairman of Sangeet Natak Akademi in 1999 and was also elected to the State Legislative Assembly in 1967.Soon after the Chinese aggression in 1962, Bhupen-da visited the Kameng locality of Arunachal and created his eternal lyrics
'.... Aaji Kameng Simanta Dekhilo, Dekhi Shatrur Pashutwa Chinilo .... (Seen today the Kameng border and realized the barbarity of enemies meaning Red China) ' paying homage to the soldiers, who sacrificed their lives in the war. He also advocated for a watchful force at the border area for the security of the nation. And the reaction from Beijing came accordingly after the grand
inauguration of the Bhupen Hazarika Setu.The Chinese administration asked New Delhi to be cautious and exercise restraint over building infrastructure in and around Arunachal, which they claim it to be southern art of Tibet. It was however none other than rhetoric as Beijing continues making noises, where last time it did so to oppose Tibetan spiritual leader the Dalai Lama's visit to Tawang few months back.

Related Articles
Welcome to Pragjyotishpur Literature Festival
Questioning Credibility of Editors Guild of ...
When 177 Global Leaders Stand behind Prof. ...
Manifesting Patriotism on I-Day
Raising Demand for a Media Grievance Cell
India: Rhetoric Boycott Call by Separatist ...
Banning Polygamy with Consensus
No End to NRC Controversy
Protecting Rhinos in Manas National Park
When Scribes Face Corruption Charges and ...
Complainant to Re-approach Court on NRC Assam ...
My Unforeseen Journey as a Scribe
Converting Profit Hungry APDCL to Consumer ...
Dreaming of a World with Three Zeros
After Two Years of Military Coup Myanmar Heads ...
When India's Highest Court Faces an Unwanted ...
Riding City Buses in Guwahati
When Rumour Kills a Mainstream Newspaper!
Dissecting Assam NRC for Better Understanding
Vehicular Speed That Kills Millions of Indians ...
Intriguing Debate on Automobile Mishap
Projecting Guwahati as a Krira Prangan
New York Times: Editions, Visibility, ...
Northeast Celebrates I-Day with Full Patriotic ...
Marching Ahead with the Spirit of Swatantra ...
Time for Journalists to Be Cautious, Authentic ...
Prakash: Throwing Light on Tibetan Literature ...
When Repeated FIRs Lodged against an IAS ...
Developing Guwahati as a people-friendly city
Negating PSO Culture among Media Persons
Losing Public Goodwill: Assam Media's Way
Global Award to Journalist Nava Thakuria
India's Restive Region Sets to End 2021 ...
RSS Condemns Islamist Attacks on Hindu ...
When RSS Chief Bhagwat Articulates Agendas
Let's Talk about Self-Reform and Financial ...
'Self-reform and Financial Transparency in ...
Tibet Sympathizers to Lodge Protest against ...
Prof. Yunus Receives Laurel, Bangladesh Adds ...
India Practices Secularism, Democracy and ...
Needed a Scientific Probe into Bamunipahar ...
Pandemic-Hit Book Publishers Eye for Openings
India: Persisting Vulnerability to Scribes
Bharat: Nurturing Nationalism with National ...
POK Editor Bats for More Exchanges
Cries Mounted for Reviving Nabin Chandra ...
Scam, Media Outburst and Its Aftermath
Amidst Chinese Threat Dalai Lama Concludes ...
Asserting Media Person's Rights in India
China's Myanmar Bonanza Sans Responsibility
Manufacturing Misguided Protests in Assam
Assam Forum Bats for Work Permits to ...
Remembering My Principal Sir!
Saluting Tricolour to Defy Militants' Diktat ...
Underlining India's Productive Engagement in ...
A Conservator Constitutional Head in Northeast ...
Young Journalist Killed in India, ...
Unpaid Media Employees of Northeast India
Journalist Body Urges Political Parties to ...
Saving the Tigers from Extinction
Glorious Tribute to Bhupenda
Burmese Students Term New Government Bogus
Burma Turns Hostile to Indian Separatist Groups
Northeast India Rediscovers Tricolour
Indian People's Win Inspires Burmese Activists
Nobel Support for a Noble Cause
Activists Condemn India's Arm Deal with Burma
Protest Note from Guwahati Press Club
Journalists' Killings: Justice Eludes in ...
Games Gogoi Played In Assam Polls
Remembering Parag: Assam's Way
Helicopter Missing from Northeast Indian Sky
Allegations Poured on Indian Premier
Allegations Fired at Indian Premier
Rising Resentment against Corruption in India
Satellite News Channel Launched in Northeast ...
Looking at Burma's Forthcoming General ...
Burma Election, Refugees and Media's Role
When British Newspaper Tenders Apology to ...
TST Contributor Honored with Excellence Award
Burning Rhino Horns: Creating Controversy
Condemning Military Election in Burma
Protest against Military Election in Burma
Burmese Demonstrates Anger against Junta
Assam: A Pretending Warrior and Peace ...
Southeastern Bangladesh Erupts in Violence
Grim Picture of Human Rights in India
Burma on Radar as New Delhi Prepares for ...
Assam: Where People Defy Militant's Diktat
Bangladesh Readies to Hang Bangabandhu Killers
International Film Festival Begins in Guwahati
RK Pachauri under Attack from British Media
Selling News Space Culture in India: Concerns ...
Asian MPs Insist on a Free & Fair 2010 Burma ...
Guwahati Festival to Highlight Terrorism
Assam: Brutal Armed Group, Incompetent ...
Without Suu Kyi, 2010 Polls Have No Meaning
Beijing Eyes Northeast India !
Bumpy Road to Copenhagen
Nava Thakuria Elected Assistant Gen. Sec. of ...
Northeast India: People Defy Militant's ...
Northeast India: Waiting for Justice for 18 ...
Northeast India : Where Protector Turns Killer
Raising Support for Democracy in Burma
Indian Muslims Raise Voices for Uighurs
Will Captive Breeding of Vultures Work?
Northeast India: Trailing a Notorious Rebel
Is Burma Junta Learning from Cyclone Nargis!
Is a Nepali Fugitive Winning Indian Election?
When Politician Uses Scribe for Vested Interest
Assam Editor Killing: Protest Continues
Freedom under Chinese Boot in Tibet
Pride and Poverty: India's Amazing Blending
Sri Lankan Crisis: Shelling on Hospital ...
Northeast India Defies Militant's Diktat:
Woman Journalist Killed in Nepal
Urging for Insurance Coverage to Media Persons
Bangladesh: Waiting for a Stable Democratic ...
ULFA Leader Appeals UNHCR for Political Asylum
Assam Mourns Death of Mumbai Terror Attack
When an Assamese Magazine Rejects ...
Bangladesh Polls: Apprehension on Final Outcome
Manipur Asks for CBI Probe into Scribe's ...
Scribe's Killing in Northeast: Demand for ...
'Suspend Burma from BIMSTEC'
Guwahati Citizens Meet to Discuss Terrorism
Group Clashes Shock Northeast India
When Media Distorts Facts to Manufacture News
Where Editors Swindle Reporters
Calling upon Comprehensive Packages for ...
Highlighting Media's Challenge and ...
Media on Media' Glitch: An Exercise of ...
An Ignited Assam Baffles ULFA
Assam Defies Militant's Diktat to Celebrate ...
Journalists Dare to Defy Militants' Diktat
When Bangladeshi Influx Ignites Assam
Nepal Can Expect a Consensus of Government Soon
Victorious Maoists Lose Battle for Kathmandu
India: Assam Party Waits for an Opportunity
Burma after Nargis: Devastated, Depressed and ...
When a Disastrous Regime Continues
Exposing Corrupt Journalists of Our Time
Nepal Waits a Republic Regime: Diasporas Don't ...
Waiting for Consensus on Government in Nepal
Condemnation Pours on Burmese Junta as Suu ...
American-Assamese Preparing White Paper on ...
Assam Government Bows Down to Public Outrages
Shaky Start to Druk Democracy
India and Burma Push Joint Project
Bhutan Turns Democratic
Disregarding Public Outcry: Assam Government's ...
Army, Police Heads Become Governors in North ...
Rhinos Dwindle as Poaching Thrives in India
Taste of Democracy in Bhutan Is Not for ...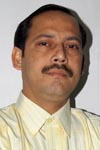 Nava Thakuria, who serves as a special correspondent for The Seoul Times, is based in Guwahati of Northeast India. He also contributes articles for many media outlets based in different parts of the glove, and can be contacted at navathakuria@gmail.com