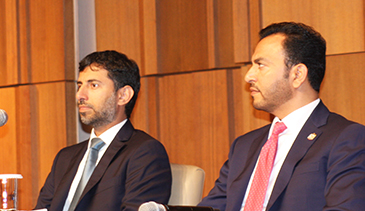 UAE Energy Minister Suhail bin Mohammed Faraj Faris Al Mazrouei (left) and UAE Ambassador to Seoul Abdulla Saif Alnuaimi at press conference in Seoul on July 19, 2017
With four Arab nations already cutting ties with Qatar for its state-sponsored terrorism, the visiting UAE Energy Minister Suhail bin Mohammed Faraj Faris Al Mazrouei strongly denounced Qatar for funding and supporting Isramic terrorist groups in Seoul on July 19, 2016. UAE, Saudi Arabia, Egypt, and Bahrain severed diplomatic ties with Qatar in June this year, saying that Qatar was supporting terrorist and extremist groups.In a meeting with local South Korean journalists in Shilla Hotel in Seoul at 1 p.m. on the day, the UAE energy minister showed a strong opposition to Qatar for financing "dangerous" terrorist groups. UAE Ambassador to Seoul Abdulla Saif Alnuaimi was also present at the press briefing table. The UAE envoy organized the press meeting.He argued that Qatar has shown more than 20 years of "strange" behavior for funding and financing the "dangerous" groups.He said that UAE and other Arabic nations tried to persuade Qatar to stop supporting the terrorist groups and to become their true neighbor, but to no avail.The minister added that he and other UAE officials are turning to international community to pressure Qatar to stop financing the terrorist groups.He went on to say that among a total of 91 terrorist groups in the world 14 of them are operating within Qatar, getting direct financial support from Qatari government.The minister revealed that in spite of UAE's strong denouncement of Qatar UAE government is lenient on Qatari citizens, allowing them to reside in its border.Mr. Al Mazrouei arrived in Seoul late at night on July 18, 2017 at the official invitation of South Korean Foreign Minister Kang Kyung-Wha. The two ministers had a meeting between 11:30 and 12:00 on July 19, 2017.They discussed and exchanged views on overall bilateral ties, cooperation in energy sector, and regional political situations.There has been active exchanges and cooperations going on between UAE and South Korea in overall industrial sectors particularly in energy sector. Aside from frequent seminars and conferences in both countries there have been active exchanges of high-level personalities between the two nations. Top leaders of two countries have visited each other's nation 11 times in the last 10 years or so.
In particular, the cooperation in renewable and nuclear energy is the key sector between UAE and South Korea.South Korea's KEPCO inked an agreement with UAE's ENEC in December of 2009 to build four nuclear energy facilities on UAE soil. The project was worth 18.6 billion US dollars.Three years ago Mr. Al Mazrouei himself visited Seoul seeking further cooperation in the energy field.
On Feb. 14, 2014 he signed MOU with his South Korean counterpart Yoon Sang-Jick in Seoul for cooperation in a variety of energy sectors. UAE and South Korea established official diplomatic ties on June 18, 1980. UAE also opened diplomatic relations with North Korea in 2007. The bilateral relations between UAE and South Korea
have developed rapidly since the formation of the diplomatic establishment.The mutual ties culminated in 2009 when the two nations became strategic partners. The mutual cooperations spread to defense and security areas since then.
Who Is Suhail Mohamed Faraj Al Mazrouei?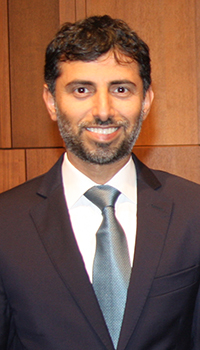 UAE Energy Minister Suhail bin Mohammed Faraj Faris Al Mazrouei
Mr. Suhail Mohamed Faraj Al Mazrouei has been serving as UAE energy minister since he was appointed as Emirati minister of energy on 12 March 2013.Mr. Al Mazrouei has held multiple positions in government as well as in the private sector.Mr. Al Mazrouei was deeply experienced in corporate administration in such various sectors as shipbuilding, defense systems, oil and gas services, and real state development.He started his career as a petroleum engineer. He climbed the latter of success within the companies. Soon he became the director of production and engineering facilities for all the companies operating in the offshore area of Abu Dhabi.In 2004 he was sent to Shell EP (Exploration and Production) in the Netherlands to gain hands-on experience in a number of global projects in Nigeria, North Sea, Brunei as well as in the Netherlands. He stayed on the Dutch soil for a full year.As a top company executive Mr. Al Mazrouei was in charge of developing new projects and making investments in exploration and production in the countries of Middle East and Africa. He was quite successful in adding new projects to portfolio assets of the company in Bahrain, Oman, and Kazakhstan. His new project increased the value of the company's shares.Mr. Al Mazrouei studied at an American university. He received a bachelor's degree in petroleum engineering from the University of Tulsa in Oklahoma, the United States in 1996.He was born in Dubai on July 1, 1973. As a hobby he is interested in poetry, letters, and history. He is married and has three children.