America
Yesterday's Immigrants: Better Than Today's?
Special Contribution
By Domenico Maceri

| | |
| --- | --- |
| | Statue of Liberty — The Statue of Liberty, meaning "Liberty Enlightening the World" in French, is a colossal sculpture on Liberty Island in New York Harbor in America's New York City. The copper statue, a gift from the people of France to the people of the United States, was dedicated on October 28, 1886. |
"They were real immigrants". That's how two Italian miners were described in my friend's Facebook post in a photo taken sometime in the 1950's. No comment on today's immigrants but the contrast suggested a less-than-positive view of recent newcomers.Old immigrants are seen with nostalgic eyes: they respected American laws, assimilated, learned English, and did not cause problems nor make demands. They are heroes who built America. The Statue of Liberty is a monument to their struggles and dreams, proof that we value them in the same way we value great presidents and war heroes.To the grandchildren and great-grandchildren of these people, the newest immigrants seem strange—and decidedly unheroic: unwilling to assimilate, demanding to be taught in their own languages, even unpatriotic. And of course, they are in the country illegally.A Northern California reader informed me that when Mexican immigrants rooted for their national team rather than the American during a qualifying game for the World Cup soccer, they proved that they had no interest in becoming Americans. Nostalgic eyes make us see our grand-parents or great grand-parents who came to this country as heroes. Ironically, their contemporaries saw them pretty much the same way many people see the current crop of immigrants. Irish job applicants faced "No Irish Need Apply" signs. Racial and ethnic epithets were commonplace.Most newcomers were considered less intelligent than native born Americans. In 1921, for example, fifty per cent of the special education students in New York City schools were Italian immigrants. They were given placements tests in English, a language they barely knew, and therefore were placed in inappropriate classes. Our respect for our immigrant forebears is a good thing, but not if that respect keeps us from realizing that most people saw our ancestors as stupid, lazy, unpatriotic and unwilling to assimilate. The reality is that all immigrants, old and new, have the same urges: a search for better opportunities for themselves and especially for their children. This applies as much to those who just entered the country as it does to "old" immigrants.Even the first immigrants— "Native Americans" who entered the American continent ten thousand or more years ago— were searching for better lives. Everyone in the US is an immigrant in one form or another. The difference is time.Yet time is significant even with their treatment by those already here. It would be simplistic to say that modern immigrants are treated worse than those who came at the turn of the century or before. American society has improved. Immigrants now have rights that old immigrants never had. America keeps growing and improving as we have learned to treat immigrants in a more humane way in part as a reaction of how immigrants of the past were treated.That does not mean everything is rosy for new arrivals. They are still powerless given their poverty. Many years ago the United States, Canadian, and Mexican governments approved NAFTA, which makes it easier for companies to sell their products across borders. Similar international accords are often being planned to help businesses.These laws are supported by business with considerable lobbying by international corporations. Poor people, unfortunately, don't have the resources to lobby for their rights and create favorable legislation for them. It's OK for companies to sell their products across borders but when people try to move from one country to another to sell their services it becomes problematic. Yet, people from other countries continue to come to the US with appropriate documents, following established rules but others do the same, skipping the necessary legal steps. Regardless of how they come, though, they view America in the same way immigrants of the past did with whom they have much in common. The image of America that needs to be made "great again", espoused by our current President, is false for them. That's why sometime they die in the process of getting into the country as it happened to nine individuals recently in a sweltering tractor-trailer in Texas. America is still the land of opportunity. When immigration from other countries stops, it means that America is no longer great.

Related Articles
Julián Castro's Monolingualism: a ...
Biden's Immigration Plan: Between Trump and ...
Legal and Illegal Immigration: A Winning Hand ...
World Cup: Beyond the Soccer Field
John Kelly's Fails English and History
Trump's Tiny Heart and DACA's Repeal
Trump's Alternative Reality on Immigration: a ...
Kaine's Español: Not Just Empty ...
Immigration: The Supreme Court Hands GOP a ...
Trump's Tax Returns: Our Business?
Trump's Wall is Full of Holes
Angry Latino Voters Will Deny Trump the ...
Bilingualism and US Presidents
Cruz: A "Canadian" for the US Presidency?
Spanish in the US: Just an Immigrant Language?
US Border Enforcement Bil Too Tough, Unwise
Freedom of Speech in English Only?
The GOP: No Guest Worker Program?
Tancredo: the Ugly Face of the GOP?
Rights for Illegal immigrants?
Healthcare for All?
No English, No Service?
When Language Knowledge Means Security
Enough Undocumented Workers?
Bilingual Principals?
Domestic Workers: Family Members?
Mexico in US
Tongue-Tied Bush?
Is Immigration a Local Affair?
Voting Rights in Español
Profiting from Illegal Immigration?
Job Safety for All?
When English Only Discriminates
Border Control with Songs?
Guilty Parents, Innocent Children?
Only One Language for America?
George Bush: Already Lame Duck?
A Comprehensive Immigration Bill That Works
Language as Integration
Driving in English Only?
Illegal Workers Saving Social Security?
Learning Languages the Easy Way?
English-Only Laws: Why?
Arnold Schwarzenegger: Pete Wilson II?
Language Fluency Means Security
Stingy Government But Generous People


Other Articles by Domenico Maceri
Julián Castro's Monolingualism: a ...
Biden's Immigration Plan: Between Trump and ...
Legal and Illegal Immigration: A Winning ...
World Cup: Beyond the Soccer Field
John Kelly's Fails English and History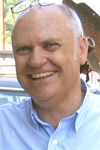 Domenico Maceri, Ph.D., UC Santa Barbara, teaches foreign languages at Allan Hancock College in Santa Maria, CA. His articles have appeared in many newspapers including Los Angeles Times, Washington Times, Japan Times, and The Seoul Times. Some of his stories won awards from the National Association of Hispanic Publications.