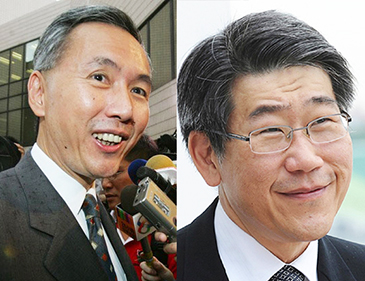 Singapore's richest brothers, 65-year-old Robert (left) and 58-year-old Philip Ng, are sons of real estate tycoon Ng Teng Fong. They inherited their father's real estate empire and continued to bring it to greater heights.
SINGAPORE (July 27, 2017) — Despite a sluggish economy, the total net worth of the top 50 tycoons on the 2017 Forbes Singapore Rich List rose to US$104.6 billion, up 11% from a year ago. The complete list can be found at www.forbes.com/singapore and in the latest issue of Forbes Asia, available on newsstands now.Close to two thirds of the country's 50 richest saw their wealth rise. Property siblings Robert and Philip Ng retain their No. 1 spot for eight consecutive years with a combined net worth of $9.4 billion. The brothers who control Singapore's biggest real estate developer, Far East Organization, saw their fortunes increase from $8.6 billion a year ago.Facebook cofounder Eduardo Saverin is now Singapore's second richest resident. He moves up one spot, with a net worth of $9.3 billion. Shares of the social media giant, in which he holds a minority stake, jumped by close to a third in the past year, adding $2.1 billion to his wealth. Saverin is busy backing tech entrepreneurs in the US and Asia.Another big gainer on the list is reclusive paint tycoon Goh Cheng Liang (No. 3, $7.8 billion), who added $2.1 billion to his wealth. His shares in Japan's Nippon Paint Holdings were boosted by strong sales in Asia as well as an expansion in the US with the acquisition of Dunn-Edwards.Chew Gek Khim (No. 23, $ 1.4 billion), who helms Straits Trading Company, is the biggest gainer in percentage terms, thanks to new information on the family's assets. Her wealth more than tripled from a year ago.There are two newcomers to this year's list. Hedge fund star Danny Yong (No. 42, $670 million) who teamed up with his college buddy to start Dymon Asia Capital in 2008. The firm's flagship Dymon Asia Macro Fund has been a top performer and earned Yong a spot in Forbes' 25 Highest-Earning Hedge Fund Managers in 2015 and 2017. Also new to the list is Saurabh Mittal (No. 44, $650 million), cofounder of Indian real estate and financial services group
Indiabulls, who relocated to Singapore three years ago. Through his private investment firm, Mission Holdings, he now holds stakes in several ventures, such as mixed martial arts company ONE Championship and California data analytics firm Incedo.Last year's dropout Ching Chiat Kwong (No. 45, $615 million), known for building shoebox apartments, returns to the list, thanks to a 43% rise in the shares of his Oxley Holdings on brisk overseas sales, primarily in Ireland, Cambodia and Malaysia. Oxley continues to spread its wings, acquiring stakes in a Chinese Special Economic Zone and an Australian developer.More than a fifth of those returning to the list saw their fortune decline. Five in this group have their wealth tied to real estate, a sector that has yet to see an uptick, though some of the biggest property names have cornered prized enclaves in Singapore.The minimum amount required to make the list was $540 million, up from $455 million last year.The top 10 richest in Singapore are:1) Robert & Philip Ng; US$9.4 billion
2) Eduardo Saverin; $9.3 billion
3) Goh Cheng Liang; $7.8 billion
4) Kwek Leng Beng; $7.1 billion
5) Khoo family; $6.3 billion
6) Wee Cho Yaw; $5.8 billion
7) Kwee brothers; $5.3 billion
8) Kuok Khoon Hong; $2.7 billion
9) Raj Kumar & Kishin RK; $2.6 billion
10) Sam Goi; $2.2 billionThe list was compiled using shareholding and financial information obtained from the families and individuals, stock exchanges, analysts and other sources. Unlike the billionaire rankings, this list includes family fortunes, including those shared among extended families such as that of Kwek Leng Beng and his cousins. Net worths are based on stock prices and exchange rates as of the close of markets on July 14. Private companies were valued based on similar companies that are publicly traded.
For queries, please contact:
Catherine Ong Associates Pte Ltd
Franz Navarrete Ashley Silitonga
tel: +65 6534 7008 tel: +65 6221 3321
franz@catherineong.com
ashley@catherineong.com