National
"Incheon Remarkably Improved!"
US Veteran of Korean War Revisits South Korea
Special Contribution
By Don E. Porter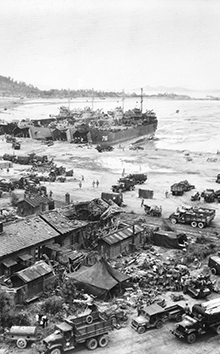 Before: The file photo shows US soldiers landing and its LSTs unloading at Wolmido in Inchon on Sept. 15, 1950.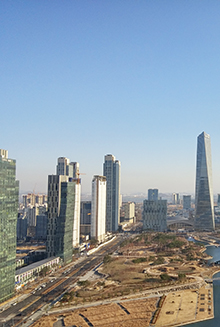 Now: Songdo International Business District (Songdo IBD) in Incheon is a new smart city full of skyscrapers. The "ubiquitous city," west of Seoul, is connected to the state-of-the-art Incheon International Airport.
American veteran of the Korean War (1950-53), Don E. Porter visited Incheon west of Seoul for the second time in 63 years as the honorary president of International Softball Federation.He served in the US Army as a First Class Sergeant in Korean War from 1951 December to 1952 May. He was only 20 years old when he was shipped off to Korea without even knowing the reason.He's main duty was defending the battle line of UN from Incheon to Kimpo, to Chuncheon and to Kumwa Valley.Don E. Porter, honorary president of International Softball Federation, said, "It is really amazing to see developed Incheon for myself after that terrible war which had destroyed almost everything in this city. I had lost many of fellow soldiers and it was such a hard moment for me. However, I feel sure that it was worth every time I see how Incheon and Korea have improved so far."He has visited Korea twice before the Incheon Asian Games, once for the 1988 Summer Olympics, the other time for 2002 Pusan Asian Games.He had planned a visit Wolmido Islands and Memorial Hall for Incheon Landing Operation while staying instead of all the other optional tours offered by the Organizing Committee.He advised that we need to make an effort to hold as many international sports game as we can to get all together like a slogan of Incheon Asian Games, 'Diversity Shines Here'. To do so, we should remember how sport played an important role during the age of cold war.He said sports was the starting point of creating a peaceful atmosphere during that time by gathering all countries and encourage them to communicate with each other.Also, Incheon should take the lead in opening the door for North Korea as it has been an issue where they are going to attend or not, every time we have international sports competition.Don E. Porter has been in North Korea as well not for political reasons but to improve and help the softball association of North Korea. He even went Kim Il-Sung's funeral when he was there even though he fought against North Korea during the war. "I would throw the baseball rather than shooting a gun to each other," he said.On Feb. 5, 2014, Don Porter met Ban Ki-moon, UN secretary-general back then in Sochi and talked to him, mentioning his service in Korea in 1951-52.Ki-moon said he was six years old at that time, but thanked Porter for helping in saving his country during a very difficult time. I looked him in the eye and said; "it was worth it."They parted with a strong handshake, as Ki-moon was leaving with IOC President Bach for pre-Games activities. The Secretary-General spoke earlier at the IOC Session.Don Porter was in Sochi for meetings of the International Olympic Committee along with WBSC officials Riccardo Fraccari and Low Beng Choo,Don has served as president of the International Softball Federation (ISF) since 1987, and has been re-elected five times since. Prior to that he served as the first Secretary-General of the ISF elected in 1965.Softball has a joint bid with baseball to be included in the 2020 Olympic Games. Their bid survived the cut at the SportAccord Convention in May and they will compete against wrestling and squash for Olympic recognition.He has also served as the first secretary general of the World Games and he currently chairs SportAccord's (formerly GAISF) "Sporting Goods To Go" (SGTG) program and SportAccord Awards Commission.

Related Articles
Korean War's US Veteran Don E. Porter Passes ...
A Soldier's View of Seoul and More (1951-52)
Korean War's US Veteran Don Porter Is Back ...
I Saw Them All
The Russians Started It!
"Don't Give Up!," Says Old Soldier
"Put Late Dr. Kim Un-Yong Where He Belongs in ...
"Why I Traveled Over 10 Million Miles"
"A Sporting Life and the Forgotten War"
Mandela's 100th Birthday Celebrated
Dr. Kim Un-Yong, "Father of Olympic ...
"72 Hours in Pyongyang: How We Exited Gulag"
"Forgotten War" Hasn't Been Forgotten!
"The Rebirth of City & Nation in Total Ruin"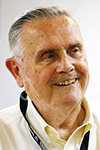 The above writer, Don E. Porter, the Korean War's American veteran, serves as contributing writer for The Seoul Times. He has been serving as president of the International Softball Federation (ISF) since 1987. He can be reached at depcoop1@gmail.com