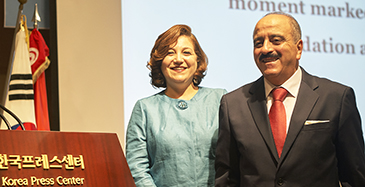 Tunisian Ambassador to South Korea Mohamed Ali Nafti and his spouse Madame Kalthoum Nafti in Seoul
Tunisian Ambassador to South Korea Mohamed Ali Nafti and his spouse Madame Kalthoum Nafti hosted a reception at the Korea Press Center in Seoul on July 25, 2017 to commemorate the 60th Anniversary of the proclamation of the Tunisian Republic.The event attracted hundreds of high-profile guests including local politicians and journalists. Among them were scores of top foreign envoys serving in Seoul.Representing South Korean government lawmaker
Joo Gwang-Deok, president of the Korea-Tunisia Parliamentary Friendship Group at the National Assembly, joined the event.A lot of friends of the Tunisian envoy were invited to the event as the event was the occasion for him to bid farewell to his friends. He will be leaving Seoul very soon.In a speech the Tunisian envoy delivered during the event he introduced the independence of his nation."60 years ago in July 25th 1957, one year and four months after having retrieved its independence, the envoy said. "Tunisia ushered in a new political era by proclaiming unanimously the first sovereign and modern Republic in the country's history, led by Habib Bourguiba."He said that since then Tunisia has made a significan and valuable accomplishments including education, woman empowerment and health care areas."Today and thanks to a long process of reforms which culminated by the Jasmin Revolution," he said. "Tunisians can enjoy the 2nd Republic whose corner stones have been consolidated by the adoption of a new constitution and fair and transparent elections held in 2014."He expressed his personal feelings about his long diplomatic career. "Now that the end of my mission as Ambassador of Tunisia in Seoul is very near and while facing the final curtain, after a very nice chapter of my diplomatic career, allow me to convey these brief comments," he said.
"It was a privilege and honor for me to serve Tunisia in this beautiful country," he went on. "We have opened promising horizons of our bilateral cooperation particularly in the field of ICT, Scientific research, health, cultural and economic partnership."The envoy also expressed his deep gratitude to the people who were helpful to him for his diplomatic job. "I am grateful to all those who contributed to help me accomplish my mission among the governmental officers, parliamentarians, journalists, components of the Korean Civil Society and private organizations," he said.He stressed his and Tunisia's ties with Korea and Korean people.
"Tunisia shall always extend its hands to further enhance the friendly relationship of cooperation, so happily existing with Korea," he said.He also thanked his ambassadorial staff by saying "The achievements of the Embassy - if any - would not have been possible without the devotion and professionalism of the staff of Tunisian Embassy in Seoul.""As a faithful descendant of Hannibal, I followed his legacy," he said. "If there is no way, I have to create one.""I am sincerely grateful to my family, my mother, my spouse, my daughters and friends for their continuous support and sacrifices," the envoy said.Lastly, the outgoing Tunisian envoy praised Korean people by saying "Koreans, you are an admirable people, hardworking, innovative, generous, "TOKTOK HADHA"and very proud of your national identity and cultural heritage. Please keep on preserving this beautiful image you deserve the respect of the world."
Developing Tunisia-S. Korea Ties
Tunisia was also one of the first African and Arabic nations to establish diplomatic ties with South Korea.On March 31, 1969 Tunisia and South Korea established formal diplomatic relations, opening embassies in each other capitals.But the actual relations began a year earlier in May 1968 when the two nations opened consulates general in the respective capitals. Since then bilateral relations have undergone a significant development.The two nations have been developing friendly, and practical cooperative relations based on economic cooperation.In particular, South Korea invites a substantial number of industrial trainees from Tunisia.South Korea also sends Korean experts of many fields to the North African country.Meanwhile, Tunisia formed formal diplomatic ties with North Korea in July of 1975.In 1991 the bilateral trade volume stood at 23.2 million US dollars. Tunisia imported 15.8 million US dollars' worth of goods from South Korea and exported 7.4 million US dollars' worth of mainly aluminum to South Korea.But the bilateral trade volume increased to the whopping 380 million US dollars in 2010.Tunisia's imports were 345 million US dollars and its exports were 35 million US dollars.Main import items were railroad cars, passenger cars, construction equipment, synthetic resins, and cordless phones.Tunisia exported to South Korea such items as aluminium, textile and garments, wireless communications parts, and fish and meat.Currently some 180 South Koreans work or live in Tunisia. They are employees of LG Electronics, Samsung Electronics, Yura Corporation, and KOICA as well as other South Korean government officials and their family members.Tunisia wishes to induce technology and investment from South Korea.