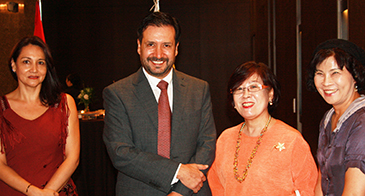 Chargé d'Affaires Luis Pablo Ossio-Bustillos (2nd from left) of the Bolivian Embassy in Seoul and his spouse Madam Ossio-Bustillos (left) pose with Madam Baek Yeon-Hee at the Seoul Plaza Hotel on August 4, 2017 while they are receiving the guests.
Chargé d'Affaires Luis Pablo Ossio-Bustillos of the Bolivian Embassy in Seoul hosted a dinner reception at Seoul Plaze Hotel in downtown Seoul on August 4 (Friday), 2017 on the occasion of the 192nd Independence Day of Bolivia.The landlocked country in South America commemorates its Independence Day on August 6 every year. The day celebrates the anniversary of the establishment of the Bolivian Republic in 1825, after 16 years of bitter struggle with its former colonial ruler: Spain.The celebration of Bolivia's Independence Day attracted over 200 high-profile guests including scores of top foreign envoys serving in Seoul. Among them were local journalists and many other experts.Representing South Korean government came
Director General Huh Tae-Wan of LAC (Latin America & Caribbean) Affairs Bureau of South Korean Foreign Ministry. He delivered a lengthy congratulatory speech in front of the gathering followed by Bolivian envoy's welcoming address.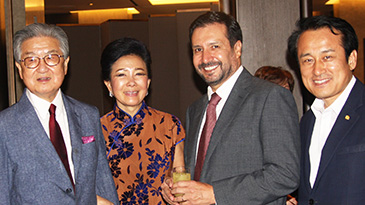 Chargé d'Affaires Luis Pablo Ossio-Bustillos (2nd from right) of the Bolivian Embassy in Seoul poses with Chairman Park Tong-Sun (left) and President Kuk Yong-Ho (right) of the Alliance for New Politics at reception held at Seoul Plaza Hotel on August 4, 2017.
Chargé d'Affaires Ossio-Bustillos delivered a majestic welcoming speech.In his speech the Bolivian envoy emphasized the mutual ties getting closer and closer between Bolivia and South Korea, saying that the number of South Korean visitors to Bolivia swelled to 13,000 in 2016.He stated that the bilateral relations started as early as in 1965. Mentioning that in 2010 Bolivia's President Evo Morales visited South Korea, he hoped that South Korean President Moon Jae-In can also visit Bolivia.He also said that in the latter half of this year both countries will discuss visa-related agreement to make more Koreans visit Bolivia.He pinpointed that Bolivia achieved an average economic growth rate of nearly 5 percent of GDP for the last 11 consecutive years.The envoy also mentioned the role of the Korea International Cooperation Agency (KOICA) in promoting bilateral trade, technical cooperation, and cultural exchanges.He named such Korean companies as Samsung Engineering, Hyundai, LG, Daewoo, and POSCO in developing the economy of Bolivia.
South Korea-Bolivia Partnership Rebuilding
Bolivia established the formal diplomatic ties with South Korea in 1965. However in 1998 the two nations withdrew their embassy from each other's capital due to the worsening financial situation in Korea and Bolivia.But in 2008 the two countries reopened embassy in each other's capital after 14 years of diplomatic estrangement.Since then a number of exchanges including high-profile government officials have been made between the two countries. The economic cooperation has been on the steady increase as well.In 2012 both nations signed a joint venture to develop the production of the Bolivian's lithium.Many South Korean companies are presently operating in Bolivia. They include a Korean steelmaker POSCO and KORES, a Korean consortium with LG International Corp.
Full Text of Chargé d'Affaires Luis Pablo Ossio-Bustillos' Speech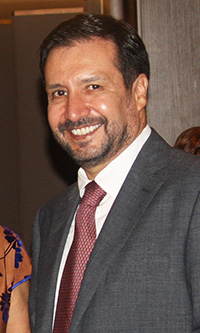 Chargé d'Affaires Luis Pablo Ossio-Bustillos of Bolivian Embassy in Seoul
On behalf of the government of Bolivia, I wish to greet Ambassador Huh Tae-Wan, Director General of Latin America & Caribbean Affairs Bureau from the Ministry of Foreign Affairs of the Republic, Ambassadors, Heads of Mission, diplomats, Friends of Korea and the Bolivian Community.During this year, I expect to continue Ambassador Guadalupe Palomeque's plan of work in order to further strengthen the bilateral relations between Bolivia and Korea. In particular, through cultural exchange and experiences, through what in Bolivia is called the Diplomacy of Peoples, which can be summarized as a set of values and principles, such as reciprocity and complementarity, through which a person interacts with their social context and nature.It is in this context that, although Bolivia is geographically distant from the Republic of Korea, it can be stated that both countries are getting closer and closer. Among other things, Korean television has reported on Bolivia, showing the world's largest salt desert, located in Uyuni, Potosí, where several factors such as: luminosity (because of its high altitude), sun, water and salt, create a kind of a giant mirror, in whose reflection, cause the impression of reaching the sky. These reports and the experiences of Korean tourists have created a multiplier effect, which increased to almost 13,000 the number of Koreans visiting Bolivia in 2016.With that background, I would like to remind you that the bilateral relations began in 1965 and we had the visit of President Evo Morales in 2010; so, we hope President Moon Jae-in also visits Bolivia. Therefore, we will work to make this idea possible.In the near future, we expect that in the second half of this year, the Eighth Bilateral Commission will be held between Bolivia and Korea, in Seoul, at which time we will discuss the Visa Suppression Agreement for Tourists, in order to facilitate the visit of the Korean citizens to our country, in addition to other subjects of mutual interest. Today Bolivia continues its successful political, social and economic process in which, for the last 11 consecutive years, it has achieved an average growth rate of close to 5% of GDP and in 2017; Bolivia is expected to lead the regional economy. However, the most relevant and profound changes have taken place in the political and social spheres. The government of President Morales, of indigenous origin, became the elected regime that has given the country the greatest stability, with more than a decade of service to the people and in this framework poverty was reduced from 128 times to 60 times. Bolivia is today a dignified and sovereign country, where the majority of its population of indigenous origin, women, the elderly, and the GLBTI population, have claimed their rights by one of the most progressive and advanced Constitutions in the world.In this context, the Government of Bolivia and Korea are important partners for development, through the Korea International Cooperation Agency (KOICA). There is also a significant increase in bilateral trade, the promotion of technical cooperation and the exchange of experiences.On the economic front, many Korean companies are interested in investing in Bolivia, including Samsung Engineering, which built a urea-ammonia plant in Cochabamba, Hyundai Development Company, which has built the Banegas Bridge, the longest in the country, as well as Companies such as LG international and Posco Daewoo, who have shown interest in investing in Bolivia. We are confident that the presence of Korean companies in Bolivia could be a great contribution to their economic development. In the cultural area, the coming month of October, it is expected the arrival of master Mamani Mamani, whose paintings have been able to observe at the entrance of this Hotel, as well as the musician Pirai Vaca with the support of the Korea Foundation.In this very general context, I thank all of you for attending this event, especially the Korean artist with a Bolivian heart, Hernán Im, who will remind us with his music, another form of universal communication.Finally, I wish all those present at the national day commemoration that the second half of the year be successful and achieve all that has been proposed for the rest of the year, in order to facilitate the continuous development of economic, social and cultural activities in benefit of our peoples.
For details or inquiries call the Embassy of Bolivia in Seoul at 02-318-1767 or 2767.