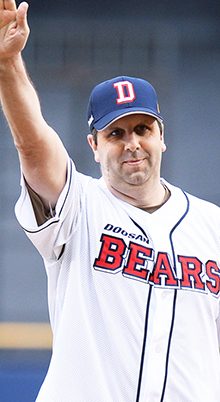 Ex-US Ambassador Mark Lippert

The former US Ambassador to Seoul Mark William Lippert appeared at a ball park in South Korea's Gwangju City on Sept. 1, 2017.The 44-year-old former US envoy visited the baseball game between Doosan Bears and KIA Tigers held in the city as the big fan of Doosan Bears.While he was serving as the US ambassador he often visited baseball games, enjoying chicken and beer just like any fan of baseball in South Korea.Lippert left his post as the US ambassador in January of 2017, landing a high-profile job as the vice president of Boeing Company. Lippert was in charge of international affairs of the US aviation giant.Lippert attended the baseball game in Gwangju as he visited South Korea one day earlier on his business trip.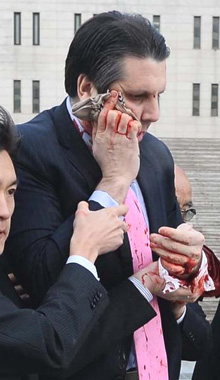 US Ambassador Mark W. Lippert is being taken ;to a nearby hospital after he was attacked by a S. Korean activist at Sejoing Center in downtown Seoul on March 5, 2015.
He had been serving as the US envoy since he was appointed as the US ambassador to South Korea by then US President Barack Obama in May of 2014.Lippert was knived by a South Korean man at a breakfast gathering in a hotel in Seoul on March 5, 2016. He was injured on his right cheek and wrist, undergoing a surgery.However, his love for South Korean and its people never shrunk. He enjoyed walking his dog on the streets, hobnobbing with the locals.
Who Is Mark William Lippert?
Mark W. Lippert, currently vice president of Boeing Company in charge of international affairs, served as the US ambassador to South Korea from May of 2015 till January of 2017. He was the assistant secretary of defense for Asian and Pacific Security Affairs (APSA), a top Asia post prior to his appointment as the US envoy to South Korea.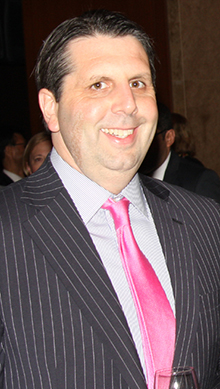 Ex-US Ambassador Mark Lippert
attending a diplomatic gathering in Seoul
He was recently designated by US President Barack Obama as the US ambassador to South Korea, it was announced on April 30, 2014.Lippert, a Stanford-educated Asia expert, had been with Obama as his close aide and confidant since 2005 when he was appointed by Obama as his foreign policy advisor.But he started his career in the foreign service area at the age of 27. He worked at Senate's foreign relations sub-committee.He is the principal advisor to the Under Secretary of Defense for Policy and the Secretary of Defense on international security strategy and policy related to the nations and international organizations of Asia and the Pacific, their governments and defense establishments, and for oversight of security cooperation programs, including foreign military sales, in the region.Prior to being confirmed in April 2012, he completed a two-year mobilization to active duty in the United States Navy. During that time, which included a deployment to Afghanistan, he served as an intelligence officer for Naval Special Operations Forces. Mr. Lippert served as Deputy Assistant to the President and Chief of Staff for the National Security Council in 2009. In 2008, he was Deputy Director for Foreign Policy on the Obama-Biden Transition Team and Senior Foreign Policy Adviser on the Obama for America campaign.From 2007 to 2008, Mr. Lippert served as an intelligence officer with Naval Special Operations Forces in Iraq. Previously, he worked as foreign policy adviser for then-Sen. Obama from 2005 to 2008, where he managed the senator's work on the Senate Foreign Relations Committee.From 2000 to 2005, he was a professional staff member on the Senate Appropriations Committee, State-Foreign Operations Subcommittee, advising Sen. Patrick Leahy on a range of foreign aid and security assistance issues.From 1999 to 2000 he was a foreign and defense policy adviser to Senator Tom Daschle and the Senate Democratic Policy Committee. Mr. Lippert's military awards and decorations include the Bronze Star Medal for his service in Iraq.He graduated Phi Beta Kappa from Stanford University with a B.A. in Political Science and holds an M.A. in International Policy Studies from the same institution. He also studied Mandarin Chinese at Beijing University.