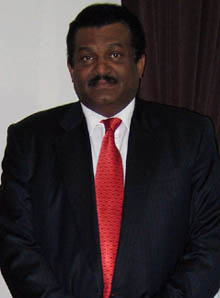 Amb. Babiker Ali Khalifa of Sudan
Sudan's top envoy to Seoul said he would endeavor to encourage South Korean firms to seek business opportunities in his country. "Major tasks during my tenure in South Korea will be to encourage more and more Korean investors to invest in Sudan," Sudanese Ambassador to Seoul Dr. Babiker Ali Khalifa said in an interview with The Seoul Times on the occasion of the Sudanese Independence Day. With the consent of the British and Egyptian Governments, Sudan achieved independence on January 1, 1956, under a provisional constitution. And the coming, January 1, 2004 they are going to celebrate their 49th Independence Day. The Republic of Sudan established diplomatic ties with the Republic of Korea in 1977. The Embassy of Sudan started its function in Seoul in 1990. Dr. Babiker Ali Khalifa is the fourth ambassador since 1990. "We have a very strong and meaningful bilateral and diplomatic relation with the Republic of Korea," the ambassador said. He goes on to say that there are some meaningful committees between Seoul and Khartoum like the memorandum of understanding, the joint ministerial committee of 1991, and the committee for trade and technology of 1976 by which Seoul and Khartoum are continuing their strong relation. He has mentioned that the visit of the Minister of Foreign Affairs of Sudan in Seoul last September was fruitful. To this the ambassador delightfully said, "It will be more fruitful when the honorable president of the Republic of Sudan will pay an official visit to the Republic Korea in the next year. "Sudan is a member of IGAD and she wants to make an organization with South Korea like the organization between Africa and Japan to enhance the economic relation," the ambassador added. On the Darfur Crisis, Khalifa said that Sudan is always ready to take any peaceful solution under the direct supervision of the United Nations.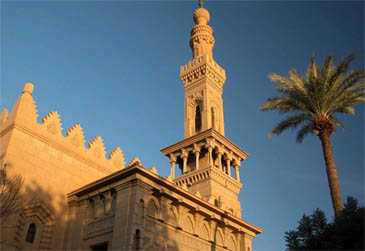 Farouk's Mosque
"We have to know more about government so that we could better serve the people. And we are going to elect our governor instead of selecting in the twenty six states of Sudan for monitoring better local government," the diplomat said for the next 6th global forum on reinventing government which is going to be held in Seoul from May 24-27, 2005. About the trade and economics, the ambassador said, "we are the largest oil producing country in Africa since 1990 and we have a good infrastructure for any type of investment." The ambassador explained that Sudan offers the most attractive environment for foreign investors due to its disciplined and skilled workforce and adequate natural resources. Ali Khalifa said, The Investment Promotion Act (IPA), which was issued in 1999 and was amended in the year 2000, contains a set of equal facilities, privileges and protection for both Sudanese and foreign investors. IPA provides the facilities to cover investment in areas such as: new project, rehabilitation or modernization of existing projects, expansion or re-operation of existing projects.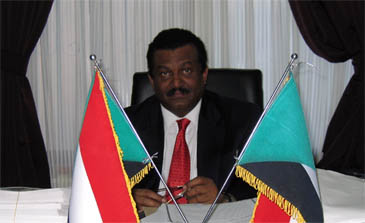 Amb. Babiker Ali Khalifa sits at the table in his office of the Sudan Embassy in Seoul.
"Korea's high technology combined with the adequate natural resources of Sudan would produce very profitable results," he said indicating the result of Daewoo. Besides the heavy industrialization, Dr. Ali Khalifa also stressed Sudan's agricultural sector in particular for red meat, breeding of bulls and sheep, vegetables, fruits, dairy, fattening, the production of mango concentrated etc., said: "Business men of Korea may come also for this thirst sector because it needs small investment." Presently Sudan imports cables, computers, networking materials, spare parts and other technical equipment from South Korea. "You can find six cars from Korea out of ten in the street of Khartoum or other cities in Sudan," the ambassador said. Other imports from Korea into Sudan include crude oil and gums. "The cultural, traditional and social activities of Sudan and South Korea are very rich and ancient. Both have five scale tunes in their musical tune. People of both countries respect their elders. They are hard workers, polite, dedicated and that's why they are the member of OECD," the ambassador said.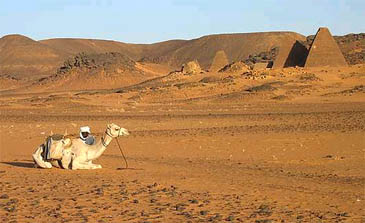 But he mentioned the importance of the English language in Korea. "I feel that if I knew the language of South Korea, I would be able to socialize more and learn much more about the land, its people, culture, heritage and history," the diplomat said. "I have visited many different parts of Korea, socializing with people and trying my best to promote tourism," he said. The Ambassador has been living in Seoul for last two and half years with his wife. He has one daughter and three sons. All of them are now studying in Seoul. "We are living on the same planet and that's why we should have to make a plan under any international organization so that we could save ourselves from any natural disaster," the ambassador added. "We were shocked and moved to learn of the great losses of lives and property caused by the disaster on Dec. 26, 2004 in some Asian countries," he said by expressing his deep condolences and sympathies to the governments and families of the victims in the recent earthquake and tidal waves that struck South East Asia.