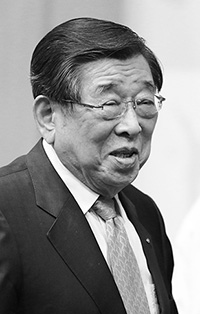 Late Dr. Kim Un-Yong
Former IOC Vice President Kim Un-Yong passed away at 2:21 a.m. (local Korean time) on Oct. 3, 2017. He was 86 years old. He was healthy and active until recently but died in his sleep unexpectedly.Dr. Kim was known as the godfather of Taekwondo in South Korea and he was called "the Father of Olympic Taekwondo."Dr. Kim Un-Yong is the one who successfully made the Korea's national martial art as the popular global sport while serving as the leader of various sports organization.He served as vice president of (International Olympic Committee), president GAISF (General Association of International Sports Federations), and president of both KSC (Korea Sports Association) and KOC (Korean Olympic Committee).
In particular, Dr. Kim was instrumental in winning and organizing the successful 1988 Seoul Olympics, the South-North Korean joint march at the opening ceremony of 2000 Sydney Olympics, and the 2002 Korea-Japan FIFA World Cup. Dr. Kim was founding president of Kukkiwon (World Taekowndo Headquarters) and WT (World Taekwondo), formerly WTF (World Taekwondo Federation).After becoming president of Korea Taekwondo Association (KTA), he founded the Kukkiwon in 1971, and the World Taekwondo Federation (WTF) in 1973.He worked tirelessly for and devoted his life to Korean sports and the globalization of Taekwondo for over 40 years.Dr. Kim made possible the adoption of Taekwondo as an official Olympic sport during his reign, following its inclusion as a demonstration sport in 1988 Seoul Olympics and 1992 Barcelona Olympics.Taekwondo was officially accepted as an Olympic Sport at 1994 IOC Congress by a unanimous vote of 85-0, due mainly to Dr. Kim's effort.He graduated from South Korea's elite Yonsei University in Seoul, majoring in political science major. He went into the career diplomacy immediately after graduation.As a diplomat Dr. Kim worked protocol officer for South Korea's foreign minister. He also worked as counsellor at Korean Embassy in London and Korean mission to the United Nations.At age 40 Dr. Kim was inaugurated as president of Korea Taekwondo Association (KTA) in 1971, involving himself into the field of Taekwondo.Dr. Kim's funeral is held from Oct. 3 through Oct. 9, 2017 in Special Room #1 of Shinchon Yonsei Severance Funeral Hall in Seoul.It is co-organised by Kukkiwon, World Taekwondo, Korean Taekwondo Association, and Taekwondo Promotion Foundation.Farewell ceremony will be held at 8:30 a.m. on Oct. 9, 2017 in Kukkiwon in Seoul. He will initially be buried in Bundang Skycastle in Gyeonggi-do, South Korea. Meanwhile, "2017 Kim Un-Yong Cup Taekwondo Championships" will take place as planned from Oct. 28, till Nov. 1, 2017 on schedule to commemorate and honor Dr. Kim.