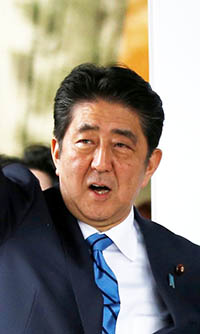 Japan's Prime Minister Shinzo Abe
On October 22, 2017 Japan's ruling coalition won a landslide victory in an election for the Lower House of the Diet (parliament), solidifying Prime Minister Shinzo Abe's political footing five years into his current term and extending a period of political stability in the world's third-largest economy. Abe called a snap election one year earlier than necessary to take advantage of a weak opposition ill-equipped to advance a cohesive alternative to his agenda centered on national defense and economic revitalization. Abe promised to redouble his efforts on both fronts but will transition quickly from electoral politics to diplomacy as he prepares to host President Donald Trump for a bilateral summit in early November.Q1: What happened?A1: After a difficult summer marred by political scandals, Prime Minister Abe dissolved the Lower House and sought a mandate from the voters to demonstrate strong leadership in response to the increasing threat from North Korea and further implement his economic growth strategy. He did the same thing in 2014 in an attempt to weaken the political opposition and won convincingly. But this time Abe and his ruling Liberal Democratic Party (LDP) were ambushed by a populist movement eager to establish its bona fides at the national level. Tokyo governor Yuriko Koike, who defeated the local chapter of the LDP in local assembly elections this past July, announced she was establishing a new political party, the Party of Hope, to challenge Abe in the Lower House election. Koike is a former member of the Diet who served as a national security adviser to Abe during his first term as prime minister in 2006–2007, but she capitalized on a populist wave to win the Tokyo gubernatorial race last year in a landslide and position herself as a force against the LDP establishment. Koike's sudden decision to challenge the LDP nationally jolted the political arena and prompted some members of the opposition Democratic Party (DP) to join forces with Party of Hope. But Koike refused to collaborate with progressives in the DP, who then formed their own new party, the Constitutional Democratic Party of Japan (CDP), to attack Abe from the left. Koike also announced that she would not run in the Lower House election, leaving the Party of Hope without a nominee to succeed Abe. (The prime minister must be a member of the Lower House.) Moreover, the Party of Hope was largely in alignment with the LDP on two major themes, national security and constitutional reform, and therefore tried to differentiate itself from the ruling party by adopting a populist approach to economic issues (namely opposing an increase in the consumption tax and eliminating nuclear power from Japan's energy mix). But these campaign pledges did not resonate with the public, and the fractured nature of the opposition ultimately led voters to favor stability under the ruling coalition. The LDP, together with its junior coalition partner, Komeito, secured the two-thirds majority it enjoyed prior to the snap election by winning more than 310 of the 465 seats contested, and the CDP became the largest opposition party with just over 50 seats. The Party of Hope came in third just below the CDP tally and failed to meet lofty expectations created when Koike challenged Abe just a few weeks ago.With this victory, Abe does not need to face another Lower House election until 2021, and the next Upper House election is scheduled for 2019. Abe's next political hurdle is the election for LDP president in September 2018, where he will try to capitalize on a recent rule change by the party that would enable him to serve a third consecutive three-year term as party leader. Should he prevail in that campaign, he could serve as prime minister through 2021. But first he has to fulfil his campaign promises.Q2: What are Abe's policy priorities?A2: The LDP's election platform focused first and foremost on the importance of strong leadership in the face of an increasing threat from North Korea, and Abe will therefore further his commitment to increase defense spending, strengthen the U.S.-Japan alliance including bilateral cooperation on missile defense, and use a variety of tools including sanctions to pressure the regime in Pyongyang. He also focused on economic policy during the campaign and will remain wedded to his three-pronged economic growth strategy, dubbed "Abenomics," featuring monetary easing, fiscal stimulus, and structural reform, which has delivered modest growth thus far but will be scrutinized for the extent to which stated priorities such as labor market reform are realized. Abe also said that, barring another global economic crisis, he would increase the consumption tax as planned in 2019 and allocate some of those resources to early childhood education and care of the elderly. An LDP loss or Abe defeat would have galvanized opposition to nuclear power, the consumption tax increase, and possibly Bank of Japan governor Haruhiko Kuroda's tenure, which would have unnerved the business community. Another priority is constitutional reform, particularly a proposal to add a clause to the constitution officially recognizing Japan's Self-Defense Forces (SDF). (Article 9 of the constitution renounces war and the use of force to resolve international disputes, but in 1954 the Japanese government declared that Japan has a right to defend itself under international law and established the SDF. Abe is intent on officially recognizing the SDF to prevent lawmakers from inhibiting future defense policy reforms by questioning their legitimacy.) Constitutional revision requires two-thirds majority support in both houses of the Diet, which the ruling coalition currently enjoys, and majority support in a public referendum. Abe will likely prioritize this issue when the Diet reconvenes for a regular session next January, but tepid public support renders the timeline for realizing this objective uncertain. It is noteworthy that Koike herself supports constitutional revision, and the pacifist-leaning Komeito is expected to support the modest change Abe proposes, though the politics could prove challenging given public sensitivity on this issue.Q3: Why didn't populist themes resonate in Japan's election?A3: A number of factors could explain why populist instincts did not prevail in this election despite Abe's relatively weak position heading into the campaign. Increased provocations from North Korea brought national security to the forefront of the policy debate, and that ultimately favored continuity and stable leadership under Abe. Skepticism about the long-term prospects for Abenomics notwithstanding, the economy has grown moderately, and the opposition failed to present an alternative compelling enough to justify a change in government. Further, the public already experienced a populist antiestablishment government back in 2009 led by Yukio Hatoyama of the Democratic Party of Japan and was scarred by the experience. And unlike Europe and the United States, immigration does not feature prominently in Japan's political debate, and there was not a single hot button issue polarizing enough to exacerbate the political divide. This election was arguably more about political positioning than policy differences, and with his electoral gamble having paid off, Abe is now well positioned to preside over a period of political stability that is quite remarkable compared to recent developments in other advanced democracies.Q4: What are the implications for U.S.-Japan relations?A4: The U.S.-Japan alliance has always been the centerpiece of Abe's diplomatic agenda, and his personal relationship with President Trump helped sustain bilateral ties during the U.S. political transition and has facilitated close coordination in response to the North Korean threat. Abe will host the president in Japan for a bilateral summit meeting in early November, where the two leaders will likely emphasize solidarity vis-à-vis North Korea and reaffirm a joint commitment to enhance bilateral defense cooperation and security partnerships with like-minded countries in the region. Abe's defeat may well have ushered in another series of rotating prime ministers (Japan had seven prime ministers between 2006 and 2012, when Abe returned to power), and while Koike is experienced in national security and most contenders would have been pro-alliance, the uncertainty would have been a challenge. When President Trump arrives in Japan, his first stop on his first trip to Asia as president, he should feel reassured by a stable political environment and a counterpart ready to help shape the administration's agenda for the U.S.-Japan alliance and its strategy for the region as a whole.
The above aricles was written by Michael J. Green and Nicholas Szechenyi.
Michael J. Green
is senior vice president for Asia and Japan Chair at the Center for Strategic and International Studies (CSIS) in Washington, D.C.
Nicholas Szechenyi
is a senior fellow and deputy director of the CSIS Japan Chair.
Critical Questions
is produced by the Center for Strategic and International Studies (CSIS), a private, tax-exempt institution focusing on international public policy issues. Its research is nonpartisan and nonproprietary. CSIS does not take specific policy positions. Accordingly, all views, positions, and conclusions expressed in this publication should be understood to be solely those of the author(s).