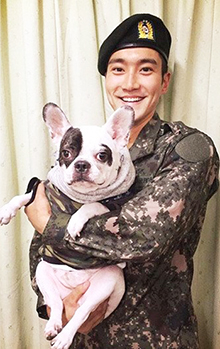 South Korea's Pop Star Choi Si-Won with His Pet French Bulldog: Choi is a popular South Korean singer, songwriter, model, and actor.
Recently a middle-aged woman, owner of a famous restaurant in Seoul was bitten in the calf by a French bulldog owned by a local idol singer. She was immediately taken to the nearby hospital but she died six days later.The dog-bite incident is raising a alarm bell in South Korea where the number of companion dogs is on the sharp rise in recent years.
An official estimate puts the number of dog-bite patients hospitalized at over 1,000 only in the first half of this year.
The number of dog-bite patients in the first half of this year amounted to 1,125 according to the estimate released lately by Rep. Park Wan-Ju of the ruling Democratic Party. He obtained the statistics dubbed "Dog-Bite Cases: 2014-2017" from the National Fire Agency.The number includes the dog-bite cases both by companion and stray dogs. The National Fire Agency's in charge of carrying dog-bite patients to the hospitals.
The dog-bite cases are on the increase in recent years, according to the statistics.In 2015 the monthly average of dog-bitten patients taken to the hospital is estimated at 153.4 cases. But 2016 the number rose to 175.9 cases.In the first half of 2017, the number increased by 22.2 percent to 187.5 cases compared to the corresponding period of last year.The rise of dog-bite cases is attributed to the increases in the number of companion dogs and stray dogs, experts pointed out.According to South Korea's Ministry of Agriculture, Food and Rural Affairs, the number of dogs registered with the ministry passed 1 million in the year 2016.The ministry estimates the number of companion dogs both registered and unregistered at over 1.6 million.But experts say the number of unregistered dogs is several times more than the registered one particularly if it includes the farm dogs raised for dog meat.
Last year alone a total of 91,509 companion dogs newly registered with the Agricultural Ministry.Stray dogs are coming up as an important social issue as well in South Korea.An average of 60,000 dogs kept at home are abandoned on the roads annually.In 2015 a total of 59,633 companion dogs were thrown away by their owners. In 2016 a total of 62,742 pet dogs were abandoned on the streets.