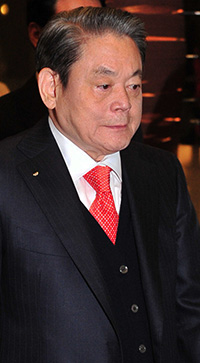 Samsung Electronics Chairman Lee Kun-Hee
SINGAPORE (Nov. 15, 2017) – India's Ambani family tops 2017 Forbes list of Asia's Richest Families for the first time with a net worth of US$44.8 billion. The collective wealth of Asia's 50 richest families on the list are worth a record $699 billion, up 35% from last year. The full list can be found at www.forbes.com/asia-families and in the latest issue of Forbes Asia, available on newsstands from November 16. The Ambani family is this year's biggest gainer in dollar and percentage terms. Their net worth rose by $19 billion as shares in Mukesh Ambani's conglomerate Reliance Industries soared in the past year due to better refining margins and the demand produced by its telecom arm, Reliance Jio. Since its launch in 2016, Jio has notched up close to 140 million subscribers. Mukesh Ambani's younger brother Anil runs Reliance Communications. The Ambani family supersedes the Lees of the Samsung empire to claim the No. 1 spot. Dropping to the No. 2 spot, Korea's Lee family still saw their wealth soar by $11.2 billion to $40.8 billion this year. The family derives nearly 45% of its fortune from Samsung Electronics. Chairman Lee Kun-Hee remains in a coma in Samsung Hospital after a heart attack in 2014. His son, Vice-Chairman Jay Y. Lee, is currently appealing a five-year prison sentence. Despite the family's recent misfortunes, shares of the electronics giant are up 75% over the past year. The core Samsung group includes 62 companies, of which 16 of them are listed on the Korea Exchange. Tim Ferguson, Editor of Forbes Asia, said: "The cascading wealth of Asia's very richest active tycoons is reshaping the ranks of even this legacy-driven list. Because of India's size, the Ambanis can never be as dominant there as Samsung's Lees have been in Korea. But with Mukesh's next generation establishing a presence at the Reliance Jio telecom operation, this story could play out for years." Hong Kong's Kwok family ranks No. 3 this year with a net wealth of $40.4 billion. They are Asia's richest real estate family, controlling Sun Hung Kai Properties which achieved a record $6.7 billion in sales under contract for the year ended 30 June, a 28% increase over the previous 12 months. The group has been expanding in China, where about 60% of its 120 million square feet in properties are located.
Thailand's Chearavanont family takes the fourth spot on the list, with a net worth of $36.6 billion. The family behind Charoen Pokphand Group, one of the world's largest producers of animal feed and livestock, got a nearly $9 billion boost to its wealth partly due to a surge in the value of its holding in Chinese insurer Ping An.The group is led by Dhanin Chearavanont, who is Senior Chairman and shares the fortune with his three brothers and other relatives. After 48 years as Chairman and CEO, in January Dhanin named his eldest son Soopakij as CP's Chairman and his youngest son, Suphachai as CEO. A total of 43 clans from the 2016 list saw their wealth increase over the past year mainly due to an overall 25% jump in Asia's stock markets for the year ended October 31, according to the MSCI AC Asia Index. Asia's wealthiest business dynasties on the list have remained relevant and successful by producing new generations that push the company in often surprising directions. Some young scions are even charting their own paths away from the family business. One example is 29-year old Howard Sy, a grandson of Henry Sy, the patriarch of the Philippines' richest family (No. 9, $20.1 billion). A former investment analyst, Sy started a 24-hour self-storage company called StorageMart a year ago, anticipating that the country's condominium boom would create a demand for storage space. His company now operates two facilities in Metro Manila. Other notable next generation scions include Korawad Chearavanont of Thailand's Chearavanont family (No. 4, $36.6 billion) and founder of Eko Communications; Martin Hartono of Indonesia's Hartono family (No. 5, $32 billion), who started internet investor Global Digital Prima Venture, and Sonia Cheng of Hong Kong's Cheng family (No. 8, $22.5 billion), who acquired top-end Rosewood Hotels in 2011. For the third time, India enjoys the biggest presence on the list, with 18 families. Hong Kong follows with nine. Among the six clans making the list for the first time are the Chey family (No. 39, $6.3 billion) of South Korea's SK Group. Shares of their SK Hynix, a supplier of computer-memory chips, doubled after it announced a $3.5 billion deal to acquire a stake in Toshiba Memory.