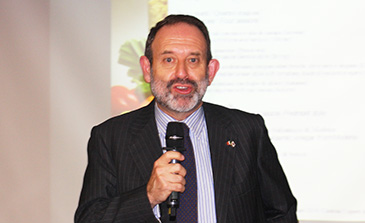 Italian Ambassador to S. Korea Marco Della Seta makes a welcoming speech at "Italian Cuisine: Sharing Health and Taste with the World" event held at Hanyang University in Seoul on Nov. 22. 2017.
"The World Week of Italian Cuisine," launched by the Italian Ministry of Foreign Affairs, reached its second edition with the aim of promoting culinary traditions and high quality food-and-wine connoisseurship as a distinctive trait of Italian identity and culture.The Week took place from Nov. 20, to Nov. 26, 2017 under the sign of quality, sustainability, culture, food security, the right to food, education, identity, territory, and biodiversity.Objectives of the Week were also to enhance tourist destinations, territories, culinary art itineraries and, above all, to inform the general public about the Mediterranean diet as one of the key elements that makes Italy the healthiest country in the world (Bloomberg, 2017).All over the world more than 1,000 activities were organized within the network of 296 diplomatic offices and Italian Cultural Institutes, which coordinated the several initiatives.In Seoul every day of the Week was characterized by a "leitmotif" chosen among cooking, science, wine promotion, culture, tourism, and social.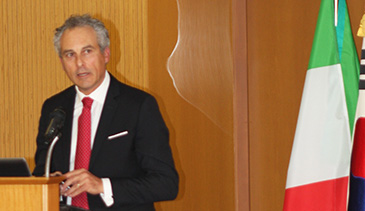 Prof. Francesco Canganella speaks at "Italian Cuisine: Sharing Health and Taste with the World" event held at Hanyang University in Seoul on Nov. 22. 2017. Prof. Canganella is head of Science and Technology Office of the Italian Embassy in Seoul.
On Nov. 22, 2017 the event "Italian Cuisine: Sharing Health and Taste with the World" organized by Prof. Francesco Canganella, head of Science and Technology Office by the Embassy of Italy, took place at the Hanyang University, hosted by Prof. Om Ae-Son, dean of the university's Human Ecology College.The event was structured in three parts: an interactive scientific lecture with videos and Q&A moments about the benefits of Mediterranean diet and the main traits of the Italian cuisine, a special session about extra virgin olive (EVO) oil tasting and evaluation, and a guided tasting of typical Italian dishes that contain numerous compounds with specific positive effects on human health.As shown during the presentation, food quality in Italy is also guaranteed by the traceability system, the certainty of the origin, the production disciplinary and, above all, the presence of fine ingredients."These things are taken very seriously by us" stated the Italian professor. "And food frauds are punished as criminal acts. When my Korean friends ask me for advice on genuine Italian food, I tell them to buy truly Italian products, avoiding damaging their health with low quality foods that, if they weren't cheap and reminding the original ones, often they wouldn't be able to stay on the market" "This is why it is really worth not to contribute to the enrichment of those who defraud consumers with second-rate goods by using names or symbols (the so-called phenomenon of "Italian sounding"), which heavily penalizes honest farmers, the agro-food sector and ultimately the economy of my country, reaching worldwide over 54 billion Euros," he added.The guests included H.E. Marco della Seta, ambassador of Italy in South Korea, Prof. Lee Young-Moo, president of Hanyang University, and VIPs from Italian and Korean sides.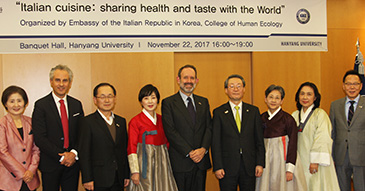 Italian Ambassador to S. Korea Marco Della Seta (center) poses for the camera with VIP participants at "Italian Cuisine: Sharing Health and Taste with the World" event held at Hanyang University in Seoul on Nov. 22. 2017. At second from left is Prof. Francesco Canganella. To ambassador's right is President Lee Young-Moo of Hanyang University and To ambassador's left is Prof. Om Ae-Son.
All were guided by Prof. Canganella during the whole initiative to hear about food and health, as well as to experience food quality and authentic Italian flavors using their own senses. Occasions where it's possible to learn how to taste personally EVO oil and even high quality organic oil samples exactly in the same way experts do at the oil mill are rare in Korea.They could be indeed very useful to consumers since extra virgin olive oil is more and more appreciated, but people still don't know how to understand whether a product is good or not, and even less how to correlate its quality and taste with price. Moreover, many shops sell mixtures of refined oils obtained by overripe olives, that become rancid once not harvested or pressed properly. These products are for sure not beneficial for health.Every dish for the guided tasting was prepared with ingredients scientifically-proven to be healthy or "functional" to human body, and cooked by Italian chefs following traditional recipes, so that the eighty guests were ideally accompanied on a travel along the Italian Peninsula. A full course articulated menu included "antipasto," four kinds of "primo" arranged according food seasonality, "secondo," "contorno," "dolce" and "caffe" (appetizer, first course, main dish, side dish, dessert and coffee, respectively) was served.It was designed to highlight some of the healthiest Mediterranean foods typically used in Italian home-style meals: fine herbs (with digestive and antiseptic properties), nuts (beneficial fatty acids), olives and extra virgin olive oil (anti-inflammatory omega-6 fatty acids), berries (antioxidant pigments), legumes (valuable proteins), vegetables (anti-cancer), and fatty fish (omega-3 fatty acids), matched by red wine (highly antioxidant because of its resveratrol content).Prof. Canganella mentioned that Korea as well as Italy sees its population becoming older and older, so it is crucial to explain to the general public how to preserve their health with good practices, on a daily basis. "As we all know physical activity is fundamental to improve the health, but both proper food preparation and correct nutrition are absolutely crucial to avoid at least the most common ageing issues," he added. "Just to give a few examples, the Mediterranean diet, inscribed in 2013 on the Representative List of the Intangible Cultural Heritage of Humanity, can protect people from diabetes, high blood pressure, and the onset of heart attack in the elderly population, reducing the risk of about one-third in those who fully embrace such a diet regime." He went on to say that moreover, most of the components of the Mediterranean diet we usually consume in Italy, have high levels of antioxidants and anti-atherosclerotic substances that can slow the progression of this condition.Last but not least, the Mediterranean diet is a pleasant way of life. It emphasizes values of hospitality, neighborliness, intercultural dialogue, creativity, and respect for diversity. It involves also a set of skills, knowledge, symbols and traditions concerning crops, harvesting, fishing, animal husbandry, conservation, processing, preservation, cooking, and particularly the sharing and consumption of food.
In Italy having dinner together is truly a moment of social exchange and communication, and a daily ritual of sharing experiences and feelings within the family.