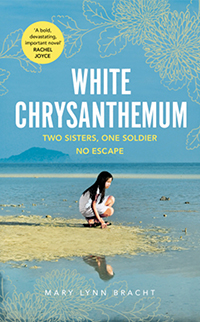 "White Chrysanthemum" by Mary Lynn Bracht
"White Chrysanthemum" authored by Mary Lynn Bracht tells of the heartbraking tales of Korea during the Second World War is brought to life in this gripping, redemptive debut about two sisters.'Look for your sister after each dive. Never forget. If you see her, you are safe.'Hana and her little sister Emi are part of an island community of haenyeo, women who make their living from diving deep into the sea off the southernmost tip of Korea.One day Hana sees a Japanese soldier heading for where Emi is guarding the day's catch on the beach. Her mother has told her again and again never to be caught alone with one.Terrified for her sister, Hana swims as hard as she can for the shore.So begins the story of two sisters suddenly and violently separated by war. Switchbacking between Hana in 1943 and Emi as an old woman today, White Chrysanthemum takes us into a dark and devastating corner of history.But pulling us back into the light are two women whose love for one another is strong enough to triumph over the evils of war.'White Chrysanthemum is a powerful account of a little discussed subject about the Second World War — comfort women enslaved by the Japanese army — but it's also about the courage of the women involved who want to speak about their suffering and their cry for justice, peace and love. Hana's tragic life is just one of an estimated 200,000 Korean comfort women's stories. Beautifully written, it's an impressive debut novel from a writer with a sensitive heart and gifted mind' Xiaolu Guo'A captivating, controlled and devastating book about the lives of two Korean sisters during the Second World War… Allows us to look at the immediate travesty of the so-called 'comfort women' and the unresolved consequences of sexual slavery for the victims' families. Brave, bold, important, this book is beautifully written with characters that will stay with you long after the final, unforgettable paragraph' Jackie Copleton, author of A Dictionary of Mutual Understanding'Elegantly written, emotionally shattering, and historically accurate, White Chrysanthemum is a feat of literary alchemy. Mary Lynn Bracht reveals the unfathomable cruelty of Japanese sex slavery during World War II through the unbreakable love of Korean sisters' Blaine Harden, New York Times bestselling author of Escape From Camp 14.'Epic, powerful and important, this is a deeply moving story of family, sisters and sisterhood. I challenge you not to take these characters to heart and rage against the injustices set before them. This is the kind of writing that can dismantle you emotionally, but puts you back together on the very last page. I was struck instantly by how little I knew about this part of the world and its secret history. I want to talk about this book to everyone I meet.' Justin Ward-Turner, Sales Manager.
Author Biography:
Mary Lynn Bracht is an American author of Korean descent who now lives in London.She has an MA in Creative Writing from Birkbeck, University of London. She grew up in a large ex-pat community of women who came of age in post-war South Korea.In 2002 Bracht visited her mother's childhood village, and it was during this trip she first learned of the 'Comfort Women' captured and set up in brothels for the Japanese military. White Chrysanthemum is her first novel.