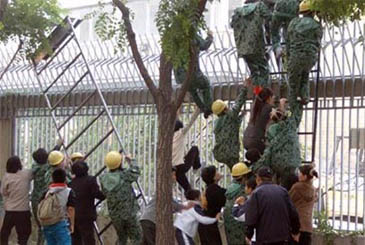 Estimated 44 North Korean refugees disguised in construction workers uniform are trying to climb over the Canadian Embassy compound in Beijing in their attempt to defect to South Korea.
VLADIVOSTOK, Russia — The Russian woman in the cafe was in tears, her tea cooling, her potato salad untouched. She had just endured an hourlong interrogation by a South Korean investigator about her role in sheltering a North Korean defector."I had no idea they could talk like that to a Russian citizen," said the woman, who asked only to be identified by her first name, Katia, the gold cross on her sweater flashing as she trembled from her ordeal at the South Korean Consulate here.In a new twist, diplomats from South Korea now work to discourage defectors from North Korea.Under new rules, South Korea is reducing resettlement payments to North Koreans by two-thirds. Defectors are to be scrupulously investigated. South Korea says that will help weed out criminals, spies and ethnic Koreans from China. Human rights advocates say South Korea's stricter policy is intended to curry favor with China and North Korea, and to slow a rising influx of refugees, which hit a record high of 1,850 at the end of 2004."The situation in South Korea itself has changed," said an ethnic Korean-Russian travel agent here who used to help North Koreans get to Seoul. "Now it seems that North Koreans are not welcomed there anymore." South Korea's new restrictions come as new American legislation goes into effect easing admission of North Korean defectors into the United States. One candidate could be a North Korean construction worker who has lived in the United States Consulate here since taking shelter there last autumn.About 2,500 North Koreans, largely construction workers, work in the Maritime Territory, which includes Vladivostok and borders on China and North Korea. With North Korea planning to open a consulate here in 2005, South Korean diplomats are lowering their profiles in some ways.Yet in this rough and tumble Pacific port, attitudes toward North Koreans seem to be souring.A series of murky episodes, including the deaths of four North Korean diplomats in highway accidents here in 2004, have reinforced the sense that North Koreans are less welcome.
Chinese guards try to stop North Korean refugees from entering a South Korean diplomatic mission compound.
Courtesy YNA
In September, five teenage Russians shouting white-pride slogans attacked two groups of North Korean workers here, killing one and injuring another. The attacks seem to be the tip of an iceberg of racial fears that a collapse of North Korea could bring an uncontrolled flood of Korean refugees to this region, historically an area of Korean migration. Civil defense and military authorities have been drilled on stopping North Koreans from crossing the border.In the mid-1990's, the Russian authorities were relatively lax about North Korean workers who managed to flee Siberian logging camps."I personally signed many such documents, quietly allowing them to go to South Korea or wherever they wanted to go," said one high-ranking Russian diplomat in the region. "We didn't want attention."But in October, it was front-page news here when 45 North Korean laborers were arrested in Kamchatka, hundreds of miles from their work sites. They apparently hoped to stow away on foreign fishing boats.In November, when the authorities of the Amur region signed contracts in Pyongyang, the North Korean capital, for 2,000 North Korean lumberjacks, guarantees against flight were a top demand by the Russian side.North Korea's determination to prevent defections by its contract workers in Russia could be seen in the drama surrounding the escape of Hwang Dae Soo, a 28-year-old translator, from confinement in a North Korean apartment here. In November 2003, he avoided forced repatriation by tearing the photograph off his passport just before he was to be placed on a North Korean plane here.Held in a third-floor apartment, he managed to make a call to his friend Katia, who had worked in a nearby office, said Douglas E. Shin, a Korean-American pastor, who also assisted Mr. Hwang when he was in hiding for a year here.When Mr. Hwang's Russian friends came to the apartment to demand his release, he broke a window and jumped three stories to the ground, breaking both ankles. Two North Korean guards jumped after him, suffering injuries to their legs.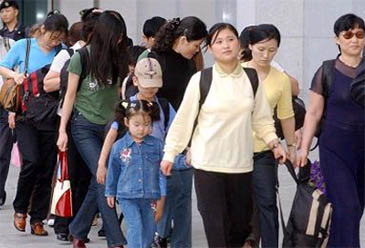 A group of North Korean refugees arrived in Seoul via a third country.
Katia said she helped her injured friend into the back seat of her brother's car. But one North Korean guard tossed the Russians aside and led a group "yelling at him, trying to beat him, trying to drag him out of the car."After the Russian police arrived, Katia and her brother drove Mr. Hwang to a hospital and then helped shelter him for a year. Her fears that North Koreans would discover his hiding place increased when Mr. Hwang's North Korean foreman appeared at her office, asking for her.Fear of discovery prompted Mr. Hwang to have a friend ask South Korean officials about asylum."The South Koreans received a direct order not to take care of this issue any more," Mr. Hwang said in a telephone interview in early November. "After I heard this, I was in shock. They did not offer any help, nothing monetary, no advice."On Nov. 15, though, he gambled and sought asylum at the South Korean Consulate here. When he asked for help, he carried a cellphone, surreptitiously keeping a line open to Mr. Shin, who recorded the encounter. On the tape, Mr. Hwang can be heard arguing that South Korea's Constitution guarantees North Koreans the right to asylum. A consulate official can be heard responding with curses.When consular officials realized that the exchange had been taped for possible broadcast on South Korean radio, they relented and allowed him to stay, Mr. Shin said. He was finally allowed to fly to Seoul on Dec. 18.But with security tightening at the South Korean Consulate, the message is clear in Vladivostok: North Korean defectors are not wanted."For one year, I feared the North Koreans would try to kill me," said Katia, still distraught after one hour of talking in the cafe. "It never occurred to me that I would have the South Koreans against me."
The above article is from The New York Times.