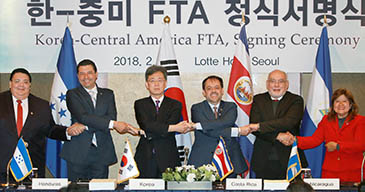 The Embassy of Costa Rica in Korea participated in the signing ceremony of the Central America – South Korea Free Trade Agreement (FTA) that took place on Feb. 21 (Wednesday) in Seoul.
Costa Rica´s Minister of Foreign Trade and President Pro Tempore of the Council of Ministers for Economic Integration (COMIECO), Mr. Alexander Mora Delgado, his counterparts from El Salvador, Guatemala, Honduras, Nicaragua and Panama, and the Trade Minister of the Ministry of Trade, Industry, and Energy (MOTIE), Mr. Hyun Chong KIM, signed this important free trade agreement that seeks to boost market access of Central American goods in Korea as well as to increase South Korean exports in the region. Since the official announcement of the beginning of trade negotiations in June 2015, and the political support reinforced by President Luis Guillermo Solís Rivera during his Official Visit to Korea in October 2016, this historic instrument of trade promotion and foreign investment between Costa Rica and Korea is a now a reality.This signing accomplishes the third strategic objective of the Embassy of Costa Rica in Korea, being the first two: 1) Elevating the diplomatic relations between our nations to a "Comprehensive Cooperation Partnership" and 2) Construction of a new model of cooperation for upper middle-income countries.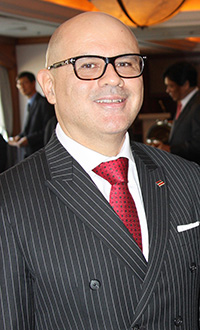 Ambassador of Costa Rica to S. Korea Rodolfo Solano Quirós
The Minister of Foreign Trade, Mr. Alexander Mora, has reaffirmed that Korea is a strategic partner and friend of Costa Rica, highlighting that this modern treaty includes regulations on topics of great relevance to Costa Rica, such as supporting micro, small and medium enterprises, the promotion of a positive business climate, the improvement of the sanitary and phytosanitary framework to facilitate trade, and the exchange of information. "We are confident that this FTA will allow the Republic of Costa Rica and the Republic of Korea to improve their economic and commercial development, by taking into account their competitive advantages and the complementarities of their economies," declared Ambassador of Costa Rica to Korea, Rodolfo Solano Quirós.
The above story has been contribued from the Embassy of Costa Rica in Seoul.