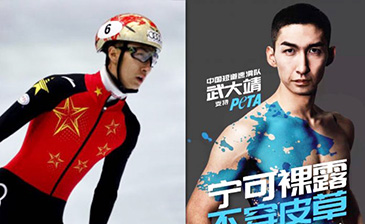 Wu Dajing, China's only 2018 Olympic gold medalist
Pyeongchang, S. Korea — China's only gold medalist so far of the XXIII Winter Olympic Games, speed skater Wu Dajing, appears in a PETA anti-fur ad as part of the group's iconic "I'd Rather Go Naked Than Wear Fur" campaign. The striking ad features a shirtless Dajing showing off his fit physique and proclaims, "Real Winners Never Hurt Others. Please Join Me in Saying No to Fur.""Every fur coat, collar, and trim represents the miserable life and painful, terrifying death of animals who suffered beyond measure on death-drenched fur farms," says Dajing. "My friends at PETA Asia and I encourage everyone to bundle up in faux fur and other cozy vegan options this winter rather than the stolen skin of a murdered animal."
PETA—whose motto reads, in part, that "animals are not ours to wear"—notes that there are no laws protecting rabbits, foxes, or other animals on Chinese fur farms. Animals used by the fur industry spend their entire lives in tiny, filthy cages until their necks are broken or they're poisoned, anally electrocuted, or skinned alive. Additionally, more than 2 million cats and dogs are skinned in China for fur every year—many while fully conscious.
Dajing joins a long list of celebrities—including fellow Olympians Fu Yuanhui, Fan Kexin, and Zhou Yang—who have teamed up with PETA to denounce the cruel fur industry.Contact:
Keith Guo +86 13717020080; KeithG@PETAAsiaPacific.com
Szuching Chi +886 966742224; SzuchingC@PETAAsiaPacific.com