Europe
Guernica: March 27 through July 29, 2018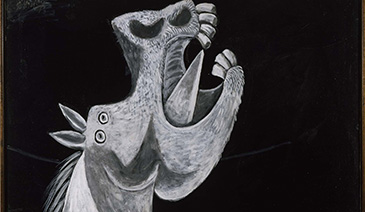 "Head of a Horse" by Picasso, Sketch for Guernica (Tête de cheval, étude pour Guernica), Grands-Augustins, Paris, May 2, 1937
Following the 80th anniversary of the creation of the work, the Musée national Picasso-Paris, in partnership with the National Museum Reina Sofía Art Center, presents an exhibition about Guernica, masterpiece of Pablo Picasso.The anti-Franco, anti-fascist and pacifist symbol, which is one of the most famous paintings in the world, was preserved in 1981 to Madrid where it is now permanently displayed.Thanks to an exceptional collection of sketches and archives, the exhibition proposes a lesson on the history of Guernica and clarifies questions about Picasso's political engagement.
Historic Anti-War Painting Guernica by Picasso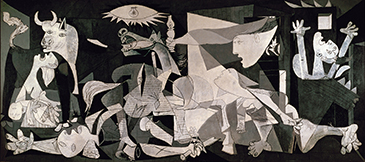 Guernica by Picasso in 1937: Oil on canvas. Dimensions: 349.3 cm×776.6 cm (137.4 in×305.5 in)
Location: Museo Reina Sofia, Madrid, Spain
Guernica by Pablo Picasso

Alternative name: Guernica (Picasso)
Date: 1937
Style: Cubism, Surrealism
Period: Neoclassicist & Surrealist Period
Genre: allegorical painting
Media: oil, canvas
Dimensions: 349 x 776 cm
Location: Museo Nacional Centro de Arte Reina Sofía (MNCARS), Madrid, Spain, National Gallery for Foreign Art, Sofia, Bulgaria
Guernica is a mural-sized oil painting on canvas by Spanish artist Pablo Picasso completed at his home on Rue des Grands Augustins, in Paris in June 1937.Guernica became particularly famous because Picasso created it by depicting the bombing of Guernica, a Basque Country village in northern Spain.The hamlet of Guernica was bombed by Nazi Germany and Fascist Italian warplanes at the request of the Spanish Nationalists. The painting, which uses a palette of gray, black, and white, is regarded by many art critics as one of the most moving and powerful anti-war paintings in history.Standing at 3.49 meters (11 ft 5 in) tall and 7.76 meters (25 ft 6 in) wide, the large mural shows the suffering of people wrenched by violence and chaos. Prominent in the composition are a gored horse, a bull, and flames.Upon completion, Guernica was exhibited at the Spanish display at the Exposition Internationale des Arts et Techniques dans la Vie Moderne (Paris International Exposition) in the 1937 World's Fair in Paris and then at other venues around the world.The touring exhibition was used to raise funds for Spanish war relief. The painting became famous and widely acclaimed, and it helped bring worldwide attention to the Spanish Civil War.