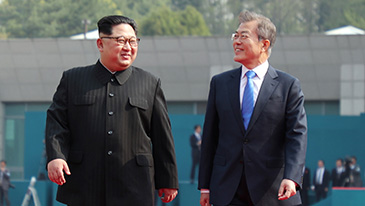 Kim Jong-Un and Moon Jae-In in Truce Village of Panmunjeom
Editor's note: Ruffy Magbanua, Mindanao Daily's star columnist wrote this piece during his visit to Seoul last March 31, 2018 with his bold prediction that pretty soon lasting peace will come to the two warring Koreas, and true enough, the world rejoiced. Here's a re-print.
SEOUL, South Korea — Now I know why this country, despite the bellicose threat from North Korea continues to be called the Land of the Morning Calm.
South Korea is indeed oozing with that irresistible appeal au naturel — of picturesque high mountains and clear waters and splendid tranquillity, particularly in the morning. Yet at a distant, there lies a closet neighbor the whole world is closely watching with extreme caution and constant fear. I asked Joey, my tour guide for four straight days in this city of more than 25 million peace-loving Koreans a straight question: Is the North serious of its threat? His ready answer was just a quick nod of perplexing approval. I could only read him between the lines. But just the same, I temporarily agree with some reservations as I complete my morning coffee amid the biting cold of Seoul's spring weather.Joey's reaction was indeed a reserved reflection of how Seoul's newspapers here weigh-in the current see-saw diplomacy of the North with the South.The most welcome news was the sudden twist of North Korea's Kim Jong Un temperamental diplomacy. A surprising diplomatic posture indeed.In fact, many Koreans consider Kim's move a rare momentum for cutting the Gordian knot on the Korean peninsula with the scheduled bilateral and possibly trilateral summits with China or Russia getting into picture.The denuclearization of the Korean Peninsula may seem impossible for now, and even perplexing, and complicated, yet a glimmer of hope may come at the end of the tunnel. Indeed, Kim's diplomacy has come to this beleaguered country with a ray of hope – that of making the seemingly impossible possible despite the abundance of skepticism, pessimism, defeatism, and fatalism.The most intriguing aspect is that this instant diplomacy largely surprised the world, it being shaped by the two Koreas with Kim leading the way. For over a month now, Kim has been playing an ultra-smart kid — from his belligerent push for nuclear weapons toward dialogue and unilateral concessions. Surprisingly, South Korea's Moon Jae-in serves as the willing partner of Kim with both leaders setting the table with extra caution.
With the start of a great journey to denuclearize the Korean peninsula, the unification of the two Koreas is not far-fetched.
On one hand, China continues to act as a diplomatic concierge by starting the ball rolling. Accordingly, China's invitation of Kim and his wife to Beijing helped tone down the mentality that it is not keen on the North's diplomatic stance.Earlier, President Xi Jinping had announced that China had embraced the goal of denuclearization of the peninsula with no concession whatsoever. That historic visit of Kim to China took him to make the first step — by offering to halt weapons tests, discussed denuclearization and drop objections to U.S.-South Korean military exercises. Seoul brokered Kim's offer of direct talks that astounded the world – a Korean drama for now, yet it could easily pass as a real telenovela if the two countries at odds would embrace peace with finality. For now, the two Korean leaders are acting like mountain climbers, trying to reach the peak and establish a base camp there in which they could agree on a great bargain – that of attaining world peace.What needs to be done is a bold stroke notwithstanding the big risks the two leaders may encounter on that unified base camp.
But this base camp has to be high enough up the mountain, anchored with enough specific provisions to last a lifetime of bilateral talks. Strangely enough, perhaps this could lead to a very decisive achievement the world would soon rejoice. Perhaps, what needs to be done for now is a complete chemistry between the two leaders who, after all, are the descendants of one great Korean empire.
The above writer, Ruffy Magbanua, is Mindanao Daily's star columnist. The seasoned journalist is well versed in inter-Korean affairs, often writing about Seoul and its people as well as its surrounding areas. For more of his stories please visit
www.mindanaodailynews.com
He can be reached at ruffy44_ph2000@yahoo.com