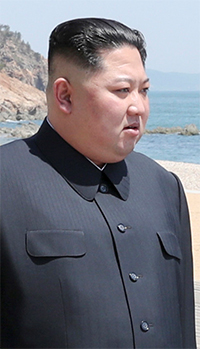 Kim Jong-Un
On May 16, 2018 North Korea announced that it was unilaterally cancelling previously scheduled high-level inter-Korean talks because of U.S.-South Korean military exercises (Max Thunder) happening on the peninsula from May 11 to 25. A Korean Central News Agency (KCNA) report stated that the exercises are an "undisguised challenge to the Panmunjom Declaration and a deliberate military provocation to the trend of the favorably developing situation on the Korean Peninsula." KCNA further warned that the "U.S. will have to think twice about the fate of the DPRK-U.S. summit," currently scheduled for June 12 in Singapore.A few hours later, KCNA published a press statement that cast further doubt on the upcoming U.S.-North Korean summit. The statement was reportedly made by the DPRK Vice Minister of Foreign Affairs Kim Kye-gwan, warning that "if the U.S. is trying to drive us into a corner to force our unilateral nuclear abandonment, we will no longer be interested in such dialogue and cannot but reconsider our proceeding to the DPRK-U.S. summit." The report specifically criticized statements made by the new U.S. National Security Advisor John Bolton (on CBS Face the Nation on April 29), citing the Libya model of denuclearization as the example for North Korea. In the statement, Mr. Kim said it was "absolutely absurd to dare compare the DPRK, a nuclear weapon state, to Libya which had been at the initial stage of nuclear development," and warned that North Korea will not suffer the "destiny of Libya or Iraq."In a press conference with reporters at the White House, Press Secretary Sarah Sanders downplayed the significance of the North Korean statements and expressed optimism that the Trump-Kim summit would still continue as planned. President Donald Trump himself commented later, during a press event with President Shavkat Mirziyoyev of Uzbekistan at the White House, that "we will see what happens" on the U.S.-DPRK summit and reiterated that he will insist on denuclearization of the Korean peninsula. These latest developments raise some important questions.
Q1: Why is North Korea threatening to cancel the Trump-Kim summit on June 12th?
A1:
This is part of the typical North Korean brinkmanship playbook that it frequently uses in negotiations. By threatening to walk away from the summit North Koreans are either trying to build leverage to get additional concessions from the United States or they are trying to shift the basic terms of the negotiations. This is something that North Korean officials repeatedly did during the Six-Party Talks and when negotiating the 1994 Agreed Framework under Clinton. Logistics are an important part of summit planning, but so are the deliverables (or outcome). Since the date and the location for the Trump-Kim summit had already been decided, it was natural that negotiations would now turn to substantive issues. The North Koreans may have decided that this was a key opportunity to push back on the issue of denuclearization and to dismiss any talk (or pressure from the United States) about intrusive verification procedures that would need to be part of the denuclearization process.North Korea may also be using this opportunity to express their dissatisfaction with several other issues. The North Korean state media clearly expressed dissatisfaction with National Security Advisor John Bolton's recent statements on Libya and North Korea. They may be using this opportunity to sideline Bolton in the negotiations process or to pressure Trump to get rid of this new national security advisor.Pyongyang may also be warning the United States not to bring up the issue of human rights during the negotiations. The North Korean statement announcing the cancellation of working-level inter-Korean talks yesterday criticized South Korea for allowing "human scum" to speak at the South Korean National Assembly. This was most definitely a reference to North Korean defector Thae Yong-ho who spoke at an event at the National Assembly only two days ago. Thae has spoken openly about North Korea's human rights violations in the past and has consistently argued that Kim Jong-un will never give up his nuclear weapons program. This may have been a simultaneous warning both to Seoul, to keep Thae from speaking publicly, and to Washington to warn negotiators not to bring up the issue of human rights at the June summit.
Q2: Will the U.S.-North Korean summit still happen?
A2:
Yes, for the time being it appears that Donald Trump and Kim Jong-un are both personally vested in having this summit and cancelling at this time would result in a huge loss of face. Trump is staking a good deal of political capital on solving the North Korean nuclear issue and Kim Jong-un has also announced the summit to his own people. At this stage, each side would have to come up with a very good pretext to cancel the meeting and would also risk a return to potential conflict on the Korean peninsula if the summit negotiations fail. For now, if Trump and his national security team continue to maintain cool heads and do not overreact to this latest North Korean episode, the negotiations will likely move forward without significant setbacks. The North Korean state media heavily criticized John Bolton but was careful not to attack President Trump. Some analysts believe that this is a calculated move by the North Koreans to express dissatisfaction with some aspect of the negotiations but is not intended to lead to a breakdown in dialogue.
Q3: What would cause the summit to be cancelled?
A3:
Negotiations could fall apart if the United States and North Korea cannot narrow their differences on what "denuclearization of the Korean peninsula" means in practical terms. Summit negotiations may also become derailed if there is no agreement on what concrete deliverables will be for the summit and what concessions that each side is willing to make. Given the unpredictability of the two leaders, Trump or Kim could also decide at the last minute that the summit is not in their respective national (and personal) interests and could cancel the potentially historic meeting. Unfortunately, it looks like we will have to wait patiently over the next four weeks to see if the summit takes place–with North Koreans you never know until the day of the meeting when you sit down face-to-face with them.
Lisa Collins is a fellow with the Korea Chair at the Center for Strategic and International Studies (CSIS) in Washington, D.C.
Critical Questions
is produced by the Center for Strategic and International Studies (CSIS), a private, tax-exempt institution focusing on international public policy issues. Its research is nonpartisan and nonproprietary. CSIS does not take specific policy positions. Accordingly, all views, positions, and conclusions expressed in this publication should be understood to be solely those of the author(s).