National
Letters from Dhaka
Singapore Summit: Historic Aagreement, Beginning of US-N. Korea Relations
By MA Hossain
Bangladesh Correspondent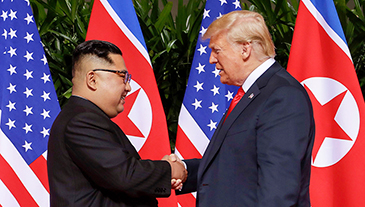 US President Donald Trump (right) shakes hands with North Korea's leader Kim Jong Un at the beginning of the historic US-North Korea summit held at the Capella Hotel on Sentosa Island in Singapore on June 12, 2018.
The Korean War (1950-53) has ended. The 1953 pause of the war between South Korea and the Democratic People's Republic of Korea (DPRK) has now totally been ended through the magnanimous diplomatic efforts of the US President Donald Trump and DPRK leader Marshal Kim Jong-Un.It is not only the beginning of new era of cordial relations between Washington and Pyongyang, but it also is the era of peaceful coexistence of South Korea and DPRK. Through the Trump-Kim historic agreement, there will be an end to the very provocative joint military drill in the Korean seas.There also will be gradual denuclearization in the Korean Peninsula. Thousands of American troops deployed in South Korea will now be withdrawn and most definitely the United States President now will actively consider freeing some Asian nations from cruel but elected autocracies.For the sake of world peace and for stopping the alarming rise of religious extremism and militancy, corruption-plagued so-called elected regimes; which actually are cruel autocracies should now come under Washington's radar.The process of denuclearization of the DPRK has to be done slowly and scientifically by giving considerable time. Such crucial initiatives can not be done hurriedly.As a new era of cooperation has already started, hopefully President Trump and his efficient administration will not only lift punitive sanctions from the DPRK, world leaders should also take initiatives in getting the sanctions imposed by the United Nations on the DPRK lifted immediately.South Korean President Moon Jae-In also needs to encourage establishment and expansion of business and investments in the DPRK.Right after the very successful meeting and signing of the historic agreement between President Donald Trump and Marshal Kim Jong-Un, several anti-peace elements, habitual critics and senseless supporters of Barack Obama and Hillary Clinton are engaged in misleading people in the world with their nasty propaganda stuffs.Even British Broadcasting Corporation (BBC), instead of appreciating the successful summit and agreement are engaged in catering misleading, biased and molested facts with a clean agenda of undermining President Trump's grand diplomatic success.Both China and Russia seem to be delighted at this historic agreement. Moscow even is eyeing on getting economic benefit by establishing wider economic cooperation with Pyongyang, soon after lifting of the UN sanctions.Japan too is clearly delighted. But the tones of Iranian and Indian media in particular are not at all positive. It seems, they can't accept President Trump emerging as the mightiest, smartest and most successful leader in the world.Because they understand, this historic success will make Donald Trump much confident and even ruthless on those over-ambitious nations like Iran and India, who had hidden desire of emerging as key players in the global issues.In the Middle East, Saudi, Israeli, Kuwaiti, and UAE medias are expressing hope and delight seeing the end of Korean War through the Trump-Kim agreement.Following this agreement, there are all the possibilities of beginning of a fresher and deeper economic, technological and agro-industrial cooperation between Pyongyang and Jerusalem. Enhanced cooperation between DPRK and African nations would most certainly take place in exploration of rich mineral resources in DPRK.Job opportunities for hundreds and thousands of the North Koreans would be created once industrial establishments, especially ready-made garment industries are set-up by the friendly nations of Washington. For Marshal Kim Jong-Un, the immediate challenge would be eliminating food crisis and creating job opportunities in his country.In this regard, he may seek cooperation from the Trump administration in particular as well as from China. DPRK can also start earning billions of dollars by exporting skilled and semi-skilled manpower (especially in the mining and construction sectors) in the Middle East. North Koreans are reputed as hard-working nation.Before concluding, I would like to put forward some personal opinions and suggestions to Marshal Kim Jong-Un and his administration.Let no side consider the Singapore summit and the agreement as the end of many of the upcoming challenges. The days of DPRK's isolation may end soon. Pretty soon.But, Marshal Kim Jong-Un should establish his favorable presence in the media and the web. His state news agency KCNA or the Pyongyang Times (which is yet to be available online) or his party's Chosun Ilbo newspapers may not be sufficient in countering many of the critics of the Singapore summit.After abandoning their missile and nuclear programs, DPRK should put urgent emphasis on economy, creating job opportunities for the people of DORK, enhance diplomatic relations with newer nations and focus on the media. As a patriot and efficient statesman, I do believe, Marshal Kim Jong-Un and his team can achieve these goals.All the best to the decent people in the Korean Peninsula!
The above author, M A Hossain, is a respected political and defense analyst in Bangladesh.

Related Articles
Iran: Reshaping the Regional Politics in the ...
Bangladesh: Hefazat-e-Islam and Militancy
Turkey Emerges as the Global Power
Opportunity Looms over Rohingya Repatriation
Pompeo's Al-Queda Conspiracy and Bangladesh
Asia: The Game-Changer for the Superpower
Covid-19: The Job Crisis Is Deepening Globally!
Has 'Big Brother' India Failed to Perceive the ...
What Options Left for North Korean Leader Kim ...
New Dimension in South Asian Regional Politics ...
Superpower Conflict : World Order Is at Stake!
The Creation of "Koryo Union" Is the Only ...
N. Korea: No More Threat to World Peace and ...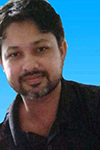 MA Hossain, a political and defense analyst, writes on diversified topics in Bangladeshi and foreign newspapers. He has served in the United Nations. His articles are already featured in prominent newspapers like, South China Morning Post, The Arabian Post, The National (UAE),The Seoul Times, Modern Ghana, The New Nation, Malaysia Today, The Al Bilad (S.Arabia), The Financial Express, The Asian Age, South Asia Journal, etc. He can be contacted at: writemah71@gmail.com