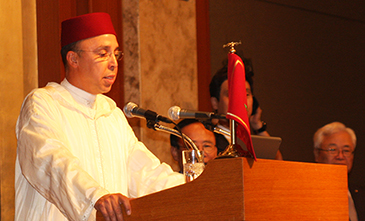 Moroccan Ambassador to South Korea Chafik Rachadi
Moroccan Ambassador to South Korea Chafik Rachadi and his spouse Mrs. Rachadi hosted a reception at the Lotte Hotel in downtown Seoul on July 31, 2018 to mark its national day, "Throne Day." "Throne Day" is the day of accession of King Mohamed VI to the throne in 1999. The day has been celebrated usually on July 30 every year since then. This year Morocco celebrates the 19th anniversary of the accession of Moroccan King Mohammed VI to the throne. This year also marks the 56 years of bilateral diplomatic relations between the Kingdom of Morocco and Republic of Korea. A large crowd of high-profile international and local Korean guests were invited to the dinner reception held between 6:30 p.m. and 8:30 p.m. at the hotel. The participants included scores of top foreign envoys serving in Seoul's diplomatic circle.
Moroccan Ambassador Rachadi started serving as the ambassador in Seoul from around the end of 2016. It was on Dec. 27, 2016 that South Korea's then Acting President Hwang Kyo-Ahn received a letter of credence from the Moroccan envoy.
The Bilateral Ties
The bilateral relations between Morocco and South Korea hark back to July of 1962, when the two nations established official ties. Since then the bilateral ties has been on the steady increase. The year 2018 marks a significant milestone in the development of bilateral relations between Morocco and South Korea as they celebrate 56 years of diplomatic establishment. Back in 2001, the Business Council was established to promote economic development between the two nations. Later in 2010, Morocco and South Korea adopted a triennial work program to further enhance partnership and bilateral trade by taking advantage of the common agendas between the two economies. Many Korean companies are currently involved in the construction of power plants in Morocco and will also be participating in infrastructure building projects such as the construction of road, port and high speed railways. It is noteworthy that in the recent years, major South Korean corporations such as LG, Samsung and Daewoo Engineering have also played an active role in Morocco's economy through foreign investments, exportation of electronic products and implementation of information technology and security training programs. Morocco is a country located in North Western Africa and has a population of over 32 million, occupying an area of about 710,850km². Morocco distinguishes itself from other countries with its diverse Arab, Berber, European and African influences. It possesses about 70 percent of the world's phosphorus reserves and serves as the largest exporter in that industry. However, in recent years, Morocco has emerged as an exporter of manufactured and agricultural products, and its popularity as a tourism destination is growing.
Who Is Chafik Rachadi?
Chafik Rachadi is a very influential Moroccan politician. He was born in Marrakech, Morocco on Oct. 21, 1963. Currently, Rachadi is serving as Moroccan Ambassador to South Korea. His letter of credence was received by South Korea's Acting President Hwang Kyo-Ahn on Dec. 27, 2016. Rachadi has been actively involved in politics, business, and social fields domestic or abroad. The following are the gists of his numerous functions and activities. Rachadi has been serving as deputy speaker of the House of Representatives in Moroccan Parliament since 2013. He also served as president of the Parliamentary RNI's group from 2011 to 2012. In 2009 Rachadi became the first vice president of the Arab Labor Organization (ALO) of Arab League. He served in that capacity for three years. Rachadi belongs to the National Rally of Independents (RNI) boasting of 54 members. Rachadi accumulated a large and deep knowledge by studying in many places. He received a BA degree in business administration from Montreal in 1987. He also earned his master's degree in finance and management from Orleans in 2000. He received his PhD in law from Perpignan in France in 2004. Rachadi chairs a Moroccan company specializing in the assembly of European and Asian industrials vehicles from 1989 onward. For details or inquiries call the Moroccan Embassy in Seoul at 793-6249.