Global Views
Letters from Dhaka
Superpower Conflict : World Order Is at Stake!
By MA Hossain
Bangladesh Correspondent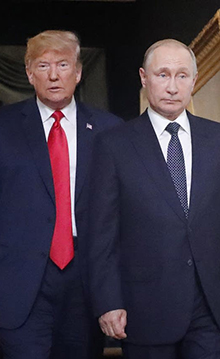 US President Donald Trump and Russian President Vladimir Putin
After the Cold-War era, America became the lone Superpower in the world. Over the period of time, advancement of technology and turbulent geo-politics are bringing the threat of Superpower conflict back. American's jingoistic relations with other nations, China and Russia began to reassert their regional and global influence - display of military strength are stoking to stimuli for reordering of global power.Superpower conflict is becoming a reality on the top of global agenda. The relative decline of US influence, rising of China as America's leading competitor, Russia's desire for greater role in global politics are made America's supremacy at stake. Now President Donald Trump has the only one option to make America great again. He needs to bug all nuclear weapon rich nations, makes turmoil in global politics and economy - and bring them in a bilateral negotiation. Mr. Trump needs to exhibit the world community that things happen the way America desires. US already has opened number of fronts- North Korea(denuclearization), China (trade war), Iran (JCPOA), Jerusalem (US Embassy relocation), G-7 (tariff), Russia (presidential election meddling). All these bargaining issues need to be solved by the US to remain lone Superpower. In case of North Korea and China, Mr. Trump is partially successful. North Korea has agreed on denuclearization proposal and US-China trade war could put negative impact on Chinese fastest growing economic growth. Rest of the issues are in progress by the Trump's think tanks targeting next Presidential election to win.President Trump must have an idea about the retaliation of aggrieved nations affected by his thuggish actions. Tension between Iran and US have been rising since May 2018 when Trump announced he was withdrawing from the nuclear deal signed by Tehran and major World power to curb Iran's nuclear power ambitions. Trump's decision already has put significant pressure on the Iranian economy. Now Tehran threatened to bloc the Strait of Hormuz which is the key passageway for 20% of traded oil world wide. Tehran also is expected to involve in massive military exercise in the Persian Gulf.According to the analysis of several US strategic organizations - invoked to focus on strategic Superpower competition with China and Russia dropping down counter terrorism from top priority. Amid the mounting tension in South China Sea and trade war between the US-China, Beijing has suggested the ASEAN allies to carry out oil and gas exploration in the Western Pacific and South China Sea but again proposed to exclude US interference in the waters of such activities. Taiwan invasion and Spratly island Campaign is compelling the US military to rethink a war with China. As a defense analyst, I think the United States already has been late to response China's aggressive ambitions in Indo-Pacific region. Since the 1996-97 Taiwan strait missile crisis, China could reach the capability of destroying Taiwan's air base with multi-layered saturation attack using short range ballistic missile(SRBM). However, today China also is capable of striking Kadena air base in Okinawa. This will compel US aircraft to fly from long distance to engage Chinese forces. China has deployed half of its fighting fleet with fourth generation fighters against Taiwan Campaign. It is very difficult task to operate in and near Chinese air space for US force because of Chinese surface to air missile(SAM) system and early warning aircraft. US is superior to China for precision weapons and high-energy laser system to dazzle Chinese satellite's optical sensors to jam communication satellites. America also is superior to second-strike nuclear capability in the face of first-strike with numerical warheads advantage of 13 to one against China and beyond. At present China has developed robust control over the horizon intelligence, surveillance, reconnaissance(ISR) capabilities which include military imaging satellite. Along with ASBM threat the US should consider the increased sophistication of Chinese submarine's launching capacity of intercontinental ballistic missile loaded nuclear warhead , cruise missile and torpedoes.Though Russia has limited capabilities outside nuclear weapon and UNSC membership. It still enjoys the power to disrupt and reconfigure the global politics. Another significant factor is Russia's strategic geographical location, which makes it an indispensable player in both Asia and Middle East especially Ukraine and Syria. At present, Russia is a energy Superpower.In my personal opinion, the military strategy dictates that the US President will give more emphasis on strong political - military relations with Philippines, Vietnam, Indonesia, Malaysia to facilitate uninterrupted logistic supply during war time in the Asia-Pacific Theatre . Although governments of South Asian nations are widening diplomatic relations with Trump administration day by day. At this moment, Mr. Trump is not going to involve in a big tussle with Russia. Day by bay US is isolated from its allies and the rest of the world. Now it has to be seen how America will face the upcoming challenges in geo-politics with China and foe-allies.

Related Articles
Ideological Warfare: Conception, ...
Al-Qaeda, Global Terrorism and Threat to ...
Iran: Reshaping the Regional Politics in the ...
Bangladesh: Hefazat-e-Islam and Militancy
Turkey Emerges as the Global Power
Opportunity Looms over Rohingya Repatriation
Pompeo's Al-Queda Conspiracy and Bangladesh
Asia: The Game-Changer for the Superpower
Covid-19: The Job Crisis Is Deepening Globally!
Has 'Big Brother' India Failed to Perceive the ...
What Options Left for North Korean Leader Kim ...
New Dimension in South Asian Regional Politics ...
The Creation of "Koryo Union" Is the Only ...
N. Korea: No More Threat to World Peace and ...
Singapore Summit: Historic Aagreement, ...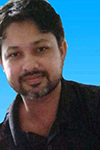 M A Hossain, a political and defense analyst, writes on diversified topics in Bangladeshi and foreign newspapers. He has served in the United Nations. His articles are already featured in prominent newspapers like, South China Morning Post, The Arabian Post, The National (UAE),The Seoul Times, Modern Ghana, The New Nation, Malaysia Today, The Al Bilad(S.Arabia), The Financial Express, The Asian Age, South Asia Journal, etc. He can be contacted at: writemah71@gmail.com