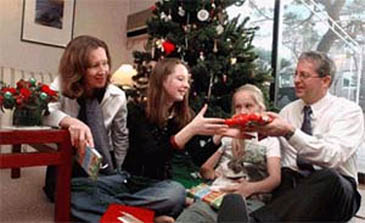 Amb. David Taylor (right) of New Zealand spends his leasure times with his wife Teresa and two daughters exchanging Christmas presents at his residence Dec. 23, 2004.
Courtesy Joins
Foreign missions in Seoul were quiet and mostly closed around the year-end season, as the Yuletide is a time for resting, family gathering, sharing, and helping the needy. While many of the 88 top foreign envoys and other embassy staff were away for Christmas at home, some missions mostly of non-Christian countries stayed in Seoul either keeping the embassy in operation or having fun in Seoul. Some toured Mt. Kumkang or Diamond Mountain in the Special Tourism Zone in North Korea or other parts of the peninsula.Amb. David Taylor of New Zealand and his family were one of a few foreign envoys and family who chose not to go home for the Christmas holidays. He spent the holiday season here in Seoul with his wife Teresa, and two daughters — 13-year-old Hanna and 11-year-old Georgia.On Dec. 21, 2004, Amb. Taylor and his family made Christmas cookies and decorated their Christmas trees with ornaments at their home in Dongbinggo-dong, Yongsan-gu, Seoul. He and his wife exchanged gifts with their two teenage daughters.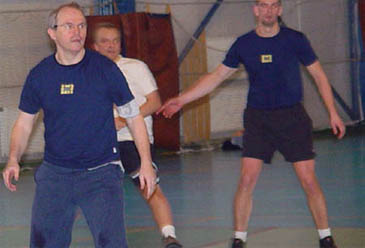 US Amb. Hill in basketball game
Taylor makes it a rule to trade greetings with his relatives living back in New Zealand, the US, and Germany during the holiday season. Taylor spoke of how Christmas is celebrated in New Zealand — tasting delicacies and drinking wine under the warm Summer sky.US Amb. Christopher Hill, who visited Washington DC Dec. 7-17, 2004, stayed in his residence in Jeong-dong, Jung-gu. He reportedly had a turkey dinner, a traditional American dish, with his family. Hill received a necktie from his wife Patricia and daughter for a Christmas gift.Amb. Warwick Morris of the United Kingdom spent Christmas day at church and afterwards invited his friends to his residence for a traditional British style dinner that included roasted turkey, potatoes, pudding, and wine.Meanwhile, Christmas holidays for Islamic countries, nations under the influence of Confucianism or Buddhism, meant "business as usual" — regular work days.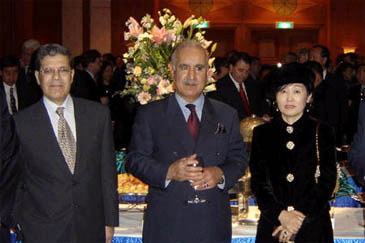 Amb. Saleh Bin Mansour Al-Rajhy of Saudi Arabia (center) poses with Amb. Othman Jerandi of Tunisia (left) and an unidentified woman at a recent diplomatic gathering.
The Chinese Embassy however was closed on Dec. 25, 2004. But its spokesman said that they took the Christmas day off not because it was their holiday but because it was Saturday. Amb. Li Bin held a year-end party on Dec. 21, 2004. Also closed were the embassies of Buddhist nation of Sri Lanka and the Jewish State of Israel not for Christmas holiday but because it was Saturday.For Amb. Saleh Bin Mansour Al-Rajhy of Saudi Arabia Christmas day was just another day off, as people in all the Islamic nations do not consider the day as a holiday. He initially planned for a ski tour in Yongpyeong and later gave it up. Amb. Ahriz Abdelmoun'aam of Algeria spend Christmas day with his wife, and three kids at their residence in Seongbuk-dong. The day was not for a special celebration but it was a regular day off for the ambassadorial family. At the year's end he toured Mt. Kumkang in North Korea.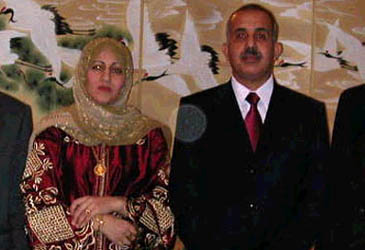 Amb. Ahriz of Algeria (center) poses with his wife.
Envoys of the former Soviet Union block countries stayed either in Seoul or traveled Mt. Kumkang or other parts of the Korean Peninsula.Amb. Volodymyr Furkalo Ph.D. of Ukraine was visiting Mt. Kumkang in Special Tourism Zone in the North Korea during the Christmas holidays. He also spent some days with his family in Seoul.Amb. Darkhan Berdaliyev of Kazakhstan celebrated New Year's Eve evening with his large family at his residence decorated by a tall Christmas tree. The ambassadorial couple has three sons and a daughter — the oldest son studies in a Prague university and the youngest one is three-year-old son.Amb. Aleksandr Semeshko of Belarus spent New Year's Day with his family and his embassy staff at his residence in Seoul.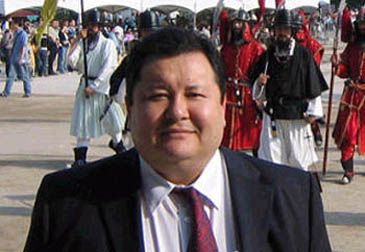 Amb. Darkhan Berdaliyev of Kazakhstan
Yet, for many top envoys in Seoul, Christmas day was a big day for celebration. Many ambassadors including Amb. Michael Geier of Germany, Abm. Pedro Paulo Assumpcao of Brazil, and Amb. Colin Stuart Heseltine of Australia left Seoul to go home for nearly a month-long winter vacation.For this, Amb. Toshiyuki Takano of Japan had to hold a reception for celebrating the Birthday of H. M. Emperor Akihito (1933) — two weeks earlier. The Japanese National Day normally falls on Dec. 23.