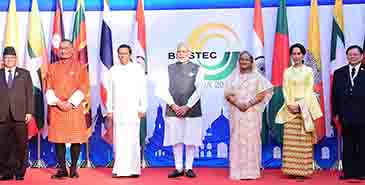 Leaders of the BIMSTEC countries pose for the camera in their meeting in Goa, India on Oct. 15, 2016.
The Bay of Bengal Initiative for Multi-Sectoral Technical and Economic Cooperation (BIMSTEC) is an international organization of seven nations, Bangladesh, India, Myanmar, Sri Lanka, Thailand, Bhutan and Nepal, housing 1.5 billion people and having a combined gross domestic product of US$ 3.5 trillion (2018). Fourteen priority sectors of cooperation have been identified and several BIMSTEC centers have been established to focus on those sectors. Permanent secretariat of BIMSTEC is located in Dhaka, Bangladesh. It was established in 2014.On June 6, 1997, a new sub-regional grouping was formed in Bangkok under the name BIST-EC (Bangladesh, India, Sri Lanka, and Thailand Economic Cooperation). On 22 December 1997, Myanmar became a full member, resulting in the renaming of the grouping to BIMST-EC. In 1998, Nepal became an observer. In February 2004, Nepal and Bhutan became full members.On July 31, 2004, in the first Summit the grouping was renamed as BIMSTEC or the Bay of Bengal Initiative for Multi-Sectoral Technical and Economic Cooperation.The 14 main objective of BIMSTEC is technological and economic cooperation among south Asian and southeast Asian countries along the coast of the bay of Bengal. Commerce, Investment, Technology, Tourism, Human Resource Development, Agriculture, Fisheries, Transport and Communication, Textiles, Leather etc. have been included in it. Provide cooperation to one another for the provision of training and research facilities in educational vocational and technical fields. Promote active collaboration and mutual assistance in economic, social, technical and scientific fields of common interest.SAARC versus BIMSTEC:The failure of SAARC to nurture cooperation in South Asia has pushed regional players to search for an alternative. BIMSTEC, grouping the nations in the Bay of Bengal region, is popularly favored as the viable option. Two decades since its inception, however, BIMSTEC's successes have been minimal. How workable is BIMSTEC as an option for pursuing regional cooperation in South Asia? Are SAARC and BIMSTEC competitors or do they complement each other's efforts? This brief scrutinises both BIMSTEC and SAARC. The South Asian Association of Regional Cooperation (SAARC) has come under serious scrutiny in the last few years. Even after three decades of its existence, SAARC's performance has been less than satisfactory, and its role in strengthening regional cooperation is being questioned. At the 18th SAARC summit in Kathmandu in 2014, initiatives such as the SAARC–Motor Vehicle Agreement (MVA)—crucial for harnessing regional connectivity across South Asia—could be not signed due to Pakistan's dithering. SAARC faced another setback after the 19th summit scheduled to be held in Pakistan in 2016 was suspended for an indefinite period, as member countries declined to participate, pointing to what they said was the absence of a conducive regional environment.Recently, the Bay of Bengal Initiative for Multi-Sectoral Technical and Economic Cooperation (BIMSTEC) has gained more favour as the preferred platform for regional cooperation in South Asia. After India hosted a mini-summit during the BRICS meeting in Goa in 2016, support for BIMSTEC gained further momentum. By comparing BIMSTEC and SAARC, this brief explores the efficacy of BIMSTEC as a platform for regional cooperation in the South Asian context. The brief also highlights the problems in both organizations and the corrective measures required to strengthen them.SAARC has eight member countries: Afghanistan, Bangladesh, Bhutan, India, Maldives, Nepal, Pakistan and Sri Lanka. While the organisation was intended to enhance regional cooperation in South Asia, from its very inception, member countries treated it with suspicion and mistrust.SAARC was first envisioned in the late 1970s by Gen. Ziaur Rahman, the military dictator of Bangladesh. Initially, India was apprehensive about SAARC because it perceived the grouping to be an attempt by its smaller neighbors to unite against it. The Cold War politics of the time, too, contributed to India's anxiety. India had a close relationship with the Soviet Union, and it considered Ziaur Rahman to be aligned with the West. It was, therefore, suspicious that SAARC could be an American mechanism to counter Soviet influence in the region. It feared that the association might lead to Asia's own Cold War, creating a pro-Soviet­­–anti-Soviet rift. This would have played against India's interest since it had close strategic ties with the Soviet Union.Eventually, India agreed to join SAARC due to the interest expressed by the neighboring countries. The first SAARC meeting took place in Dhaka in 1985, and there have been 18 summits till date. However, the organization has not had a smooth run. In the 30 years of its history, annual SAARC summits have been postponed 11 times for political reasons, either bilateral or internal.SAARC is aimed at promoting the welfare of the people; accelerating economic growth, social progress and culture development; and strengthening collective self-reliance. The organization also seeks to contribute to mutual trust and understanding among the member countries.[4] Other objectives include strengthening cooperation with other developing countries, and cooperating with international and regional organizations with similar aims and purposes.While SAARC has established itself as a regional forum, it has failed to attain its objectives. Numerous agreements have been signed and institutional mechanisms established under SAARC, but they have not been adequately implemented. The South Asia Free Trade Agreement (SAFTA) is often highlighted as a prominent outcome of SAARC, but that, too, is yet to be implemented. Despite SAFTA coming into effect as early as 2006, the intra-regional trade continues to be at a meagre five percent.In the many failures of SAARC, lack of trust among the member countries has been the most significant factor between India and Pakistan. In recent times, Pakistan's non-cooperation has stalled some major initiatives under SAARC. For example, despite India's keen interest in cooperating and strengthening intra-regional connectivity by backing the SAARC–MVA during the 18th summit of SAARC, the agreement was stalled following Pakistan's reluctance. Similarly, the SAARC satellite project that India proposed was abandoned following objection from Pakistan in 2016.SAARC has also faced obstacles in the area of security cooperation. A major hindrance in this regard has been the lack of consensus on threat perceptions, since member countries disagree on the idea of threats. For instance, while cross-border terrorism emanating from Pakistan is a major concern for India, Pakistan has failed to address these concerns.Other significant reasons for SAARC's failures include the following:The asymmetry between India and other member countries in terms of geography, economy, military strength and influence in the global arena make the smaller countries apprehensive. They perceive India as "Big Brother" and fear that it might use the SAARC to pursue hegemony in the region. The smaller neighboring countries, therefore, have been reluctant to implement various agreements under SAARC.SAARC does not have any arrangement for resolving disputes or mediating conflicts. Disputes among the member countries often hamper consensus building, thus slowing down the decision-making process. SAARC's inability in this regard has been detrimental to its growth.Given SAARC's failures, member countries have turned to bilateralism, which in turn has adversely affected the organization. Bilateralism is an easier option since it calls for dealings between only two countries, whereas SAARC—at a regional level—requires one country to deal with seven countries. Thus, bilateralism decreases the countries' dependence on SAARC to achieve their objectives, making them less interested in pursuing initiatives at a regional level.SAARC faces a shortage of resources, and countries have been reluctant to increase their contributions.To make SAARC more effective, the organization must be reformed and member countries must reach a consensus regarding the changes required. However, considering the differences that exist among the members, particularly between India and Pakistan, such a consensus will be difficult to reach. Until the member countries resolve their issues, the future of SAARC remains uncertain.In recent years, BIMSTEC has gained popularity among South Asian countries as a platform for regional cooperation. It connects the littoral countries of the Bay of Bengal and the Himalayan ecologies. One of the reasons for BIMSTEC's popularity is that the member countries have generally cordial relationships, something patently missing among the SAARC countries.However, some observers of regional affairs in South Asia question the legitimacy of BIMSTEC as an alternative to SAARC. Their skepticism arises from BIMSTEC's less-than-impressive record in terms of tangible achievements, despite having existed since 1997.
The Need for Regional Cooperation:
Before delving into the workings of BIMSTEC, one must understand the need for regional cooperation in South Asia in the first place. Trends in global affairs suggest growing resistance towards regional cooperation, once considered a preferred means for propelling economic prosperity among participating countries. Events such as the Brexit and the US' scrapping of the Trans-Pacific Partnership in 2017 reflect the global mood. However, contrary to global patterns, South Asian countries have shown an increased interest in regional cooperation. Setting up of the BBIN (Bangladesh, Bhutan, India, Nepal) sub-regional cooperation in the aftermath of the Kathmandu Summit of 2014 is a case in point.The South Asian region covers roughly three percent of the world's total land area and is home to around 21 percent of the population. The region has a diverse socioeconomic setup, including major economic powers such as India as well as a large number of poor people who live on less than a dollar per day. It also has a large young demographic, in search of employment.South Asia is spread over a large land area between the mighty Himalayas in the north and Indian Ocean in the south. Among the countries in the region, only the island nations of Sri Lanka and Maldives are separated by waters; the rest are connected by land. Before 1947, India, Pakistan and Bangladesh were one integral nation, and the countries in the region have close socio-cultural linguistic linkages. The countries, therefore, are closely tied in their sociopolitical state as they face similar threats and challenges. For example, most of the countries in the region have to deal with terrorism. To face such challenges, the South Asian countries must cooperate. The European and ASEAN experience is testimony to the contribution of regional cooperation in the economic growth of the countries.
BIMSTEC as Vehicle for Regional Cooperation:
BIMSTEC includes the countries of the Bay of Bengal region: five countries from South Asia and two from ASEAN. The organization is a bridge between South Asia and South East Asia. It includes all the major countries of South Asia, except Maldives, Afghanistan and Pakistan. Given this composition, BIMSTEC has emerged as a natural platform to test regional cooperation in the South Asian region.Originally, BIMSTEC was called BIST-EC, i.e., Bangladesh, India, Sri Lanka and Thailand Economic Cooperation. When Myanmar joined the cooperation, the organization was renamed Bangladesh, India, Myanmar, Sri Lanka and Thailand Economic Cooperation (BIMST-EC). Following the inclusion of Nepal and Bhutan, the organization was named BIMSTEC, i.e. Bangladesh, India, Sri Lanka and Thailand Economic Cooperation.BIMSTEC's primary focus is on economic and technical cooperation among the countries of South Asia and South East Asia. So far, 14 sectors have been identified for enhancing regional cooperation among the member countries. Each sector has a lead country responsible for it. Table 1 lists the sectors and the lead country for each.BIMSTEC's major strength comes from the fact that it includes two influential regional powers: Thailand and India. This adds to the comfort of smaller neighbors by reducing the fear of dominance by one big power.BIMSTEC emerged out of the necessities of the member countries. India was motivated to join BIMSTEC as it wanted to enhance its connectivity with ASEAN countries: a major component of its Look East Policy, now rechristened 'Act East' policy. For Thailand, BIMSTEC helps achieve the country's Look West Policy. BIMSTEC also helps smaller countries such as Bangladesh, Nepal and Bhutan to develop connectivity with ASEAN countries, the hub of major economic activities globally.As a trade bloc, BIMSTEC provides many opportunities. The region has countries with the fastest-growing economies in the world. The combined GDP in the region is around US$2 trillion and will likely grow further. Trade among the BIMSTEC member countries reached six percent in just a decade, while in SAARC, it has remained around five percent since its inception. Compared to SAARC, BIMSTEC has greater trade potential as well. Among the member countries, Myanmar's intra-BIMSTEC trade is around 36.14 percent of its total trade. Nepal and Sri Lanka's share of intra-regional trade is around 59.13 percent and 18.42 percent, respectively. For Bangladesh, the intra-BIMSTEC trade share is 11.55 percent, while for India and Thailand, it is around three percent.Despite the many successes of BIMSTEC, however, some concerns remain. One is the infrequency of the BIMSTEC summits, the highest decision-making body of the organisation. In its 20 years of existence, the BIMSTEC summit has taken place only thrice. The first BIMSTEC summit was in Bangkok, Thailand in 2004. The second and third summits were held in New Delhi, India in 2008 and Nay Pi Taw, Myanmar in 2014. The fourth BIMSTEC summit, which was supposed to be held in Nepal in 2017, has been postponed. This calls into question the seriousness of the member countries. Moreover, the delay in the adoption of the Free Trade Agreement (FTA), a framework that was agreed upon in 2004, fuels doubts about BIMSTEC's efficacy.A landmark achievement for BIMSTEC was the establishment of a permanent secretariat in Dhaka. However, the secretariat faces a severe resource crunch, both in terms of money and manpower, which has adversely affected its performance.Observers of BIMSTEC consider the lack of leadership as the major drawback. In the past few years, this concern has been addressed as India has shown increased interest in the grouping. India's initiatives have resulted in some important developments, including the setting up of the BIMSTEC Energy Centre in Bengaluru and the BIMSTEC Business Council, a forum for business organizations to promote regional trade. Various committees have been formed to oversee developments in various sectors, e.g. the BIMSTEC Transport Connectivity Working Group, which held its inception meeting in Bangkok in 2016. The meeting finalised the terms of reference for the group, reviewed the development of the projects, and identified priority projects for strengthening cooperation among member states. A meeting of the national security advisers of all the member countries was held in Delhi in March 2017. In August 2017, foreign ministers of all the countries met in Kathmandu, a crucial milestone as it makes for the second-highest decision-making body under the BIMSTEC framework.
Is SAARC already lifeless?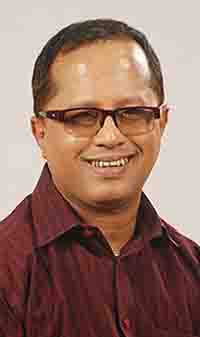 Mr. Salah Uddin Shoaib Choudhury
The unfortunate response is yes! For many years, SAARC has become lifeless and it is mainly because of extreme rivalry between India and Pakistan - two of the important members countries of SAARC; meaning, regional cooperation is impossible unless the countries concerned are sincere. In the case of BIMSTEC, once again, India is going to play the dominant role. In my personal opinion, BIMSTEC too will embrace the fate of SAARC, unless India is sincere about having deeper cooperation with the member countries. Although it is said, India and Thailand are the major factors in BIMSTEC, but, considering population and other aspects, one would say – unless India is really looking for cooperation with other member nations, BIMSTEC too will ultimately face the similar fate of SAARC. Now the billion dollar question is – whether India truly is sincere this time with BIMSTEC. Again in my personal views, India will show interest in BIMSTEC only if it helps India in gaining economically, diplomatically and politically.The inhabitants of the BIMSTEC zone also need to feel the benefit of this association, For example, BIMSTEC nations can move ahead with the initial step of visa waiver in order to allow the people in increasing interactions, which ultimately would benefit all of the nations under BIMSTEC in various ways. Enhancing socio-economic and cultural relations amongst the BIMSTEC nations is one of the most important prerequisites. This has to be done. Otherwise, sooner or later, BIMSTEC too will face the same fate of SAARC and countries like Bangladesh, Sri Lanka, Nepal, Bhutan etc will feel the necessity of joining or even forming a much larger platform, where India will be an important player but not the decisive factor.Contact address:
House # 25, 1st Floor,
Road # 1, Sector # 12,
Uttara, Dhaka - 1230,
Bangladesh.
Phone: 8801711-938344
WhatsApp: 8801911-326232