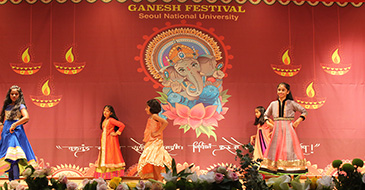 "Kids performance during Ganesh Festival 2018 @ SNU"
Ganesh Chaturthi, one of the most colorful national festivals of India, was celebrated in South Korea at Seoul National University by Indian communities on 16th September to honor the elephant headed God Ganesha's birthday. Lord Ganesha is believed to be the remover of obstacles, the patron of arts and sciences, and the diva of intellect and wisdom. He is widely and popularly known as Ganapati or Vinayaka. Ganesh Chaturthi was first celebrated by Indian Student Association (ISA) at SNU in 2007 and has been a major annual festival of Indian community ever since. Hundreds of Indian residing at various parts of South Korea came to Seoul National University to join the grand celebration of Lord Ganesha. It was overwhelming to see Korean friends as well as citizens of other countries curiously participated in the celebration ̶ it's like a big community festival open to all.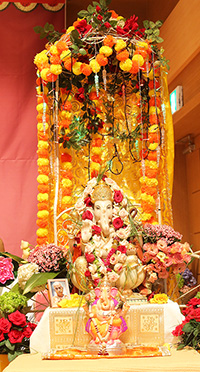 "Beautiful decoration and Ganesh Idol during Genesh Festival 2018 @ SNU"
The celebration started with the installation of Ganesh idol on the beautifully decorated stage with lots of flowers and lights, and accompanied with spiritual Indian music. Priests from Seoul ISKCON temple performed puja and aarti initially started with 'pranapratistha' where chanting of mantras invokes the presence of Lord Ganesha. At the time of rituals, coconut, modaks, fruits, and red flowers were offered to God. Throughout the puja and aarti, several Vedic mantras echoed down the mind of devotees. The cultural extravaganza started with the inaugural speech by chief guest H. E. Mr. Satish Sivan, Deputy Chief of the Mission (DCM) at Embassy of India, Seoul. The mega event consists of various cultural performances such as Ganesh vandana, classical dance, singing, kids fashion show, etc. Ms. Soma Dutta, who works as a yoga teacher at Indian Cultural Center of Embassy of India, Seoul, performed classical Kathak dance and gave a brief lesson on meditation. Various cultural performances such as Indian classical dance, Ganesh Bhajan, Rabindra Sangeet, Kids dance performances, Nepali folk song, ISKCON Pravachan were the attractions of event.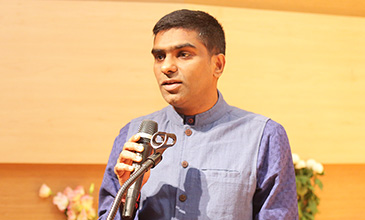 " Deputy Head of the Mission, H. E. Satish Sivan addressing Ganesh Festival 2018@ SNU"
Kids beautifully dressed in Indian traditional as well as fusion style performances added flavor to the event. All the performers were acknowledged with token of appreciation. Patanjali Muni of ISKCON Temple Pochon delivered short presentation about ISKCON movement in Korea and also future projects under the same banner.After a note of thanks by Professor Rohidas Arote, an organizer of the event, all the devotees enjoyed aarti and prayed to God for betterment of life. After aarti, Prasadam, a sweet food offered to Lord Ganesha during puja was distributed to devotees. Most importantly, all devotees enjoyed the delicious Indian vegan lunch served by Otsal Indian restaurant.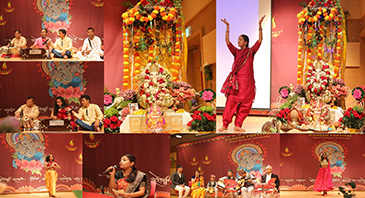 "Various artists performing for Lord Ganesha during Ganesh Festival 2018 @ SNU"
Organizers thanks to the sponsors and supporters of Ganesh Festival such as State Bank of India, Green Floral, Dr. Pankaj Garg, Otsal Indian Restaurant, ISKCON Temple Seoul and Pochon, Ayurveda Korea etc to make this event a grand success.Finally, the Ganesh idol (made up of an ecofriendly clay) was immersed in spring water, bidding adieu to Lord Ganesha. According to myth, as the clay dissolves in water, the energy of Lord Ganesha spreads all over to bless the entire universe.
Ganapti Bappa Moraya !
The above story was written by Dr. Sib Sankar Giri, KRF postdoctoral fellow at School of Veterinary Medicine, Seoul National University in South Korea under the supervision of Prof. Rohidas Arote of SNU Dental School.