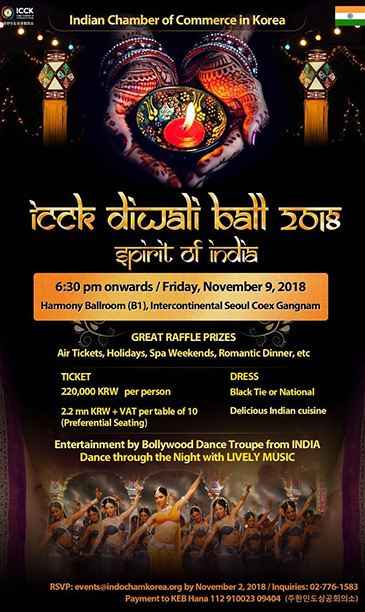 "ICCK Diwali Ball 2018" in Seoul
The Indian Chamber of Commerce in Korea (ICCK) is organizing a delightful and colorful "black-tie" event "ICCK Diwali Ball 2018" in Seoul in November, ICCK announced recently.
Diwali, or the Indian Festival of Lights, is a joyous festival celebrating the triumph of good over evil for the Hindi people in the world. The Hindi folks welcome peace and prosperity by illuminating their homes with traditional Diya lamps. The autumnal Hindu festival of Diwali is one of the
India's biggest festivals. Diwali means rows of lighted lamps. During this festival, people light up their houses and shops with a Diya, a small cup-shaped oil lamp, and the Lord Ganesha worshipped for good welfare and prosperity.This year "ICCK Diwali Ball 2018" is being held at Intercontinental Seoul Coex, Gangnam in Seoul on Nov. 9 (Friday), 2018.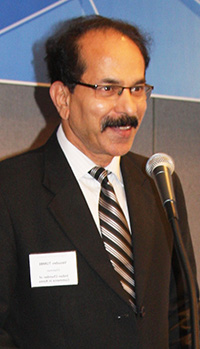 ICCK Chairman Vasudev Tumbe
Anyone, Indians, local Koreans, or any foreign nationals, is welcome to the delightful and colorful "black-tie" event to be held at Harmony Ballroom in the basement of the Intercontinental Seoul Coex, according to ICCK."As usual, an Indian dance troupe from Bollywood will be flying in Seoul from India to entertain us,"
ICCK Chairman Vasudev Tumbe said. "Please come and experience the Spirit of India"He went to say that the participants can enjoy delicious Indian cuisine, lively entertainment, win attractive raffle prizes, and dance through the night."It will also be a fine networking opportunity since we have 'WHO'S-WHO' guests from the government, diplomatic and corporate world," he added. Please join us for a memorable and fun evening"Reservation can be made by calling 02-776-1583
or by Emailing events@indochamkorea.org by no later than Nov. 2 2018.