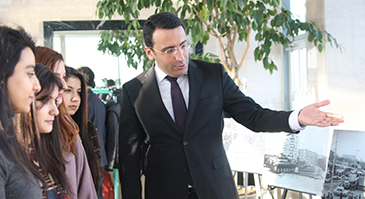 Azerbaijan Ambassador to S. Korea Ramzi Teymurov (right) explains about the photos at previous photo event held in Seoul.
Azerbaijan Ambassador to South Korea Ramzi Teymurov will host "Seminar and Photo Exhibition" in Seoul on Nov. 19 (Monday), 2018 on the occasion of the 100th anniversary of Republic of Azerbaijan, Azerbaijan Embassy in Seoul announced recently.The Azerbaijan event is co-hosted by the Korea-Azerbaijan Inter-Parliamentary Friendship Group, according to the embassy.The event will be held at Seminar Hall 2 on the first floor of Members Building of South Korea's National Assembly on Seoul's Yoido Island at 11 a.m. on the day.
Opening ceremony will be attended by Azerbaijan Ambassador to South Korea Ramzi Teymurov; Mr. Lee Myoung-Su, president of Korea-Azerbaijan Friendship Parliamentary Group; Mr. Lee Kwang-Chul, the first ambassador Extraordinary and Plenipotentiary of the Republic of Korea to the Republic of Azerbaijan; and Oh Chong-Jin, professor of Hankuk University of Foreign Studies.Ambassador Lee served as the South Korean ambassador to Azerbaijan from 2006 till 2009. Also a documentary film "Lifelong Mission" will be play at the event before the photo exhibition begins.Inquiries can be made by azembseoul@gmail.com or by calling 02-797-1765.