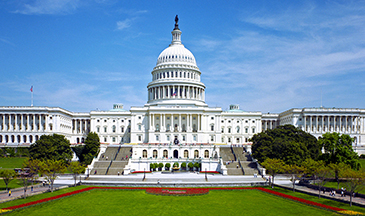 US Capitol Hill: the venue of US Mid-term election on Nov. 6, 2018
On Nov. 6, 2018, American voters flipped the House of Representatives away from Republican control into the hands of Democratic members. Republicans managed to strengthen their grip on the Senate. These developments will have implications for the administration's trade policy agenda, although some questions remain given the evolving and unconventional political dynamics surrounding the issue.
Q1: Did trade policy factor into voters' decisions at the ballot box?
A1:
While President Trump pushed his tough trade vision when running in 2016, the issue cropped up less and less in his stump speeches as the 2018 midterm election drew to a close. With the renegotiation of the North American Free Trade Agreement (NAFTA) behind him and markets beginning to react poorly to trade tensions with China, the president shifted his focus on the campaign trail to immigration and the southern border. But that shift in rhetoric is not to say that the president's trade policy did not play a role in certain races.Trade policy may have played a role in states and districts that have been hit particularly hard by the administration's tariffs and subsequent retaliation. For instance, farmers in the Midwest have felt a pinch from retaliatory tariffs on agricultural products imposed by Canada, Mexico, China, and others in response to the Trump administration's tariffs on steel and aluminum, as well as its Section 301 tariffs on China. At this point, however, it does not appear that the president's trade policy drove voters' intentions nationally, or even in some states and districts where trade and tariffs have had a relatively large impact.In the agriculture-heavy state of North Dakota, the incumbent Democratic Senator Heidi Heitkamp was defeated by Republican challenger Kevin Cramer, despite Heitkamp being much more critical of the president's trade policy than Cramer. In Minnesota House District 8, which includes the Iron Range and has been buoyed by the president's metal tariffs, Republican challenger Pete Stauber defeated Democrat Joe Radinovich. Stauber had backed President Trump's tariffs. A similar story played out for Republican incumbent Mike Bost in Illinois District 12. Representative Bost, the co-chair of the Congressional Steel Caucus and a supporter of the steel tariffs, hails from a district that experienced layoffs due to the idling of a U.S. Steel plant in 2015. Since the steel tariffs were imposed, U.S. Steel hasrestarted two blast furnaces in Granite City in Bost's district, bringing 800 jobs back. The Democratic incumbent in Ohio, Senator Sherrod Brown, a consistent fan of the president's tariffs and take on China, easily dispatched his opponent even though the state has been tilting to the right in recent years.Still, it's important to remember that trade policy consistently ranks as a low-intensityissue for voters. Voters have listed terrorism, the economy in general, health care costs, the environment, the budget deficit, and immigration as higher priorities than trade for the past ten years.
Q2: Where do the Democrats elected to the House that flipped seats from Republicans stand on trade?
A2:
A quick review of public statements by 30 newly elected Democrats shows 15 taking a pro-trade stand, 4 indicating skepticism about trade and 11 whose positions could not easily be determined at this early stage.
Q3: What does a Democratic House and a Republican Senate mean for the United States-Canada-Mexico Agreement's (USMCA) fate?
A3:
While negotiations for the NAFTA replacement, the USMCA, have concluded, Congress must pass a bill to implement the agreement before it comes into force. That gives Democrats the keys to one of President Trump's signature achievements and therefore a potentially large source of leverage over the administration. So far, many Democrats and Republicans have balked at announcing support or opposition to USMCA, and there are positives and negatives for each party in the agreement.Given their new majority in the House, Democrats are unlikely to agree to pass a USMCA implementing bill without extracting some concessions from the administration. While Trade Promotion Authority (TPA) should provide the administration some predictabilityduring USMCA's consideration in Congress, Democrats in the House could decide that the administration has not met the negotiating objectives contained in the TPA law and strip the administration's fast-track authority, as then-speaker Nancy Pelosi did in 2008 with respect to the Colombia Free Trade Agreement.This time, however, it is more likely House Democrats will use USMCA as a bargaining chip with the administration to seek concessions on separate issues and/or to improve certain aspects of the deal before it comes into force, such as labor rules. This tactic invites some risk if the president opts to withdraw from NAFTA when he sends the USMCA implementing bill to Congress since neither party will want to be blamed for an outcome in which there is both no NAFTA and no USMCA. Some modest improvements in the labor provisions, however, would allow Democrats to say they "fixed" an inadequate agreement, which would allow them to support it.
Q4: What about the rest of the administration's trade agenda, including upcoming negotiations with the United Kingdom, European Union, Japan, and the ongoing trade war with China?
A4:
With negotiations with the United Kingdom, European Union, and Japan either not begun or just getting underway, the most House Democrats can do is conduct rigorous oversight of the administration's efforts. This would entail summoning administration officials involved in the negotiations to Capitol Hill to testify on the administration's objectives for the talks, how negotiations are proceeding, and other related issues. Similar oversight is likely to be conducted on the administration's China tariffs and national security tariffs on aluminum and steel. Leading those efforts will be the new House Ways and Means Committee chairman Richard Neal (D-MA) and the likely trade subcommittee chair Bill Pascrell (D-NJ).Democrats, able to set the agenda in the House, will also use oversight hearings to criticize the administration for process fouls. Those include inadequate (in the eyes of Democrats) consultations on a number of fronts, from China tariffs to the 232 tariffs and consultations mandated by TPA on USMCA and other trade negotiations. With a majority in the House, Democrats will also cry foul over the lack of transparency from the administration on a variety of issues as well, such as the lack of information on why certain companies are granted exemptions from China and metal tariffs while others are not, lack of access to negotiating text during the USMCA talks and upcoming negotiations, and failure by the administration to lay out a clear China strategy.If Democrats opt just to criticize the administration, however, they will be squandering the full potential of their new House majority. Democrats will need to devise a robust trade policy agenda of their own to distinguish themselves from the administration's approach of "tariffs first, negotiations later." One challenge the party will face in constructing a trade policy agenda is how to reconcile the pro-trade position of most Democratic voters with the anti-trade views of organized labor, which remains a significant source of organizational and financial support for Democrats. Another challenge for Democrats will be picking and choosing their battles with the president, both on trade and other issues, as the pivotal 2020 elections approach. Trade is one area where the president's policy instincts align with the views of many Democratic members of Congress, which could lead to compromise on some issues, like the USMCA and an aggressive approach to China. Holding the majority in the House provides Democrats a valuable platform to pitch an alternative, positive, and worker-focused trade agenda to the U.S. public at a time when there are serious questions about U.S. trade strategy. Whether they will seize the opportunity remains to be seen.
William Reinsch, holds the Scholl Chair in International Business at the Center for Strategic and International Studies (CSIS) in Washington, D.C. and Jack Caporal is an associate fellow with the CSIS Scholl Chair in International Business.Critical Questions is produced by the Center for Strategic and International Studies (CSIS), a private, tax-exempt institution focusing on international public policy issues. Its research is nonpartisan and nonproprietary. CSIS does not take specific policy positions. Accordingly, all views, positions, and conclusions expressed in this publication should be understood to be solely those of the author(s).