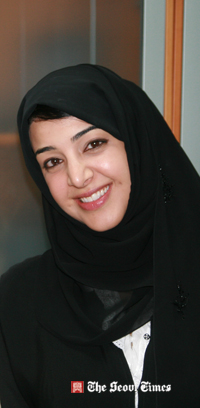 UAE State Minister Reem Al Hashimy, symbol of women's empowerment and advancement in UAE. She is also the managing director for the Dubai World Expo 2020 Bid Committee. The graduate of Harvard University became state minister in the Cabinet of the United Arab Emirates in February 2008.
Ever since the founding of the country, United Arab Emirates women have played a key role in driving the growth of the country and leading it into a new era of progress and development. Emirati women are vital partners in the comprehensive sustainable development process in the UAE. With the constant empowerment they receive every day, they are making major contributions in society, proving themselves in various positions and fields and delivering the country's vision for the future. Armed with knowledge and education, the Emirati women have achieved great goals by reaching the highest position in the country. The wise leadership of the UAE strongly believes that engaging women in all fields of life in the country is a top priority as they represent half of the society. UAE women represent 46.6% of the labor force in the country. They occupy 66% of jobs in the government bodies, 30% of which hold leadership roles and 15% are in specialized and academic positions. The Emeriti women proved themselves well even in fields which are usually dominated by men such as military, police, civil defense, the parliament and more. Emeriti women are part of the decision-making process in the UAE, as the Federal National Council (Parliament) of the country is led by a female speaker, Dr. Amal Al Qubaisi. In addition, nine of the members of the UAE's cabinet are women, which represent about third of the whole cabinet members.
Women in UAE care a lot about education. Most of them do not satisfy with only an undergraduate level of education but pursue their graduate studies in majors such as business administration, engineering, medicine, education, technology and space, to mention a few. One can barely see an uneducated woman in UAE thanks to the high rise of awareness of the important role that women play in the society. The literacy rate among women in the UAE is 95.8%.UAE women are fully empowered. Their voice is clearly heard. They enjoy equal rights with their fellow men. According to the international level of competitiveness indicators, the UAE topped the world's index in the "respect to women" and ranked first in 2017 in gender equality in terms of property rights.Domestically, UAE women have a very respectful place in the family as they gain support from all family members. This norm is part and parcel of the teachings of our religion.
Some people might think that a woman's wearing of the black gown, which is locally called Abbaya, is a sign of repression to women. But, Abbaya in fact is considered by women as a source of proud as it represents for them not only valuing indigenous traditions and customs but also preserving the unique national identities. So they choose to wear Abbayas without interference by whatsoever. Wearing of Abbaya has nothing to do with women's repression. It is part of our traditions and customs that are maintained from generation to generation that deeply rooted in our civilization. It is needless to say in this context that Abbaya has become in recent years an iconic fashion attraction and many fashion designers participate with this costume in global prestigious fashion shows. Abbaya comes in all colors and fabrics for all ages, events and seasons. It is a traditional but renewing costume. Women in the UAE usually opt for wearing Abbayas not only for their daily activities but for big gatherings such as wedding and graduation ceremonies as well as other high-profile events. They consider it to be very classy, practical and a sign of respect to the traditions and the national identity.
The Emirati women are happy with the level and quality of life that they have. No existence of gender discrimination in job opportunities or in wages paid for the same job. Based on the rules of the law, women not only enjoy an independent liability in financial matters, but also they have the right to take their own decisions in social matters such as one's right to get married within their own will to whoever she wants.
It should be concluded with a quote from His Highness Sheikh Mohammed bin Rashid Al Maktoum, Vice-President and Prime Minister of the UAE and Ruler of Dubai as saying "every woman has our deepest appreciation. Every role a woman takes to contribute to society makes her a partner in building our nation. I can't be more proud than now of the Emirati status right now".