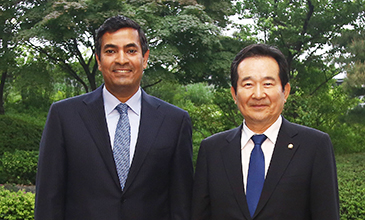 Qatar Ambassador to S. Korea Mohamed Abdulla Al- Dehaimi (left) meets with S. Korean National Assembly Speaker Chung Sye-Kyun in Seoul in May, 2017.
On the strengths of the strong economic cooperations, the bilateral relations between the State of Qatar and economically dynamic South Korea have been fast developing over nearly four decades.In particular business ties have been impressive in the energy and construction sectors, with their bilateral trade volume reaching 11.7 billion US dollars in 2017.The following is the overall review of the bilateral ties and fast growing cooperation in economic areas between Doha and Seoul.The official ties between the State of Qatar and Republic of Korea started since 1974, three years after Qatar gained its independence from the United Kingdom.However, the bilateral relations between Doha and Seoul began to develop since 1992 when Qatar opened its embassy in Seoul.
The mutual cooperation have been on the dramatic increase since the exchanges and visits of high-level officials and heads of states in recent years.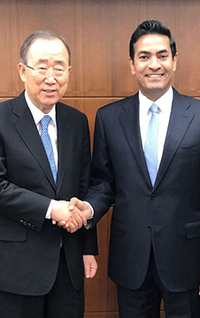 Qatar Ambassador to S. Korea Mohamed Abdulla Al- Dehaimi (right) meets with former UN Sec. Gen. Ban Ki-Moon in a recent Seoul event. Ban is just one of the numerous political and social leaders the Qatari envoy meets as part of ambassadorial activities in Seoul.
As recently as in the middle of August, 2018, HE Deputy Prime Minister and Minister of Foreign Affairs Sheikh Mohamed bin Abdulrahman Al-Thani visited Seoul for talks with South Korean Premier Lee Nak-Yeon. Earlier in November 2014, His Highness The Amir Sheikh Tamim bin Hamad Al Thani made a two-day state visit to South Korea.Two months later Her Highness Sheikha Moza Bint Nasser visited Seoul for four days to attend global conference. HH serves as chairwoman of Qatar Foundation for Education, Science and Community Development.The bilateral ties have been fast developing based on the mutual visits by each other's leaders and high-profile officials. A series of memorandums of understanding (MOUs) and agreements boosted the blossoming mutual ties.The cordial mutual ties has been prominent particularly in the business sectors.In 2017 the bilateral trade volume between Doha and Seoul reached 11.7 billion US dollars.The energy and construction are two main sectors of trade between the two countries.In the year Qatar imported some 435 million US dollars' worth of goods and products from South Korea. Main import items are vehicles, heavy construction equipment, and transformers.In the corresponding year Qatar exported the $11.3 billion US dollars' worth of mostly energy products to South Korea including liquefied natural gas (LNG), crude oil, and Naphtha.Currently, The State of Qatar is the biggest supplier of LNG to South Korea. Most of Qatar's LNG carriers are made by South Korean shipbuilding companies.The State Of Qatar is also the fifth largest supplier of oil to South Korea. It is the eighth largest foreign construction market for South Korea.The mutual cooperation between Doha and Seoul has also been fast developing in other areas of the businesses and industries.Some 20 South Korean companies are now operating in Qatar mostly involved in the construction and energy areas. They include Samsung Heavy Industries, Hyundai Heavy Industries, Daewoo Shipbuilding & Marine Engineering, Hanwha Chemical Corp (HTC), SK E&S & SK Group, Hyosung, and LS Cable.