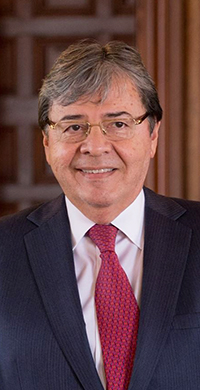 Colombian Foreign Minister Carlos Holmes Trujillo
Colombian Foreign Minister Carlos Holmes Trujillo visited South Korea on Dec. 17-18, 2018 as part of his Asian tour including China and Japan.
To the Colombian foreign minister, South Korea was the first and only country in Asia with which Colombia has a Free Trade Agreement (FTA). Colomiba's FTA with South Korea has been in effect since July 15 2016.To round up his visit to South Korea he held the official press conference at the Embassy of Colombia in downtown Seoul at 4:30 p.m. on Dec. 18, 2018.During the conference the Colombian foreign minister called his visit to Korea "a very positive one.""I had many meetings," he said. "I met foreign minister, vice president of KITA (Korean International Trade Association), with unification minister, with members of the National Assembly, and with a lot of businessmen who are interested in Columbia"He also talked about the long-lasting and close bilateral ties between Colombia and South Korea, mentioning Colombia's participation in the Korean War (1950-53).During the Korean conflict Colombia sent 5,100 soldiers to fight against North Korean aggressors. Among them a total of 163 of its soldiers died and other 448 soldiers were wounded. Colombia was the only Latin American country to send troops South Korea. "Columbian soldiers came here to help the democracy and freedom," he said. "From that moment we had a very, very close relationship"The minister went on to say "ample possibilities" for furthering trade relations. The purpose of the visit to Korea was to strengthen the bilateral cooperation particularly in political, economic, and trade areas.During his visit to Seoul Minister Trujillo held a meeting with his South Korean counterpart, Minister Kang Kyung-Wha of the Ministry of Foreign Affairs (MOFA).He also met with South Korea's Unification Minister
Cho Myoung-Gyon and Vice President Chung Woo-Yong Chung the Korean International Cooperation Agency (KOICA), President Eun Sung-Soo of Eximbank, and members of the Parliamentary Association of Friendship Colombia Korea.During his official visit to Seoul, Minister Trujillo also had a breakfast meeting with the local businesspeople and industry leaders and delivered a speech as the principal speaker. The early morning gathering was co-hosted by the Ministry of Foreign Relations of Colombia, the Embassy of Colombia in Seoul, Procolombia, and the Korean Council on Latin America & Caribbean KCLAC.
Who Is Carlos Holmes Trujillo?
Mr. Carlos Holmes Trujillo is currently serving as the foreign minister of Colombia. He became the foreign minister on August 7, 2018. He a diplomat, a politician, a scholar, and a lawyer.He served as interior minister and education minister respectively before he assumed foreign minister's position. Prior to that, he served as the mayor of Cali. He was born on Sept. 23, 1951. Mr. Trujillo has a law degree from the University of Cauca, with graduate studies in Criminal Law and Criminology. He has other graduate studies in the Sophia University of Tokyo, where he took his Masters in International Business.He has also taken a number of courses on management in Japan. Among his extensive diplomatic experiences, he worked as Colombian Consul in Tokyo 1976-1982, chargé d'affaires for Colombia in Japan in 1979-1980, and Ambassador and permanent representative of Colombia to the OAS in 1995-1997.He was Colombian Ambassador to the Government of Austria in 1998-1999, Ambassador and Permanent Representative of Colombia to the United Nations in 1998-1999; Ambassador to the Russian Federation in 1999-2001; Ambassador to the Government of the Kingdom of Sweden (2004-2006), concurrent for Norway (2004-2006), Finland (2004-2006), Iceland (2005-2006) and Denmark (2004-2006).He was also Ambassador of Colombia to the Kingdom of Belgium and to the Grand Duchy of Luxembourg, and Head of Mission to the European Union (2006-2011); Mr. Carlos Holmes Trujillo was a member of the Constituent Assembly for the drafting of the 1991 Constitution, and Mayor of Cali in 1988-1990. And he was the founder and first President of the Federation of Municipalities in 1989-1990.From 1992 to 1994 he was Minister of Education, and then High Commissioner for Peace. He was Minister of the Interior in 1997-1998, and Minister Delegated with Presidential functions. He is also recognized for his academic work as a lecturer in several universities in Colombia, including the San Buenaventura of Cali, and the Sergio Arboleda and Rosario universities in Bogota.For details or inquiries call the Embassy of Colombia in Seoul at Phone: 82 (2) 720 1369/1