Asia-Pacific
Bangladesh Election, Media, Uncertainties
By Salah Uddin Shoaib Choudhury
Bangladesh Correspondent

Bangladesh election, media and the uncertainties
Salah Uddin Shoaib Choudhury
It is important for us to understand the trend, sentiment and mindset of the Indian media's contents on the upcoming general election in Bangladesh. There should not be any argument about India's importance in Bangladesh politics. Moreover, on Bangladesh issues, other international players such as the global super-power United States or economic giant China did maintain a kind of silence in the past; while India's role, especially during the general elections of 2008 and 2014 were very loud. Particularly in 2014, it was India that stood firm in support of Awami League in helping the ruling party in stepping into its consecutive second term through a controversial and flawed general election. Indian foreign secretary Sujata Singh had moved from post to pillar in ensuring the holding of this voter-less election simply with the goal of helping Awami League in remaining in power. Of course, Awami League's remaining in power is essential for India – for its national security in particular. During the past ten years, Prime Minister Sheikh Hasina has wholeheartedly helped India in crushing the armed separatists activities within the north-eastern region as well provided land and sea transit facilities to Delhi, which possibly would never be given by any of the parties in Bangladesh. For this reason, Indian policymakers rightly consider Awami League as a pro-India party.But, this pro-India label may turn out as counterproductive to Awami League and Sheikh Hasina as people of Bangladesh may have the perception thinking Awami League's lone goal is to ensure Indian interest even by compromising national interest. But in contrary, top brasses in Awami League exhibits no reservation in openly proclaiming themselves as pro-Indian. Of course on the other hand, Bangladesh Nationalist Party (BNP) and its cohort Jamaat-e-Islami are known as pro-Pakistan, anti-Semitic and even pro-militancy. There are numerous research-based papers proving Jamaat-e-Islami in particular as a party linked to militancy.As Bangladesh is all set for holding the next general election on December 30th, even those hard-line Awami Leaguers are openly expressing their fear of not enjoying the popular support. They fear, if the election is held under free and fair manner, opposition BNP and its Islamist cronies will get a landslide victory. Out of this fear, Awami League is nervous about the outcome of a free and fair election.All of us know media always plays an important role in every walk of life. But of course, media cannot ensure victory of any political party. For this reason, we have to carefully evaluate the local and international media coverage centering the December 30 general elections in Bangladesh. On December 22, in an opinion editorial in Indian Express, Manash Ghosh wrote: "The AL's trump card is the way Hasina has brought about her country's socio-economic transformation, almost boosting Bangladesh from being a "least developed" country to a developing nation. Her policies have made Bangladesh's socio-economic indices the best among South Asian nations and her development strategy has become the model for Least Developed Countries. Her digitalisation of Bangladesh has resonated with over a million voters of the new generation who will be voting for the first time this year."Bringing madrasa degrees at par with those of modern education has allowed the prospect of more jobs to madrasa passouts, thus winning their hearts and minds. Her electoral alliance with half a dozen Islamic parties and groups, like Hefajat-E-Islam, should garner more Muslim votes for the Awami League-led front. But her wooing of Islamic parties, achieved through significant compromises, has astonished even her staunch admirers."Does it make sense? While Manash Ghosh sees Awami League's friendship with Hefezat-e-Islam as blessings, in reality, it was a suicidal initiative. Such relations have clearly annoyed the secularist forces in Bangladesh, including the Hindu vote bank.Reliefweb, a humanitarian information source on December 21 published a report on Bangladesh's upcoming general elections. Quoting the report of Human Rights Watch, it said, "The 37-page report, "Creating Panic"; Bangladesh Election Crackdown on Political Opponents and Critics," finds that authoritarian measures, including widespread surveillance and a crackdown on free speech, have contributed to a widely described climate of fear. While there have been violent attacks by supporters of all rival political parties, the authorities have failed to act impartially, Human Rights Watch said. The police have arrested and detained opposition members, but failed to act properly against ruling party supporters when they target opposition candidates. The report expands on Human Rights Watch findings earlier in December."Has Bangladesh government countered HRW's report? If not, then the allegations brought in this 37-page report will earn credibility.United States' influential daily The Washington Post on December 20 published a report catered by the Associated Press (AP) titled 'Facebook shuts down fake Bangladesh news sites ahead of vote'. In this report, AP interviewed Nathaniel Gleicher, Facebook's head of cybersecurity policy, who said, "the sites — nine Facebook pages designed to mimic legitimate news outlets, as well as six fake personal accounts spreading anti-opposition propaganda — were created by Bangladeshis with government ties."Dangerous allegation indeed! Has the ruling party protested this report? If not, then the world will definitely get a wrong signal about the ruling party in Bangladesh.United States expresses dismay:According to a report published on December 23, 2018, United States has expressed disappointment over Bangladesh government's inability to grant credentials and issue visas within the timeframe to the majority of international election monitors.As a result, the international election monitors from the Asian Network for Free Elections (ANFREL) was forced to cancel its observation mission for the December 30 national election, Deputy Spokesperson at US Department of State Robert Palladino said in a press statement on December 21.According to the statement, the US funded the ANFREL through the country's National Democratic Institute."The lack of an international observation mission makes it even more important for the Government of Bangladesh to complete the accreditation of all the local NGOs that constitute the Election Working Group, which includes some funded by USAID, so they can conduct the vital work of monitoring the election," the statement read.It said, "In the lead up to any democratic election there must be space for peaceful expression and assembly; for independent media to do its job covering electoral developments; for participants to have access to information; and for all individuals to be able to partake in the electoral process without harassment, intimidation, or violence."Is it good news for the ruling party in Bangladesh? We must remember this statement came from the US Department of State. It is very much likely that the Department of State would appraise the US President on the overall situation centering the upcoming election in Bangladesh. Under any circumstances, it may not turn out to be any news of celebration to the ruling party members.Has the upcoming general election become tainted?Not yet, but it may – ultimately unless the government initiates some urgent measures in correcting some of its actions and strengthens its presence in the international media. The ruling party needs to realize – whatever may be the campaign going on in the Bangla media as well as several unknown English press, unless there is an effective, bold and dynamic initiative in countering each of the wrong or misleading reports in the international media with due diligence, the ruling party may ultimately face an unforeseen consequence.Now the million dollar question is – if the ruling party really is capable of doing this. In my opinion – it is. But, for getting a positive result, the ruling Awami League needs to mobilize its teams of media experts forthwith. And of course, I have every doubt about such initiatives from the ruling party as it has already become over-confident of winning the upcoming general election. Salah Uddin Shoaib Choudhury is the editor of Blitz

Related Articles
Where Those Women Rights Activists Have Gone ...
Bangladesh Urgently Needs International ...
Media Bias, Political Polarization and ...
Ziad Abdelnour: A Profile in Insight, Hope, ...
Antisemitism, Anti-Zionism and Enemies of ...
From Hitler Restaurant to Sex Hotel and a ...
Denying the Allegations of Forceful Conversion
Has Saudis Officially Abolished Slavery Really?
North Korea Should Not Miss the Opportunity
Pakistan Rides on Camel's Back
After SAARC Is BIMSTEC and What Is Next?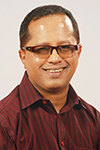 Salah Uddin Shoaib Choudhury is a seasoned editor, writer, columnist, author, and peace activist in Dhaka, Bangladesh. He is also an editor & publisher of Weekly Blitz www.weeklyblitz.net The Bangladesh journalist is the recipient of various awards including "PEN USA Freedom to Write Award 2005" and "AJC Moral Courage Award 2006."