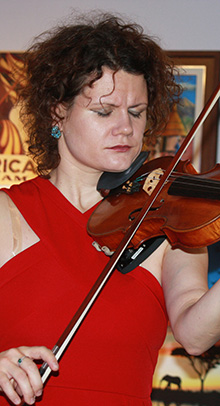 Prof. Victoria Elizabeth Kaunzer
Prof. Victoria Elizabeth Kaunzer, who once surprised Europe as a musical prodigy and taught violin at the prestigious Kangnam University in Seoul for eight years, has come back to Seoul for her concert.Her concert started at 7:30 p.m. on Feb. 23 (Saturday), 2019 at the Chanber Hall of the Sejong Center for the Performing Arts in Gwanghwamun in downtown Seoul. This time she performed with her South Korean musicians: Pianists Shin Hae-Shin and Choi Hanna flutist Sung Hae-Ra under the title of "Debut Concert in Seoul" of Medtner Society of Korea.Prof. Kaunzner played "Forgotten Melodies, First Cycle Op. 38," Forgotten Melodies, Second Cycle Op. 39," and "Violin Sonata No. 2 in G major OP. 44." The infatuated audience gave her virtural standing ovations several times during the concert.A highly accomplished musician Prof. Kaunzner has been throwing a myriad of concerts worldwide, garnering her fame as "master violinist."Arguably, she is one of the greatest classical violinists in the world today, according to the musica experts.After this concert, the "master of violin solo and composer" will remain in South Korea for the time being, giving violin lessons to the local Korean students.Prof. Kaunzner is also scheduled to host "violin master class" on Jeju Island from Feb. 24 till Feb. 26, 2019.
Who Is Victoria Elizabeth Kaunzner?
Victoria Elizabeth Kaunzner was born in 1982 in Deggendorf, the gate to the Bavarian Forest in Southeastern part of Germany. The beautiful town is located on the Danube river.Dubbed "musical prodigy" she gave her solo debut at age 12 with the Pilsen Radio Symphony Orchestra.She studied violin with Josef Rissin at the Hochschule für Musik at Karlsruhe. She received her diploma from the school.She also studied with Sebastian Hamann at the Musikhochschule Lucerne, Olivier Charlier at the Conservatoire National Supérieur de Musique et de Danse, Paris, baroque violin with Ingeborg Scheerer.She earned her Master of Music (solo violin) degree from the Hochschule für Musik und Tanz in Cologne.She explored the finest nuances of chamber music in Duo 47/4 for violin and harp with Anna Viechtl.Between 2009 and 2011 she was engaged as solo violinist with Ensemble Garage for contemporary music and performance in Cologne.In her concert programs she currently combines standard repertoire with the most modern and undiscovered music, as well as her own compositions. In 2010 the Hochschule für Musik Franz Liszt at Weimar appointed her violin and chamber music professor at their branch, the German School of Music Weimar, Kangnam University in the upscale southern area of Seoul in South Korea. She served there eight years.Her love of Korea is so strong that she learned and speaks fluent Korean. She is the winner of many music awards from the renowned competitions including
World Federation of International Music Competitions.She now gives concerts internationally as a soloist and chamber musician. As a graduate instrument teacher she holds master classes in Germany and South Korea. In addition, she taught at the Fundación Barenboim-Said in Palestine and is currently committed to "Rhapsody in School."Currently she keeps her schedule very busy, authoring books on violin playing, and writing
violin concerto. She has written the satire Kökokauz "Ecofreak."In her spare time she writes poetry. She is also a passionate dancer. She sometimes works on her own inventions. She lives in Cologne and South Korea alternatively. She plays a violin made by Tomaso Eberle, Naples 1772, and a violin specially made for her in 2011 by Peter Erben of Munich.