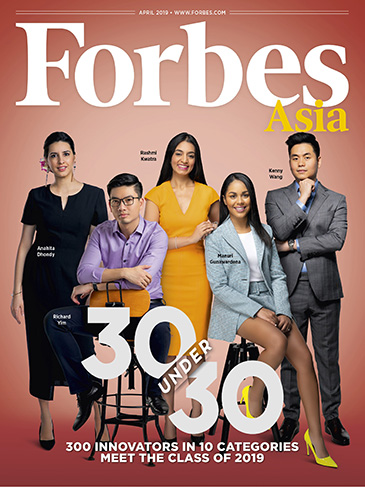 Forbes Announces 4th "30 Under 30 Asia" List
SINGAPORE — Forbes announced on April 2, 2019 its fourth annual "30 Under 30 Asia" list, featuring 300 young disruptors, innovators and entrepreneurs across Asia, all under the age of 30, who are challenging conventional wisdom and rewriting the rules for the next generation. The Forbes 30 Under 30 Asia Class of 2019 includes 30 honorees in 10 categories.The categories are The Arts (Art & Style, Food & Drink); Entertainment & Sports; Finance & Venture Capital; Media, Marketing & Advertising; Retail & Ecommerce; Enterprise Technology; Industry, Manufacturing & Energy; Healthcare & Science; Social Entrepreneurs and Consumer Technology.Among those featured on this year's list are South Korean K-pop girl group BLACKPINK; popular Chinese actor Liu Haoran, 22; Eyewear designer Percy Lau, 30, from Hong Kong; Singaporean band The Sam Willows; Anurag Gupta and Sagar Yamalkar, 29 and 30, Cofounders of India's DailyNinja; Agung Bezharie, Harya Putra and Sofian Hadiwijaya, 30, 25 and 30, Cofounders of Indonesia's Warung Pintar.Rana Wehbe, Forbes 30 Under 30 Asia Editor, said: "The Forbes 30 Under 30 Asia list this year highlights daring entrepreneurs who are building businesses mostly to solve problems in their industries. Forming 70% of the 2019 list, startup founders are using technologies like AI, Big Data and Blockchain to facilitate processes such as matching patients with potentially life-saving medical trials and providing enterprise solutions for SMEs who form the vast majority of businesses in the APAC region."Wehbe added: "It is also remarkable to see many of these changemakers actively working towards sustainability – from supplying affordable green energy in rural areas to cooking and promoting sustainable ingredients and campaigning to reduce the use of plastic straws."Featured highlights on the "30 Under 30 Asia" list include:• The Arts (Art & Style, Food & Drink): Anahita Dhondy, 28, India: Chef-Partner, SodaBottleOpenerWala
• Entertainment & Sports: Naomi Osaka, 21, Japan: Tennis Player
• Finance & Venture Capital: Rashmi Kwatra, 30, Thailand: Founder, Sixteenth Street Capital
• Media, Marketing & Advertising: Steven Wongsoredjo, 26, Indonesia: Cofounder, Nusantara Technology
• Retail & Ecommerce: Neo Nie, 27, China, Founder, HEYTEA
• Enterprise Technology: Kenny Wang, 30, Singapore, COO, Igloohome Pte Ltd
• Industry, Manufacturing & Energy: Liu Liyuan and Liao Wenlong, 29 and 30, China: Cofounders, COWAROBOT
• Healthcare & Science: Manuri Gunawardena, 26, Australia: Founder, HealthMatch
• Social Entrepreneurs: Richard Yim, 25, Cambodia: Founder, Demine Robotics
• Consumer Technology: Hussain Elius, 29, Bangladesh: Cofounder, PathaoThe 2019 list features a diverse set of Under 30 honorees, with 23 countries and territories represented across the Asia-Pacific region. China has the highest number of honorees with 61 on this year's list, followed closely by India with 59. Japan came in third with 30 honorees while South Korea took the fourth place with 28, followed by Singapore with 23. Notably, it is also the first time that honorees from Kazakhstan, Kyrgyzstan, Mongolia and Laos appeared on the list.South Korea has the 4th highest number of honorees with 28 on this year's list. They include K-pop girl group BLACKPINK; Lee Jun Ho, Founder, Jienem; Lee Suji (Susie), Founder, Thingsflow; Gim Hwanmin, Kim Jaeyeon, Park Joontae and Lee Sohae, Cofounders, JeongYookGak; Quan Nguyen, Cho Yeon Jeong (Jenny) and Cho Yongmin, Cofounders, SAY Global, and Keum Do Hee, CEO, BUBBLER.More than 2,000 submissions were received through online and from in-house research by Forbes' journalists from across the region, but only 300 made the final cut. The criteria for honorees making the list include their demonstration of leadership, how they embody the entrepreneurial spirit that is synonymous with Forbes, and their potential of success in their industry. Other factors like innovation, disruption – and size and growth of their ventures in some categories – play a role in making the final decision.Honorees were vetted and selected by a panel of accomplished and acclaimed judges in each category. The judges include Hiroshi Mikitani, CEO of Rakuten; JP Gan, Managing Partner at Qiming Venture Partners; Noni Purnomo, President Director of Blue Bird Group Holding; Kaifu Lee, CEO of Sinovation Ventures; Kishore Lulla, Philanthropist and Chairman of Eros International; Changpeng (CZ) Zhao, CEO of Binance; Dick Lee, Singer, Composer and Creative Director; Falguni Nayar, Founder of Nykaa.com; Patrick Grove, Cofounder and Group CEO of Catcha Group; Janice Wong, Chef and food entrepreneur; Kei Nishikori, Tennis player and Nicole Warne, Fashion designer and founder of Gary Pepper Girl among many others.On the Cover (L-R):
1. Anahita Dhondy, Chef Partner at SodaBottleOpenerWala in New Delhi who is educating people about sustainable ingredients and Parsi cuisine.
2. Richard Yim, the Cambodian cofounder of Demine Robotics, the makers of a robot that is able to extract landmines safely – hence saving lives.
3. Rashmi Kwatra, Founder of Sixteenth Street Capital – a Singapore-based fund focusing on long-term investments in South Asia.
4. Manuri Gunawardena, Founder of HealthMatch, an Australia-based platform which matches patients with suitable medical trials.
5. Kenny Wang, COO of Igloohome Pte Ltd, Singapore-based makers of smart locks.For the complete Forbes 2019 30 Under 30 Asia package, visit https://www.forbes.com/under30/list/2019/asia/Contact:
CATHERINE ONG ASSOCIATES
3 Pickering Street, #02 - 01, Nankin Row
China Square Central, Singapore 048660
Tel: (65) 6327 6087 Dir: (65) 6221 3321
Email: ashley@catherineong.com