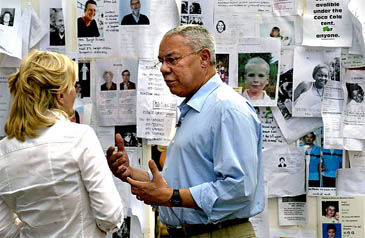 U.S. Secretary of State Colin Powell talked to Diane Sawyer of ABC television at the provincial city hall in Phuket, Thailand.
Courtesy AFP—Getty Images
PORT BLAIR, India — Aboriginal tribes here on the Andaman and Nicobar Islands in the Bay of Bengal largely survived the Dec. 26 tsunami, but it devastated the coastal areas of the archipelago, military and government officials said Tuesday.The islands are home to six small tribes that have maintained ancient ways as hunters and gatherers and that mostly shun outsiders. Their isolation may have provided some protection from the worst ravages of the earthquake, which was less than 100 miles away.Although a survey is still under way, A. L. Singh, a research officer with the tribal welfare department who accompanied a team to track down the Onges, who number about 94 on Little Andaman Island, said most were safe in forested highlands. Lt. Gen. B. S. Thakur, the Army's commander in chief at Port Blair, the capital, said the Sentinalese, numbering about 100, had been spotted on North Sentinal Island. On Tuesday, the Indian government began taking more aid to affected communities in the archipelago rather than trying to evacuate people to Port Blair and the mainland. But the government continued to bar foreign relief groups from many of the islands, citing a need to protect the indigenous tribes.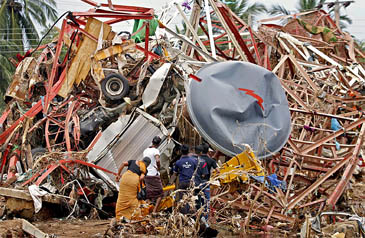 A telecommunications tower was destroyed by the tsunami in Sri Lanka. Courtesy NYT
"We have plenty of relief material available domestically and can manage with that, but we cannot dilute the policy directive from the top," said Rohul Bhagat, an official coordinating nongovernmental organizations. Representatives of international aid groups, who have been confined to the capital, voiced unhappiness with the policy, and some were seeking local partners as a way around the restrictions. "This is not a very encouraging situation," said the representative of one international group, who did not want to be identified.As of Tuesday, nearly 7,000 people were confirmed dead or listed as missing out of a population of 350,000 on the 36 inhabited islands. (There are a total of 572.) More than 9,000 people have been evacuated to Port Blair and 21,000 or more are living in relief camps. "This is a warlike situation; we are having a war with the nature," Air Marshal Shashi Tyagi said after visiting some of the worst-affected coastal areas. The destruction is beyond imagination and several communities had been completely washed away, he added. "Not even in war have I seen this kind of devastation," he said.
Related Photos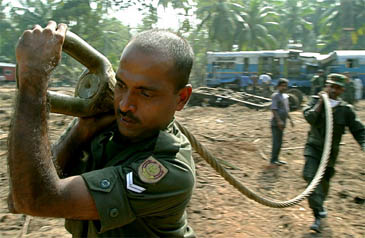 The police and army moved wreckage from a train in southern Sri Lanka. Courtesy Reuters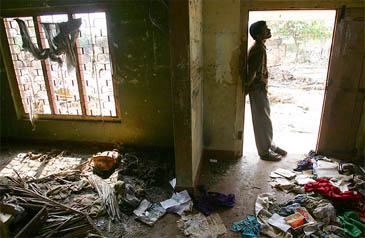 A man stood at the doorway of a destroyed home in rebel controlled Tamil Eelam, in northeast Sri Lanka, where approximately 3,500 people died. Courtesy Getty Images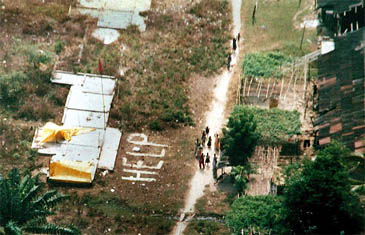 Tsunami victims stood next to the word HELP spelled out on the ground, seeking the Indian Coast Guard's attention.
Courtesy AP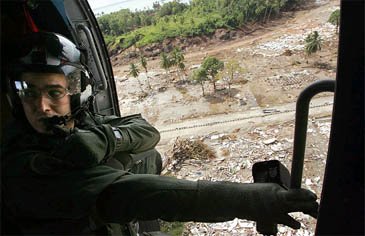 A U.S. Navy helicopter headed to Lamno, Indonesia, one of the many isolated areas hit by the tsunami. Courtesy NYT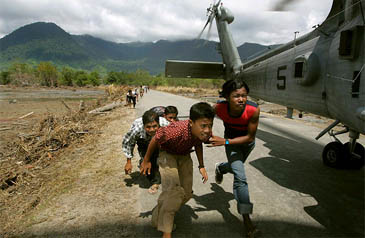 Indonesians in Lamno rushed on Tuesday to a United States Navy helicopter that landed to deliver food and water to the isolated town. Courtesy NYT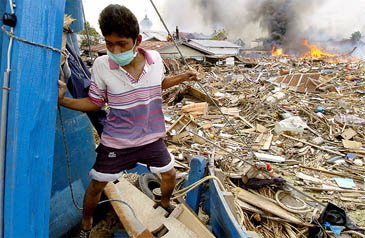 A man walked through burning debris in Banda Aceh, Indonesia.
Courtesy AFP—Getty Images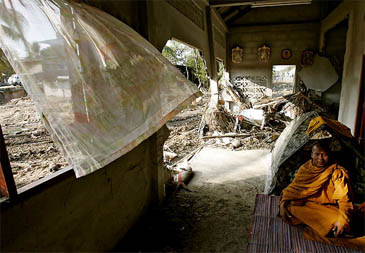 A Thai Buddhist monk meditated in the living room of a destroyed home. Courtesy AP
The above article is from The New York Times.